How USA's 1996 Women's Olympic Basketball Team Made the WBNA a Powerhouse
Now: Team USA is shooting for an unprecedented sixth straight gold medal in Rio
Photos courtesy Getty Images
Olympics
Features
Basketball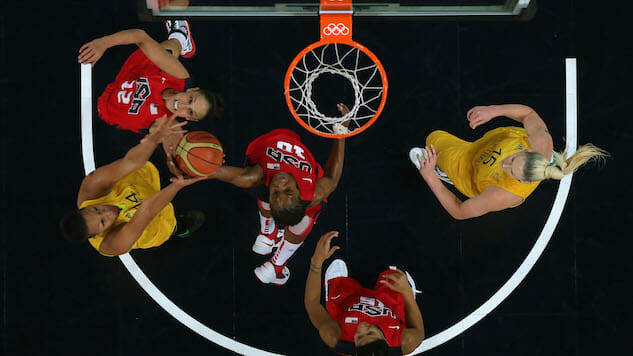 Let's play a game of guess the Olympic basketball team.
It's a team that features a roster of players who have played in 57 All-Star games combined. Four players on this roster are former league MVPs. Sixteen have league championship rings. Five are finals MVPs. Two are league scoring champions. And 3 are Defensive Player of the Year winners.
Nine of the 12 members on this roster own Olympic gold medals, while three of those 9 players have won three gold medals each.
Yep: it's the dream team—though not the one you're probably thinking of. This year, Team USA's women are looking to bring an unprecedented sixth consecutive gold medal home from Rio de Janeiro. (The men's team is on an only two-gold-medal streak, in case you were wondering.)
But before we talk about Rio, let's talk about the "other dream team"—USA's 1996 women's team. That team, led by Lisa Leslie, Katrina McClain, and Sheryl Swoopes, still hold several U.S. Olympic records, including scoring average (102.4), points (819) and assists (207). This run helped push the final pieces of the WNBA to fall into place, opening up a new golden age of women's basketball.
''That team and that experience, it was the platform for the WNBA,'' said Jennifer Azzi, who played a huge part one the 1996 Olympic team, and who played in the WNBA from 1999-2003. ''For people in this country to see women play beyond the age of 21 was exciting because everyone thought when you're 21, you're done playing and that's it.''
The 1996 team came together in the spring of 1995 and traveled the world, logging more than 100,000 miles and racking up 52 consecutive wins before heading to the Olympics. The team's eight-game run to the top of the medal stand concluded with an 111-87 victory over Brazil before 32,987 fans at the Georgia Dome. Along with rewriting Olympic record books, there will soon be another addition to the lore-books: this year, the Women's Basketball Hall of Fame will recognize the members of that team as "Trailblazers of the Game" in conjunction with the rest of the Hall of Fame Class of 2016's induction.
Few expected this kind of growth and expansion of women's basketball in such a short time. Since that historic 1996 run, the USA Women's National Team's dominance in Olympic play has grown to the point of being virtually unstoppable. In 2012, the USA won an unprecedented fifth-straight Olympic gold, a feat never before accomplished in any women's traditional team sport. The team enters the Rio Games on a 41-game Olympic winning streak.
As this 2016 women's national team aims to make its mark in Olympic lore, they will always be connected to that 1996 Olympic team. And whatever this year's challenges, that team had much more on the line beyond just winning gold in Atlanta. Over their 18-month journey they established the power of women's basketball in America and helped to quiet the naysayers who didn't think the NBA needed a female counterpart.
On February 10, 2016, the WNBA promoted longtime corporate executive Lisa Borders to league president. The first issue on her agenda, she told reporters, was fixing the problem of underpaying players. "Everybody wants our players to make more. I want them to make more, they want to make more," she said. "We're focused on top-line growth and top-line revenue. It's a business. At the end of the day the business must be able to support all its expenses, so to the extent that we have more sponsors, that we have more viewers, that we have greater attendance, that will fix itself. So am I for it? Absolutely. Do we get questions? All the time. This is why we invite people to come out. Our fans are the answer at the end of the day."
The WNBA has gone through growing pains over these last twenty years, struggling with low attendance, ratings and salaries, but as we look back on the 20-year journey from the legendary team that was built in 1996 to today's team, we can see the growth and the structure that was built for women's basketball in American.
"It was so cool, it was the first time for me that I saw players like Lisa and Dawn and Sheryl. It was someone that I wanted to be like," Tamika Catchings said when reflecting on that 1996 team. "A female basketball player to look up to. But watching the Olympic team, I was like, 'Oh, my God. One day I want to be there, and I want to represent my country and have that opportunity.'"
The WNBA turned twenty this year and the league has expanded to 12 teams. The 2016 team is as follows: Seimone Augustus. Sue Bird, Tamika Catchings, Tina Charles, Elena Delle Donne, Sylvia Fowles, Brittney Griner, Angel McCoughtry, Maya Moore, Breanna Stewart, Diana Taurasi and Lindsay Whalen. All the members of Team USA currently play in the WNBA.