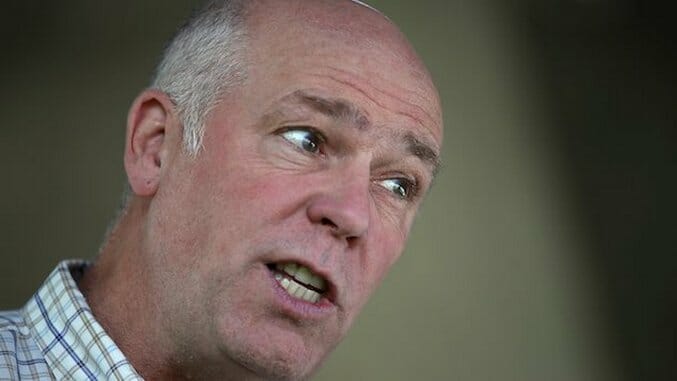 Today Montana holds a special election for the congressional House seat recently vacated by Republican Ryan Zinke so he could become Trump's interior secretary. The vote will be between Republican candidate Greg Gianforte—a former tech executive—and Democratic candidate Rob Quist—a folk singer turned politician. Also running is the Libertarian candidate Mark L. Wicks who is mostly interesting as a potential leech on Gianforte's conservative votes.
The race is being watched closely because it's expected to be something of an early barometer for how Democrats may fare in the 2018 congressional elections. Montana overwhelmingly voted for president Trump—by a twenty-point margin—last November, and it was widely expected that Republicans could fill the vacant congressional seat without much trouble. But Trump's tumultuous first few months, along with the subsequent piss-poor approval ratings, have Republicans worried. A Democratic victory—or even a close loss—could signal a hard fight for Republicans come next year.
Muddying the waters of this election, though, is the recently-broken news that Gianforte attempted to break Ben Jacobs—a respected reporter for The Guardian—via body-slam. Yes, a presumably full-grown man decided the best way to deal with a reporter doing his job was to smash him into the ground. Maybe this shouldn't be so surprising given the sitting president's former WWE exploits—not to mention The Rock's interest in running for the nation's highest office. The candidate's childish attempts to punch out his problems may have occurred too late to drastically affect the election, but there are still several things to watch tonight as the votes pour in.
1. Margin of Victory
What's interesting here is that Democrat Rob Quist doesn't even have to actually win the seat for the vote to be considered a Democratic victory. Montana swung so heavily in Trump's favor—again, by more than twenty points—that even a narrow loss would indicate a massive shift in voter opinion. This election shouldn't be close at all. Republicans had a stranglehold on the state just six months ago.
Democrats made some progress in earlier special elections in Kansas and Georgia, but neither Democrat managed to actually win a seat. This is the first election occuring after Trump's exceptionally trying last few weeks which included James Comey's firing, the Comey memo about Michael Flynn and the appointment of a special prosecutor to oversee the Russia investigation.
2. The Trump Effect
The victory margin is especially important given the way that Gianforte has positioned himself during his campaign. Throughout his run, Gianforte showed himself to be an ardent supporter of president Trump. He used similar Trumpian phrases such as wanting to "drain the swamp" along with other popular Trumpisms. His support was so great that Vice President Mike Pence and Trump's son Donald Trump Jr. even stumped with Gianforte across the state. Gianforte said in an interview on Wednesday that, "[he's] running to go back there to be a voice for Montana and to work with Donald Trump. My opponent clearly has said he's going to obstruct Donald Trump. That's the decision here." His campaign is extremely intertwined with the president.
Quist, to his credit, has distanced himself from commenting too heavily on Gianforte's presidential connection despite all of Trump's ongoing issues. This hasn't stopped the Democratic party at large, however, and they have heavily criticized Gianforte's relationship.
While aligning with Trump would have initially seemed a boost for the candidate in a state that so clearly favored Trump just a few months ago, a loss or slight victory could signal just how much damage the president has done for the party. If results aren't favorable for the Republican candidate, it could signal a distancing of other candidates from the embattled president.
3. The AHCA Effect
Quist and Gianforte took strong, opposing sides in the debate about whether Obamacare should be replaced. Rob Quist has been surprisingly vocal in his support of Obamacare—especially for a Democratic candidate in a traditionally-red state. Conversely, Gianforte hasn't been shy to vocalize his desire to be rid of the law, though he hasn't exactly fully embraced the Republican's ACHA, instead claiming he likely wouldn't have voted for the law. His true feelings have been vague, however, and it was Ben Jacob's probings into the issue that caused Gianforte to so violently fly off the handle.
Just as future congressional candidate campaign strategies regarding Trump may change based on the results of this election, the way Republicans interact with the ACHA may also be affected—especially in light of the CBO's recent report that 23 million Americans would lose coverage under the new plan. The election could be seen as a pseudo-referendum on the bill.
4. What to Look for Tonight
Election nights in Montana tend to unfold slowly due to the nature of their absentee voting process. 250,000 votes have already been received by mail, and it can take a while to tally all of those up. The November governor race was not called until 10 a.m. the next day—even though the incumbent Steve Bullock was re-elected by a comfortable four-point margin. Similarly, the Democratic presidential primary wasn't called until after 2 a.m., despite Bernie Sanders' solid seven point victory.
So while you're watching the drama slowly unfold, be sure to focus on Yellowstone County. Yellowstone County is home to Billings—one of the state's largest cities—and it is incredibly difficult to win the state without Yellowstone. Also, Trump managed to win the county by a solid 27 points back in November. A shift there would be highly indicative of voter opinion change and could signal a surprise Democratic victory if votes seem to lean his way.
5. The Effects of Gianforte's Assault Charges
Since any eligible voter can vote absentee in Montana, a large number of votes had already been cast before Gianforte's charges came to light. It'll be interesting to see whether the remaining voters change their minds heavily enough to hand Quist a victory despite about half of registered voters having already voted. It's not particularly clear whether Republicans even care about that sort of aggressive behavior, or and some speculate they may actually embrace such violence as a proper response to liberal reporters. Hopefully the election results will shed at least some light on what Republican voters are willing to tolerate from their representatives.
On the flip side, however, it remains to be seen how much the scandal clouds the forecast potential of this election. If voters are swayed to vote to the Democrat because of the scandal—as opposed to, say, hatred of Trump or the AHCA—the election won't actually shed much light on 2018 at all. In fact, it could lead to a false positive situation where Democratic leaders believe they have gained more ground than they realistically have. It could also exacerbate a common issue with Democratic voters refusing to actually turn out for elections. If the implication is that Democrats have those seats in the bag, Democratic voters may remain home, much like they did in November's presidential election.
To read more about Greg Gianforte's recent troubles click here