Elizabeth Warren's Campaign Calls Out Pete Buttigieg's Campaign for Potentially Coordinating with Super PAC
Photos by Win McNamee/Getty, Chip Somodevilla/Getty
Politics
News
Pete Buttigieg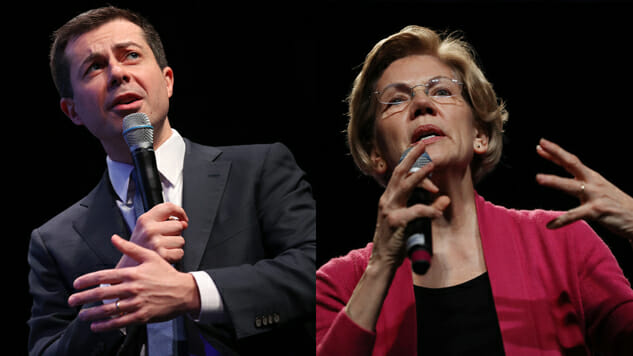 On Feb. 5, Pete Buttigieg's senior strategist Michael Halle posted a bizarre public tweet.
Pete's military experience and closing message from Iowa work everywhere especially in Nevada where it's critical they see this on the air through the caucus.

— Michael Halle (@mhalle) February 5, 2020
The tweet has raised speculation about who the tweet's audience is. Given the construction, it almost sounds like a DM. Warren's campaign manager Roger Lau responded quite quickly with concerns about whether the tweet was an attempt to coordinate with a super PAC and skirt around laws regarding such.
Was this meant to be a DM or did you mean to tweet out this instruction to your super PAC?

(Fun fact about how some campaigns exploit our broken campaign finance laws: if it was a DM it would be illegal.) https://t.co/yetULmZRjw

— Roger Lau (@RogerLau) February 5, 2020
If sent via DM, the message would be considered a coordination effort between Buttigieg's campaign and a super PAC, which is considered illegal under campaign finance law. In other words, making the tweet public could be a way to avoid prosecution. Recently, Politico reported that a super PAC named VoteVets, which is run by centrist Democrat military veterans, funded $197,000 worth of Buttigieg advertising ahead of the New Hampshire primary.
A spokesman for Buttigieg, Chris Meagher, told Politico, "Pete is the only candidate who isn't a millionaire or billionaire. And if the largest progressive veterans group wants to help spread the word about his service, we welcome it," continuing, "Veterans have been central to propelling our movement and they will be a central part of the coalition that Pete will bring together to defeat Donald Trump." Nowhere here is a denial that the message from Halle was meant for super PAC viewership.
Notably, the CEO of Acronym, whom we previously reported may have been involved with the production of the app "Shadow" that was the source of problems in the Iowa caucuses, is married to Michael Halle. It runs deep.
The CEO of the company that owns the app is a Pete supporter, and is married to Michael Halle, Pete's strategist pic.twitter.com/EAKtBNmZzP

— Nikola (@niktaylorde) February 4, 2020