Even If Nothing Else Works, This Horse Video Should Cost Roy Moore the Election
Screencap via Twitter
Politics
News
Roy Moore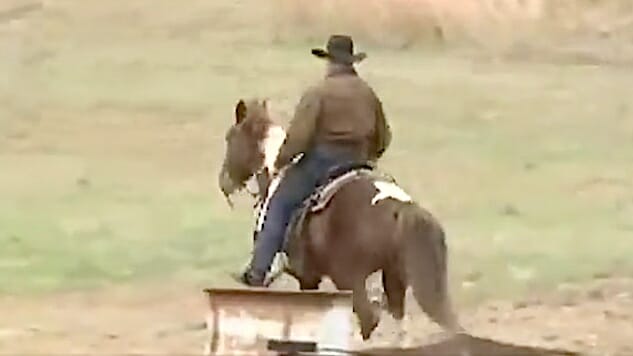 Roy Moore likes to pretend to be a cowboy. Here he is attempting to ride a horse:
This is hilarious, his form sucks & that horse was thinking about bucking him pic.twitter.com/NLWfm8QtlY

— Molly (@Molly_Kats) December 12, 2017
I have never been astride a horse in my life, but I'm confident I would look like John Wayne in comparison to this buffoon. Here are my favorite parts:
1. The way he tries to tell the horse to giddy-up, but it just kind of lurches around and nearly throws him.
2. The pointless way he rides into an open field.
3. The weird way he holds his body—legs and torso stiff as boards—while desperately trying to hide the fear that he's about to get tossed in front of an army of photographers. I mean, look at this:
Hahahahahahahahhaha pic.twitter.com/1DteEu6BeW

— Molly (@Molly_Kats) December 12, 2017
4. The way the horse clearly hates him as much as we do. I think they accidentally gave him a socialist horse.
Vote for Doug Jones, or you're basically voting for Garth Brooks from this sketch.