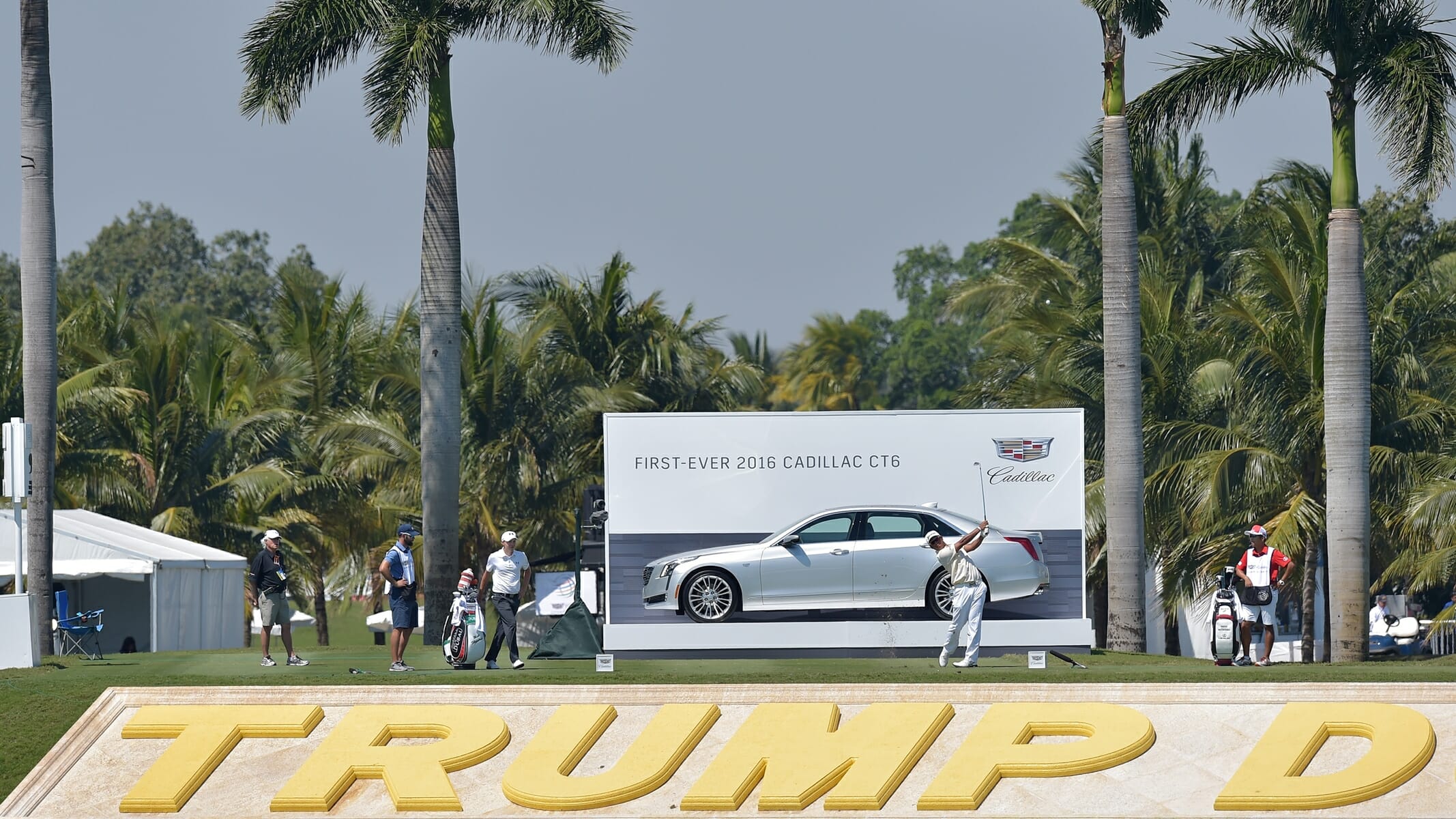 I'm not talking about the kind of legal trouble that the Trump Organization finds itself in, but something far more on-brand for Trump pre-2016: a failing business. Trump National Doral Miami's revenue is falling like a rock. Per The Washington Post:
At Doral, which Trump has listed in federal disclosures as his biggest moneymaker hotel, room rates, banquets, golf and overall revenue were all down since 2015. In two years, the resort's net operating income — a key figure, representing the amount left over after expenses are paid — had fallen by 69 percent.
Even in a vigorous economy, the property was missing the Trump Organization's internal business targets; for instance, the club expected to take in $85 million in revenue in 2017 but took in just $75 million.
"They are severely underperforming" other resorts in the area, tax consultant Jessica Vachiratevanurak told a Miami-Dade County official in a bid to lower the property's tax bill. The reason, she said: "There is some negative connotation that is associated with the brand."
The problems that Doral is facing are emblematic of the long-term electoral issues facing the Republican Party. National brands and blue state tourists have stayed away from Doral due to the lightning rod that is the Trump brand, and we are seeing a similar dynamic currently playing out in the political arena. What's left for both Trump and the GOP are just hucksters and blind partisan loyalists, and while the Republican Party has proven that you can win this last generation of voters by maximizing your efforts amongst that group, the long-term headwinds of the two largest, most diverse, and liberal generations in U.S. history present some unimpeachable mathematical realities.
Trump and the GOP's intransigence may have lost a generation of women, and thus national electoral relevancy (the good news for them is that all politics is local and the Democrats have 400 people running no-hope vanity presidential runs and are still ignoring state politics where their power vacuum is being filled by the most extreme parts of the GOP). Given that advertisers target moms above all else, this is a big, big problem for the GOP going forward.
The flashy, "greed is good" mememe 1980s lifestyle embodied by Trump has lost its "cool" factor. In a word, it's tacky. It probably always was, but in our gilded age defined by hyper-inequality, showing off one's wealth every chance you get does not earn you anywhere near the cultural cache it once did. This guy is cool now.
Our current era is defined by a clash of generations—both on the right and the left—and between the right and the left. The world is changing faster than it ever has, so it makes sense that society should move at a similar pace as well. Plus, Trump is a toxic brand—especially to newer generations. Immediately after he took office, all U.S. tourism fell, so it should be no surprise that Trump-specific tourism destinations should be hemorrhaging cash as well.
What makes this news about Doral so devastating for Trump is that it was supposed to be insulated from his whole shtick. It hosted a PGA tournament from 1962 to 2006 (Trump bought it in 2012), and had developed its own reputation in Florida that was independent of Trump. Plus, immediately after purchasing it, Trump spent 18 months upgrading the property. By all accounts, this golf course and hotel should be making money hand over fist—and yet, per documents reviewed by WaPo that legally must be correct—it is not. The Trump Organization responded about as well as you would expect to The Post's reporting. Per WaPo:
To explain the declines at Doral, the Trump Organization issued a statement to The Washington Post that implicitly contradicted its own tax consultant and blamed factors that had nothing to do with Trump's name. The company cited fears of the Zika virus in 2016, and hurricanes in 2016 and 2017, for driving tourists away from South Florida.
This golf club's looming demise could be proof that Trump's brand is so noxious that a steady, mainstream brand like Miami's Doral cannot survive slapping "Trump" in front of it—and with any hope, this will be a harbinger of things to come in the 2020 election.
Jacob Weindling is a staff writer for Paste politics. Follow him on Twitter at @Jakeweindling.