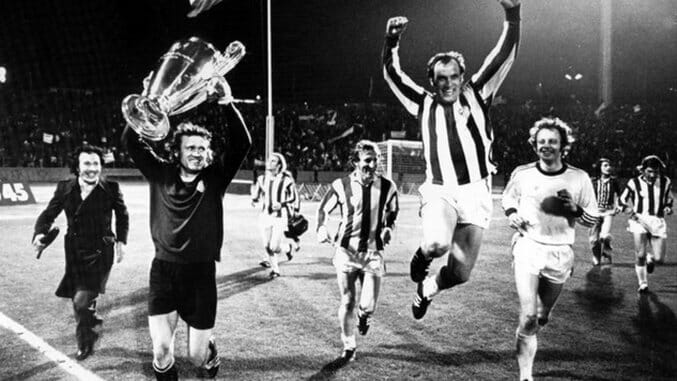 Whatever the result, Atlético Madrid will make history during the Champions League Final on Saturday. If they win, they'll deny Real Madrid their 11th coronation as European champions and win their first ever Champions League title. If they lose, they'll become the only club to have finished three times as runners-up in Europe's premier competition without ever winning it. Currently their two runners-up finishes places them in a tie with Valencia and Stade de Reims. Needless to say, it'll be a somewhat dubious honor.
No less than because their two losses in the Champions League final were pretty embarrassing. Two years ago they were mere seconds away from lifting the European Cup at Real Madrid's success, only to concede a very late equalizer and then collapse in extra time. But it's arguably not quite as bad as their first attempt in the 1974 European Cup Final.
This week we look back at that meeting with Bayern Munich and the beginning of a potentially very embarrassing legacy for Los Rojiblancos.
The Final that year was held at Heysel Stadium in Brussels. It holds the distinction of being the only European Cup/Champions League Final that was forced into a replay, with Bayern and Atleti playing out to a 1-1 draw two days earlier. They met again in front of a half-capacity crowd to try and settle the matter, and it was truly something.
Whatever made Bayern hold back in the first go-round was very obviously not present for the replay. The West Germans took control just before the half-hour mark when Uli Hoeneß was sprung loose and slotted past the Atleti keeper at the end of a blistering run. They were held to that modest scoreline through the first half but, apart from a couple opposition chances Die Roten were clearly in control of the game.
That dominance more than paid off in the second half. Gerd Müller doubled Bayern's advantage just before an hour had gone by hitting a half-volley at a tight angle, all but dooming Atleti. Both goalscorers doubled their tallies and solidified Bayern's stunning victory— Müller in the 71st minute with a chip from 16 yards and Hoeneß in the 83rd by capitalizing on a defensive error and dribbling around the keeper. Atleti were simply never really in the game. It was an utter embarrassment for their first European Final, and one can't help but wonder whether they ever really got over it.
They'll have a chance to lay the ghosts of 1974 to rest this Saturday at the San Siro in Milan. Kickoff is at 2:45pm EST on Fox.