Oh, New York City. The big city of dreams is an international style capital. With its infinite possibilities, it's known for setting the bar on style—from art and nightlife to cuisine, publishing and, of course, fashion. But what makes the city so unmistakably unreal (sometimes surreal) is its inhabitants.
New Yorkers are a curiosity: efficient, quirky, ambitious, connected, mobile and will get dressed to the nines to grab a latte or attend a gala. Why? Because in the city, anything can happen at any time, and it usually does. Preparation is key, so savvy city dwellers carry with them an assortment of items that not only speak to their personalities and style, but also to the whimsy that makes the city so intoxicating. As New Yorkers prepare for New York Fashion Week, they are especially on-alert to see and be seen. So what do they carry as they prepare for this year's winter fashion frenzy?
I asked a baker's dozen New Yorkers to share the contents of their bags with me. Come on, you know you're curious to peek inside the purses and backpacks of these movers and shakers. I don't know why artist Joseph Meloy carries a rubber glove in his tote, but I dig it. Voice over artist and health coach Cody Schreger is so damn efficacious, she doesn't even carry a purse.
"I don't know what you mean by a bag," she tells me. "Everything I carry fits in my pockets."
Business cards, iPhones and earbuds are staples, but can you guess what's inside burlesque performer Fifi La Flea's vintage clutch? Peruse the gallery above for a wild ride of relics that offer a window into the lives of these 13 New Yorkers.
1. Cody Schreger, Health Coach and Voice Over Artist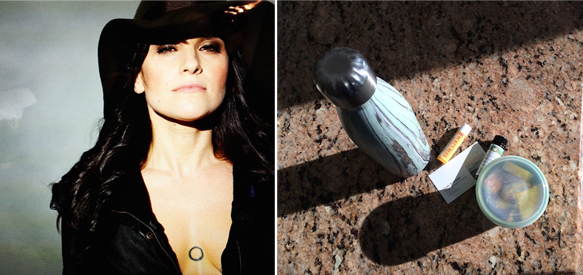 Bag: "I don't use a bag; I carry my water and everything else fits in my pockets."
Contents: S'Well Bottle, Burt's Bees Lip Balm, Bergamot Essential Oil, Business Cards and a Healthy Snack.
IG: @codyjs22
2. Matt Licari, Fashion and Portrait Photographer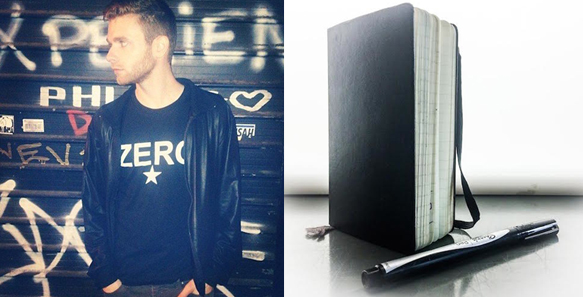 Bag: Herschel Supply Tote in Black
Contents:
Fuji x100S Camera – "I absolutely adore this camera. It's tiny, silent, sharp as a tack and it comes with me everywhere I go."
Moleskine Notebook and Pen – "Never a bad thing to keep with you. Sketch ideas, make paper airplanes, draw fake tattoos on yourself, limitless options."
V76 Hair Texture Paste – "Vaughn Acord, the men's grooming guru for 20+ years, and a client and friend of mine, has really hit the mark with his V76 by Vaughn."
Advil – "Because you never know when that sweet city aroma will get to you."
IG: @mattlicari
3. Yaya Mazurkevich, Manager for Good-Peoples, Brand Ambassador for Reebok (New York)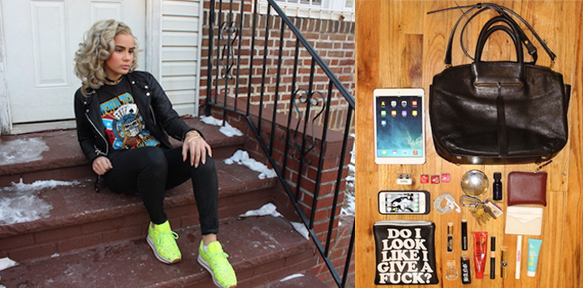 Bag: B Brian Atwood Gena Tote
Contents:
iPad Mini and Apple EarPods – "For reading a book, listening to music, flipping through a magazine or keeping up with what's happening in between the madness."
Dubs Acoustic Ear Filters – "To protect my hearing in the after parties!"
Candy – "Like Starburst. I'm actually an old lady! It can help keep you alive when caffeine isn't available."
Keys Lavender Essential Oil – "It's a great stress reliever and helps with fashion week anxiety."
Married To The Mob "Do I Look Like I Give A Fuck" Pouch
Lucas Pawpaw Ointment – "I use it for moisturizing cuticles, keeping my lips nice and hydrated, slicking eyebrows during touch ups and smoothing and glossing up my hair."
YSL Rouge Volupte Shine in Rouge in Danger – "To go from day to night."
Makeup Forever Smoothing & Brightening Concealer and Mascara
Chantecaille Poudre Delicate – "For quick flawless touch ups."
Travel Size Perfumes – "I like to switch to the stronger scents like Elizabeth & James for night."
Bliss Mini Moisturizer and Fabulips Instant Lip Plumper – "Because plump lips are always in. I layer this beneath my lipstick for my nighttime look."
IG: @OGYAYAA
4. Peter Pabon aka The Wasted Talent, Photographer, Writer, Content Creator, Graphic Artist, Dad, Skater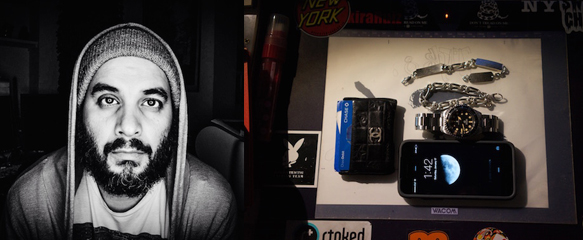 Bag: The Hundreds Steven Backpack in Black
Contents: Camera (Nikon S3 Rangefinder and Nikon F2T SLR and Nikkor 55mm F1.2 Lens loaded with either Kodak T-MAX 400 ISO or Ilford Delta 3200 ISO Film), Notebook, Mophie, iPhone Cable, Spare SD Cards, Film, Business Cards, a Pair of Knockaround Premiums in Clear, Manfrotto Small Tripod, Muji Planner, Kindle Fire HD, Flash, Fabriano Grid Notebook, Dual USB Plugs and Drives, Lightening Bolt Cord, Stickers, Muji Fountain Pen and Mechanical Pencil, Sol Republic In-Ear Headphones, Vintage Chanel Card Carrier, Vintage Made Me Think ID Bracelet, Silver Bracelet, Steinhart Ocean One Diving Watch and iPhone 6.
IG: @thewastedtalent
5. Fifi La Flea, Burlesque Performer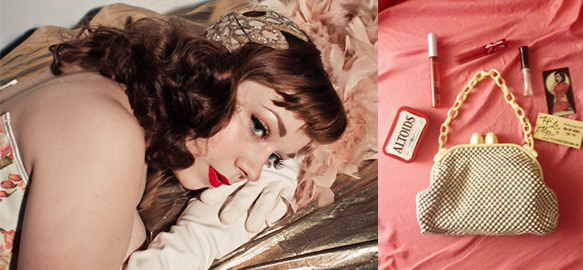 Bag: Vintage purse from thrift shop; most likely from the '60s
Contents:
Altoids – "They are a must have! You always want to have fresh breath when networking and mints look way classier than chewing gum."
John Frieda Touch-Up Flyaway Tamer – "Perfect for getting rid of fly-aways without making your hair look greasy and it's much easier to carry than hair spray."
Lime Crime Velvetine in Red Velvet – "A holy grail product! It gives me a classic red lip with none of the fuss. Put it on and your good to go without worrying if you're wearing your lips on your chin. Bonus points: you can totally make-out with someone and it won't move an inch."
Andrea Brush-On Modlash Adhesive – "If I'm wearing flaws lashes, I always have to bring lash glue for touch-ups. This is my favorite because it's fast-drying and latex-free."
Personal business cards – "It's always key to carry business cards because you know who you'll run into. So much more polished than asking someone to find you on Facebook."
IG: @fifilaflea
6. Pervis Ross-Gurrieri, Fashion Publicist

Bag: Burberry Tote in Black
Contents: iPad, iPhone, Fresh Lip Balm and Caudalie Hand Cream.
IG: @pervis_ross
7. Melissa Osborne, Co-Founder, Ash and Light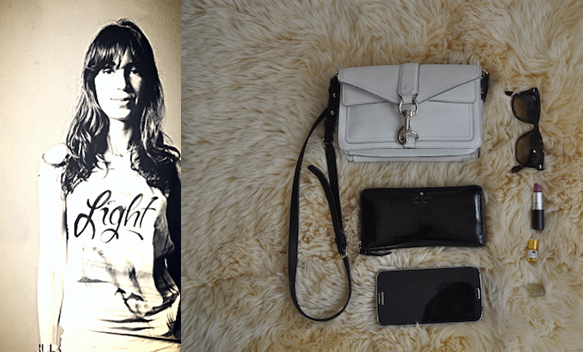 Bag: Rebecca Minkoff Mini in White – "Because my New Year's resolution is to do less. So I only carry essentials."
Contents:
Kate Spade Wallet – "A great gift from an ex that has survived well past our relationship."
Samsung Galaxy Mega – "I call it my Phablet, my over-sized phone to capture great inspiration images I can easily post to Instagram."
Wayfarer Folding Classic – "They fit anywhere, which is why I never lose them!"
Shankara Relaxing Body Oil – "It's an Ayurvedic oil that isn't greasy so it works as my winter hand salve."
Moonstone – "A thoughtful friend gifted it to me last year and I always have it with me to maintain good energy."
IG: @ashandlight
8. Andrew Clovin, Make-Up Artist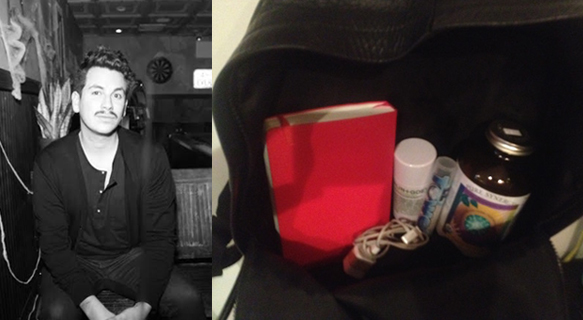 Bag: COS Leather and Mesh Backpack in Black
Contents:
Malin+Goetz Deodorant – "During Fashion Week my schedule can be pretty hectic. I'm out of the house by 5 AM and don't get home until 10 PM. Often I'll literally roll out of bed and go. So, I always keep my deo with me at all times."
Pure Synergy Superfood – "I love this in lieu of coffee. It gives me the healthy pick-me-up I need to stay on the ball during the shows. I also like to have something vitamin rich as a preventive measure. By the end of NYFW, so many of the poor models are already sick and still have London, Milan and Paris to get though. Should I get a model who's under the weather I'll offer them this."
EZ Towel – "After being in the heavily heated tents and running around backstage in a cramped space you finish the show feeling just gross. Your face looks like a grease ball. These are great to freshen up: just add water and you have a moist towel."
Moleskine Day Planner – "I'll jot down the key point about the make-up look for each model on my schedule."
Gym Shorts – "Just in case there's time to workout between shows."
iPhone Charger – "Always."
IG: @andrewcolvin
9. Erica Marton, Manicurist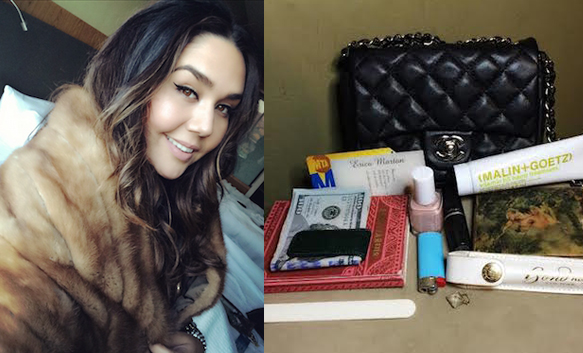 Bag: Mini Chanel Crossbody in Black – "I've learned the hard way MINI is better in a crowd. Nobody likes when you have a massive tote, especially backstage!
Contents:
Metrocard – "It's easier to jump on the train rather than find a cab or argue over whose Uber pulled up."
Business Cards – "Second best to giving your Instagram."
Cash – "Always, always, always carry cash! Sometimes you have to buy the most random things in the most random spots, like bandaids. New York always has that one store that's cash only."
Anthropologie Note Pad – "I adore this notepad and use it often when I need to take quick notes but want to save the ever so sacred iPhone battery."
Nail File – "Nothing's worse than that annoying nail that keeps snagging everything."
Essie Nail Polish – "I'm such a nail nerd. I can never have a chipped nail! So if I chip my black polish I fill it in with a lighter shade easily and call it nail art."
Vintage Cigarette Case and Mini Bic Lighter – "My sister gave this to me; it was in the family for years. It's much more chic to pull out than a box of smokes."
A Crystal Charm – "NYFW has the most amazing energy, but I like to keep my crystal on me to balance things out."
Bond No. 9 Scent of Peace – "For misting."
Malin+Goetz Hand Cream
MAC Lipstick in Ruby Woo – "This is my go-to red. It's NYFW, GALM all the way!"
IG: @ericamartoncelebmanicurist
10. Akbar Hamid, PR Consultant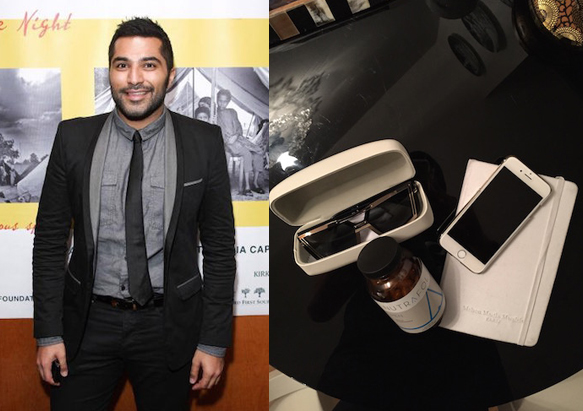 Bag: Celine Oversized Luggage Bag
Contents: Linda Farrow X Prabal Gurung Sunglasses, Nutrafol Men Daily Hair Regrowth Vitamins, iPhone 6 and Maison Martin Margiela Moleskine exclusively for Dover Street Market Tokyo.
IG: @akbar.hamid
11. Alexandra Archibald, Blogger and Hair Stylist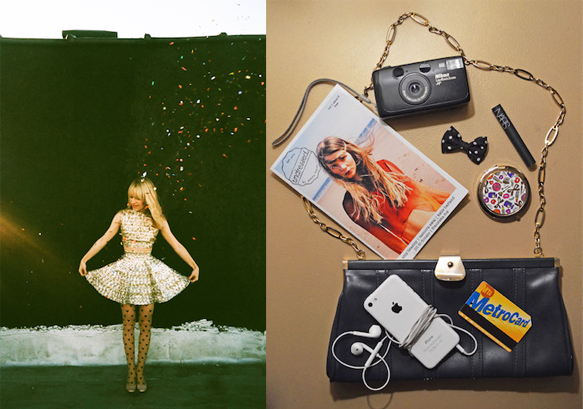 Bag: Vintage
Contents: petite tenue: undressed, issue 3, Nikon 35mm camera, iPhone 5c, NARS Lipstick in Valparaiso, Henri Bendel Compact and Polka Dot Hair Bow.
IG: @petitetenue
12. Joseph Meloy, Artist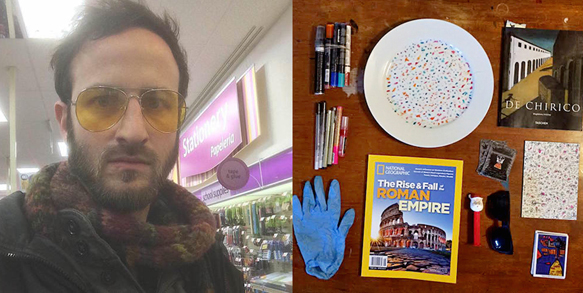 Bag: Primate Crossing Tote
Contents: Various Paint Markers and Pens, a Rubber Glove, Stickers, Santa Pez Dispenser, Sunglasses, Custom Porcelain Dish, Drawing on Claybord, Business Cards, National Geographic The Rise and Fall of the Roman Empire Special Issue and Taschen Books' Giorgio De Chirico.
IG: @vandal_expressionism
13. Dagmara Cintron, Student, Traveler, Animal Rights Activist, Blogger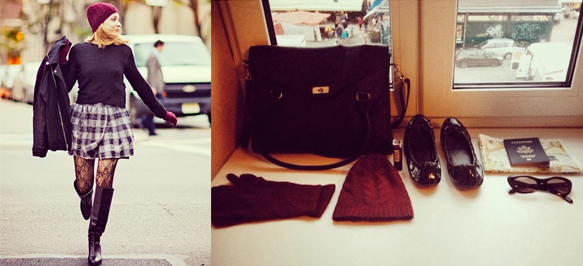 Bag: Thrifted
Contents: Miu Miu Flats, Tom Ford Shades, Plum Perfect Lipstick and a Map – "I travel a lot so I rely on this in case my phone dies, and I always, always carry my passport."
IG: @Dagmafia