How Expedia, Hopper and Skyscanner Use Big Data to Find You the Cheapest Airfares
Tech
Features
apps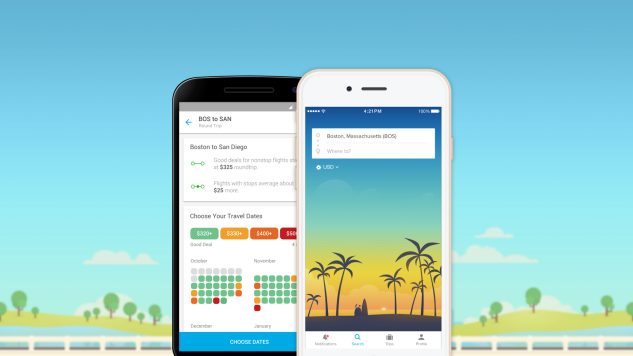 In the travel industry, airlines and travel agents might categorize you as one of the following types of travelers: a standard traveler, a deal-seeker or a first class frequent flyer.
If you're a standard traveler, you book a ticket when you're ready and don't spend too much time thinking about the price or duration as long as you get where you're going. If you're a first class passenger or a frequent flyer, you're ready to go whenever and wherever, so prices don't hold you back, especially if you have a large amount of miles or points to cash in.
But if you find yourself fitting into the deal-seeker category, you want to know you're getting the best price before you make a purchase. You're also probably aware that everyone on an airplane has likely paid a vastly different price for their seat-even if they're right next to you.
The fluctuation and unpredictable nature of airline tickets is ridiculous and airline companies have more than few tricks up their sleeves for dictating what price you end up paying. How are you supposed to know when to buy a ticket, especially when the price could drop by a significant amount just a few days after you purchased yours?
Luckily, technology comes to the rescue in the form of travel apps such as Hopper, Expedia and Skyscanner, to make purchasing plane tickets a lot easier (and smarter) for you.
Expedia
Expedia is a widely known one-stop travel app that allows users to plan and book all portions of a trip (flight, hotel, car and activities) in one place. Its simple interface and easy to navigate app make it a cinch for customers to browse. On the money-saving side of things, the app partners with more than 400 airlines and 231,000 hotels to offer deals and savings to customers. Hotels have access to what's referred to as the "Expedia Partner Central" tool which allows them to manage rates and inventory across Expedia sites.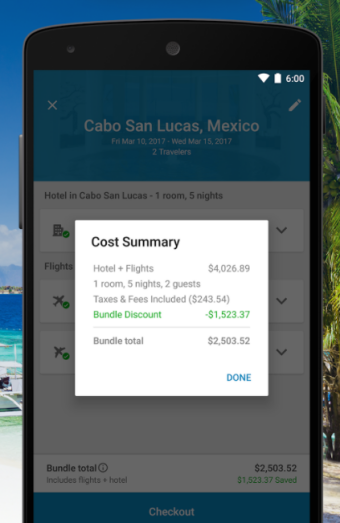 To ensure customers are getting the best deal, the app pulls airline information from Global Distribution Services to access real-time data on pricing, inventory and premium fare options. As a result, it can push out the best flight options and deals based on other travelers' experiences and purchases.
"Expedia has access to better travel data than anyone in the industry," Tarran Street, head of technology public relations at Expedia, says. "Our back-end technology enables us to more fully and actively leverage relationships between Expedia's vast amount of data, between users, the searches they do, the hotels and flights and cars they look at, and the things they eventually buy."
Street explains that Expedia has built an enormous network of nodes it calls the "Expedia Travel Graph." It provides endless opportunities for its developers, engineers and partners to identify patterns that can drastically improve the online travel experience for users and surface the best deals based on their interests.
"We're constantly analyzing the massive volume of airline data and customer traffic coming into our sites and mobile apps which allows us to rapidly test new features or offers to quickly implement those that are most valuable to our customers," Street says. "The real secret behind Expedia's investment in mobile is about optimizing every click, every pixel, every interaction. We rely on real customer data to drive our test and learn philosophy, which ensures travelers' get the right experience in order to feel confident about their travel decision."
Hopper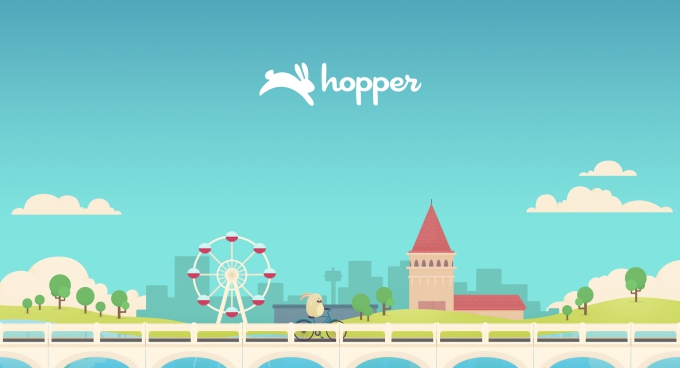 Hopper is a mobile app using big data to predict and analyze airfare prices with a simple mission: to make as many people as possible aware of a cheaper way to travel.
Hopper CEO Frederic Lalonde explains that he and his Co-founder were discussing the airfare problem and how people experience so much anxiety about the price of a ticket.
"You always end up feeling bad about the price," Lalonde says. "But this is a data science problem. No one has used data to come up with an idea for consumers."
The Hopper app has been downloaded more than 10 million times with 20 million-plus trips planned through it. The average amount people save by using Hopper is currently $50 per flight.
In app, you can input the dates you want to travel and the location you want to visit. If you're unhappy with the price that shows up, you select to "watch" it and the app will notify you when the price increases or decreases. When you get a notification about a change of price, the app will recommend that you either book the price now, stating that it does not predict a better price; or it will advise you wait, stating that previous data shows the price will drop. Currently, I am watching two flights and the app recommends that I keep waiting-it even tells me how much I could save if I wait to book.
By looking at how data works, Hopper is able to process 300 billion flight prices on a daily basis. Other people shopped these flight prices and the company has an archive that goes back hundreds of years to track when prices increase or decrease. Lalonde says when you can see demand, you can also anticipate different prices.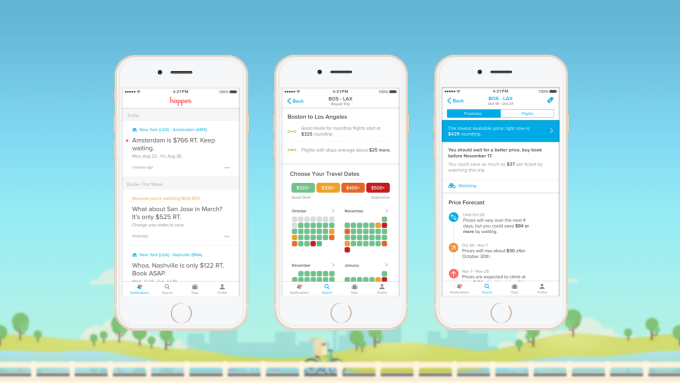 The major benefit to Hopper Lalonde points out is you don't have to do all the work, switching between different apps and deals to find which is truly the best. Hopper knows the same information (and more) as you, it's just cutting out the bouncing around and waiting for a price you want to pop up.
"People end up spending 5 percent more on a ticket than if they just bought the first price they saw," Lalonde explains, referencing how many consumers tend to move between different apps looking for the best deal. "When you search with Hopper, all you have to do is say where you want to go and what your flexibility is like. When we find something of interest for you, we'll send you a notification. The fact that we know the future is reassuring."
According to Lalonde, the reality of the travel industry is the average person travels only once or twice a year because of high prices. But, he says Hopper sees repeat users tend to travel two to three times a year.
"The trick isn't that hard-plan ahead," Lalonde says. "Hopper provides some guidance on which days you should travel and when you have five trillion prices to analyze and can look at what happened last year, you know you can make a solid prediction."
Skyscanner
Skyscanner is a travel search engine that helps users save time and money by finding the best travel options for any location. The app has more than 50 million travelers and 1,000 partners around the world.
Two features immediately stand out in the Skyscanner app: first, the ability to type "anywhere" into the search feature so you can see destinations organized by cheapest price. This makes it easy for someone who just wants to go somewhere, but doesn't have a set agenda and doesn't have much to spend.
Secondly, Skyscanner offers a "monthly view" that is useful for flexible travelers who want to plan ahead and travel when it's the cheapest time to go. When you look at the monthly view, the prices are listed based on indicative historical data. This provides travelers with an approximate price they would pay for that route on that date. When you actually click on the price, the app will show you the current live price.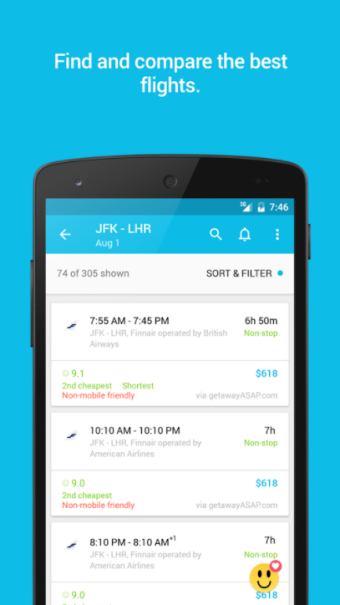 How is it any different than Expedia or Hopper? The secret lies in Skyscanner's self-built technology and a global reach that connects you to everything the travel industry offers.
"Thanks to our founders and engineering talent, we have built our travel search technology from the ground up, making it proprietary and best-in-class," Randi Wolfson, head of communications for the Americas at Skyscanner, says. "This means we have direct connections with partners, so we can provide the best, most up-to-date range of options for travelers. This makes us a unique travel marketplace: unlike other travel search sites, we're not reliant on obtaining our search results through a third party."
Skyscanner searches millions of flights on a daily basis to help travelers compare the best options and find the cheapest flights. This helps avoid a time-consuming and annoying process of visiting multiple apps or individual airline sites to find the best deal. The app even shows flight options from travel agents like Expedia and Priceline because it wants travelers to be aware of all flight choices.
Moreover, the app ensures a consumer always sees the final price ahead of time, that way you always know the prices include taxes and fees. Since Skyscanner has direct communication with airlines, pricing is delivered in seconds, meaning it always has accurate information on actual prices.
"It is very important to us to ensure that travelers can trust the prices that we show on our site, especially because prices can change quickly as seat, room or car allocations sell out," Wolfson says. "Skyscanner has a strict policy and process that goes far further than industry norms to ensure that any partners that appear on our site are showing transparent prices."
At the end of the day, most travel apps are pretty similar in how their technology works and all seem to share the same goal of wanting to help travelers get the best deal. The best advice is to just pick one app that you like and stick with it- don't waste your time (and storage space on your phone) downloading and searching across different travel apps, as all use a similar method of analyzing airline data past and present to determine costs. Rather, use one, set up notifications or price alerts, and plan your travel ahead of time.