One of the year's best surprises for me were Blue's planar magnetic headphones, the Ellas. Before testing that pair of cans, the only reference I had for Blue was in regard to the company's varied, and excellent, line of microphones. A favorite among YouTubers and podcasters, products like the Blue Yeti have come to be a staple of our modern culture, in which everyone has a voice because everyone has a microphone.
With its audio endeavors, Blue is taking a slightly different approach with the same ultimate goal: to make the best product possible. The big difference here is that its headphones don't skimp on price, as evidenced by the Ellas, which retail for $700 and now the company's first wireless option, the Satellites, which stack up against the most premium names in the business with a listed price of $399.99.
Unlike the Ellas, there was no chance of the Satellites taking me by surprise. Because of the sublime experience their sibling provided earlier this year, I had high expectations for what these could bring to the wireless audio shuffle.
So, did they deliver?
Given the quality of Blue's premier headphones, the Ellas, it should come as no surprise that the hardware of its wireless offering is excellent. Though not made of the same premium materials, the construction is plastic with a smattering of aluminum mixed in to jazz things up, the Satellites feel durable and well made. In fact, they feel far more solid than their top noise cancelling competitors, Sony's MDR-1000X and Bose's QC35s. Those latter cans tend to sacrifice rigid construction for flexibility and comfort, which makes them stellar for longer listening sessions but flimsier overall. It's a trade-off, and consumers have to decide for themselves which side of the line they fall on.
It's clear which side these fall on, having a sturdier build but less comfort. They are not, by any means, uncomfortable, but they don't reach the same level offered by Sony and Bose. Thanks to their plush earcups and generously padded headband, I was able to wear the Satellites for several hours at a time with minimal discomfort. They are a touch heavier than I like, however, and squeeze your head considerably, leading to fatigue after long periods of use. Blue does say they are tight at first by design, to help ensure a proper seal and aid in noise cancelling and will ease up over time.
After several days of use, I adjusted in large part to both the weight and tightness. There were a few headaches at first, but once the headphones broke in, it became far easier to use them for long listening sessions or while watching videos. I imagine they would only get better with time, and the tightness issue would dissipate, but there is nothing to be done about the weight. You may adjust, or they may always feel too heavy. If I had the choice, the Satellites would not be my first pick for a cross country or international flight. In a short spell, maxing out around four hours, they will serve you well. Anything beyond that is a complete guess, based on how well the design suits your head shape.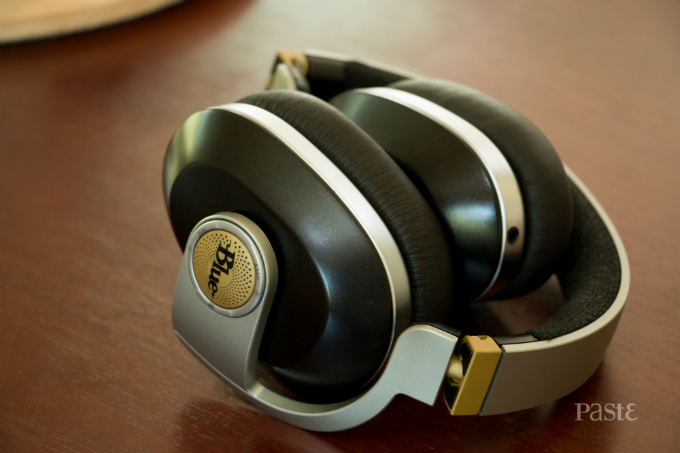 Speaking of design, these share a similar aesthetic to the rest of the Blue's headphone lineup with a heavy industrial inspiration. For my taste, they are not the most attractive cans on the market. The oval shape of the earcups along with the way the headband curls around the top and then attaches in the middle make them look rather goofy. They are big and chunky as well, which means it's not going to be the coolest looking gadget atop your head.
I've never loved the design ideas of Blue's headphones, but still enjoyed using them because the overall product they put forth is good enough to balance out any shortcomings they have visually, and it's the same here. It may be different for you. You may look at these cans and think they are striking and work both as a piece of technology and fashion, as products are so often tasked with doing these days. I do not.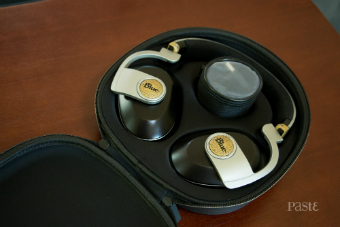 One thing I do love about the hardware of the Satellites is how portable they are. They are both foldable and have rotating earcups, allowing users to fit them into their bags in a bevy of ways. A curious thing, however, is the carrying case that comes with. It is a lovely case with a wonderful woven exterior that feels like it could handle a beating and a little pouch inside to hold all the various cables. It is also enormous. The case takes zero advantage of the wonderful, foldable frame, instead forcing you to encase them fully extended. It's an absolute head scratcher of a design choice. Now users have to choose if they want to keep their nice, $400 headphones secure and protected or if they want to have space in their bag for anything else. A small nuisance, to be sure, but one that could use reconsidering.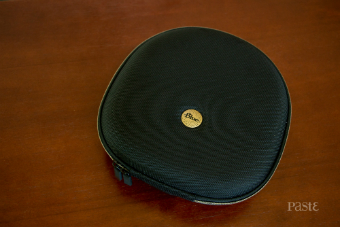 Blue has always put sound above everything with their products; it was evident with the Ellas and it's evident with the Satellites as well. In a planar magnetic, audiophile quality piece of kit like the former, having every bit of technology packed into those cans working in service of the sound is not only fine, it's admirable. Wireless headphones, however, are just as much a piece of gadgetry as they are audio equipment. They are expected to come with a handful of technological flourishes, whether that be improved noise cancelling, better Bluetooth range, onboard controls or what have you.
The Satellites come with several extra features to help keep them in the conversation with the QC35s and 1000Xs, but fumble the execution in a key area that makes the user experience more frustrating than it ought to be. In terms of connectivity, they come with Bluetooth 4.1 and the aptX codec. Range is 10 meters and I found that to be accurate so long as there were no obstacles in the way. As with any Bluetooth device, once walls and other obstructions come into the play, the signal gets choppy quick.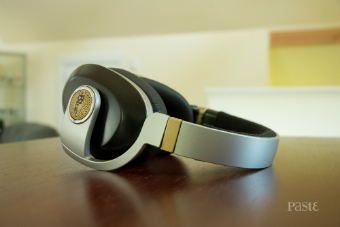 Noise cancelling is excellent, and the company does something different than your typical ANC headphones here. Blue uses separate, 30mm drivers specifically for noise removal, which work in tandem with four microphones to help eliminate outside noise while not affecting the audio in any way. In my testing, this worked as advertised. The Satellites do an excellent job cutting out background clamor, but don't lower the volume or cut out any detail of the music being played.
There is also a built-in amplifier, similar to that of the Ellas, which helps boost the performance of the 44mm drivers at work pushing the audio to your ears. This, in theory, should present more detail and a richer, fuller sound. The contrast between having the amp engaged versus having it off was not as stark as I found with the Ellas earlier this year. With those, the difference was substantial, to the point that I never wanted to use the Ellas unless the amp was charged and ready to go. Here, the story is one of subtler changes. There is a boost of overall sound when you turn the amp on, but it doesn't outshine the performance offered sans amp.
Always a sticking point with wireless gadgets, the Satellites offer up to 8 hours of listening time, if you have the Amp and noise cancelling on, and 24 hours if you are listening only via Bluetooth and without the extra features enabled. Both of those numbers are reasonable given the extra power needed from the amplifier, and I found the numbers to hold true. Using a mix of ANC but no amp, amp and no ANC, etc. I was able to get around 10 hours of listening time, a fair number, but not one that will jump off the spec sheet.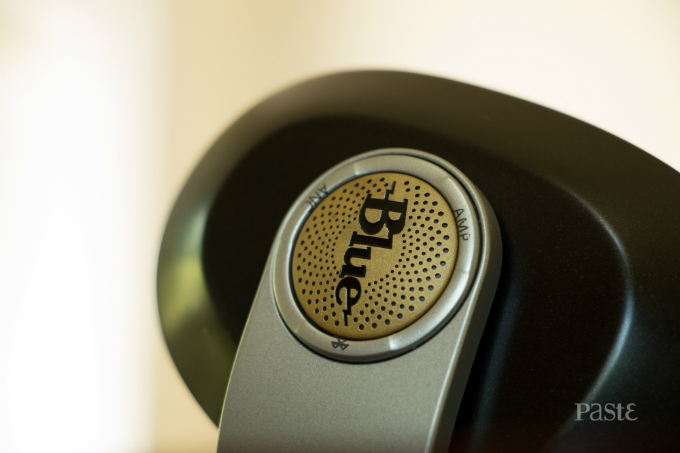 The area where Blue loses its way, and needs to return to the drawing board, is in regard to the onboard controls. Wrapping around the company logo on the side of each earcup, the Satellite's controls are poorly laid out and a disaster to use. I tested these headphones for more than a week and still never felt comfortable using the controls, because it was incredibly difficult to figure out where they were, and whether I'd actually pressed a button.
There are several issues working against the controls here, so let's break them all down. The first is that the buttons don't have enough definition between one another. They are all placed on one solid, circular piece of plastic surrounding the logo with small indentations to signal a new section. Those indentations are so subtle, however, it's difficult to get your bearings on touch alone. A huge reason for this is that Blue decided, instead of making the buttons larger and breaking the circle into three distinct parts, to add spacers between each. These spacers may or may not do anything when pressed, I am still not clear on that, though they are able to be pressed, I assure you.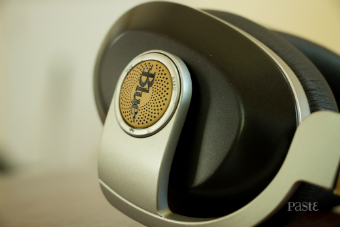 The company also did not place the buttons around the logo in a simple way, but instead at a cockeyed angle. So, even though you can make out the carved Blue logo easily with your finger, it still doesn't work as a helpful landmark because the Amp button, for instance, is not directly above the logo but above and a little to the left. To top it all off, there is an LED light embedded in the logo that flashes when you turn certain features, like the Amp and ANC, on and off but you can't see it because it's on the side of your head and there is no sort of chime or voice that plays through the earcups except when you first turn them on.
It is all maddening, and frustrating and confusing. The choices made are counterintuitive to the point that you question how the Satellites ever hit shelves with this system in place. I'm sure, given the right amount of time, I could learn my way around the headphones and use the onboard controls no problem, but it shouldn't be this difficult and Blue would be smart to revisit the design here to find something a more user friendly.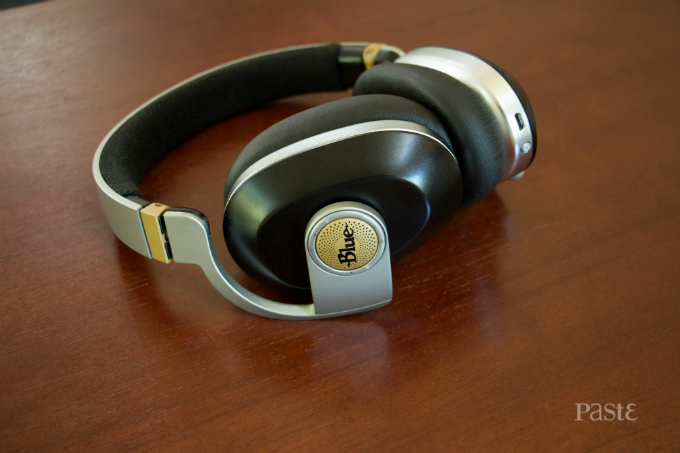 Give that the design isn't up my alley and the user experience frustrations, I was ready to write these off as a pair of headphones that weren't for me. But, as I mentioned above, everything Blue does is in service of the sound and though it may get a few of the technological aspects wrong, it knows how to deliver high quality audio. The Satellites are one of the best experiences I've ever had from a pure sound perspective, bested only by the company's magnificent Ellas. In the wireless market, you'd be hard pressed to find cans that sound better than these, including the most lauded competitors that have been mentioned several times in this review.
Performing best with uncompressed files, as any piece of audio equipment would, the Satellites are able to push forth an impeccable amount of detail, with great punchy low end that never slides into muddiness, solid mids and shimmering highs. A great album I like to listen to when testing audio products is Blind Pilot's latest, And Then Like Lions which contains a cacophony of sounds that all meld together into a beautiful, bright example of folk. The Satellites were able to capture an immense amount of the detail that, and many other, albums put forth and created enough separation to find the hidden gems that may be washed over by lesser products.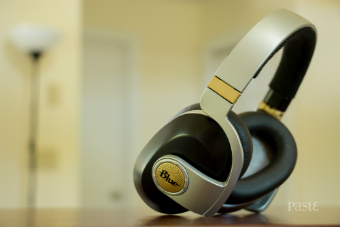 The headphones also performed well with streaming files, which is likely to be the main source considering the wireless nature. I use Spotify, with high quality streaming turned on, and the Satellites were able the drag out a lot of quality from those tracks, despite their compressed nature.
Much like the Ellas, the sound offered is accurate, warm and solid from top to bottom. The bass is well represented, but doesn't overpower. In songs where you expect it to be a major player, it's there, but on tracks where it's not wanted, there isn't an artificial punching up of the low end. What Blue seems bent on doing is creating products that give a truthful representation of the music, and that's what these do. You can listen to them in passive mode, as well, connected with a standard audio cable (which is hilariously too long). Little is lost in passive mode, you miss a bit of power the amp provided, but the seal from the earcups is good enough to act as a substitute for ANC and the overall sound is just as excellent as with every feature employed.
If your number one priority is sound, you need to give serious consideration to what Blue has managed to create here. They may not win the battery life battle or the comfort battle or even the design battle, but a lot of those lesser feats slide away when you hear how good the Satellites sound.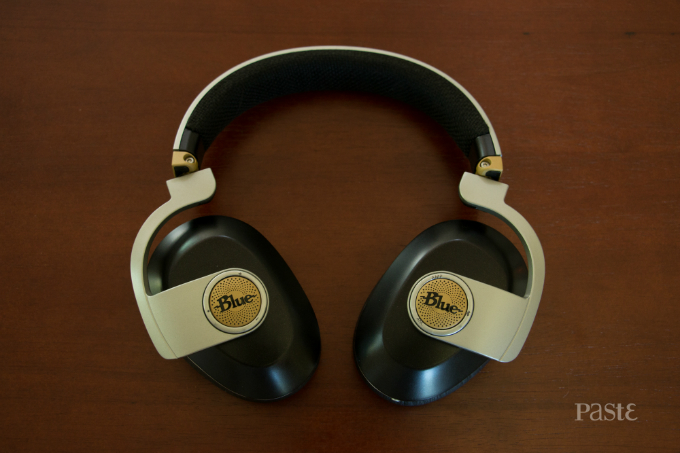 Blue may not get all the finer points right with its first pair of wireless headphones, but the overall package it delivers make them one of the best pairs of wireless cans on the market, and quite possibly unparalleled in the sound department. For $400, the company is competing against the biggest and best names in the wireless audio game, a game it still has a lot to learn about. But Blue is able to hold their own here on the strength of the audio quality and sturdiness of the hardware.
Once known solely for its line of USB microphones, Blue continues to make a name for itself in headphones with solid effort after solid effort. Its first attempt at wireless audio is rough in spots, downright frustrating in others, but delivers beautifully on the basics, which is more than can be said for a lot of companies on their first attempt. If you've been looking for a quality pair of wireless headphones and have yet to pull the trigger, consider these before you run off to buy the latest pair of Bose QuietComforts, they might just win you over.