Facing Continued Persecution, Iran's LGBTQ Population Builds Community And Resistance Online
Image via Sean Gallup/Getty Images
Tech
Features
social media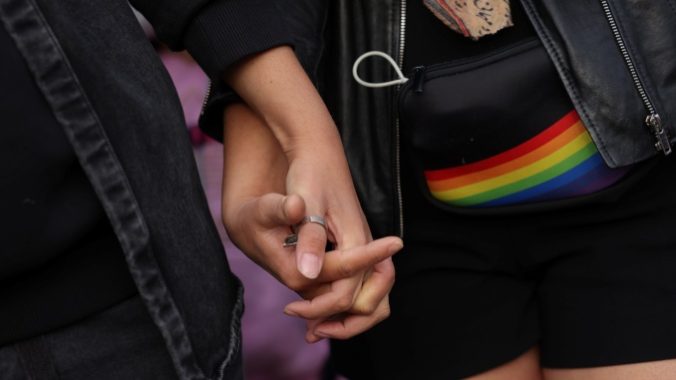 Few countries are as hostile towards LGBTQ people as Iran. The Islamic Republic follows a strict legal code based on Sharia law that punishes same-sex sexual activity with imprisonment, corporal punishment and even death. Members of the LGBTQ community deal with intense social and legal barriers just by living their lives openly.
According to Shadi Amin, coordinator of the Iranian LGBTQ advocacy group 6RANG, the already tough situation for LGBTQ people has worsened in recent years in Iran ."Politically we have seen a rise in poverty and pressure on young LGBTQ people in the past year since [Iranian President Ebrahim Raisi] has been in office," explains Amin.
"Laws have not been passed to protect the community, on the contrary, the government has been arresting more LGBTQ people in the past 3 years, one of them being Sareh." Zahra Sedighi-Hamadani, known as Sareh, and another woman, Elham Choubdar, were sentenced to death last year for alleged "corruption on earth".
A report from the Hengaw Organization for Human Rights said Sareh and Elham were accused of promoting homosexuality and speaking with media organizations opposed to the Islamic Republic.
In the face of this repressive regime, many LGBTQ Iranians have migrated to digital communities on platforms like Telegram. The secure messaging app has faced bans in Iran for many years, but despite these efforts by the government to restrict the service, Iranians worked to circumvent the censorship through virtual private networks (VPNs).
Government agents are actively seeking ways to breach the secrecy of these apps, where activists have managed to build-up safe spaces, connections can be made and a range of resources can be accessed. "In spite of the threat of being hacked, identified, arrested and interrogated by the authorities, there is a heightened desire to connect and network with likeminded people from the community," adds Amin.
It's not just members of the LGBTQ community who use these platforms, with supportive parents and family members of LGBTQ people asking questions about how to properly and humanely support their loved ones who identify as LGBTQ.
In a bid to create fear within the community and reduce the number of allies who support LGBTQ rights, anti-LGBTQ Iranians often overwhelm LGBTQ friendly social media pages with hate speech. Amin and her colleagues at 6RANG are concerned that social media organizations are not taking enough care when it comes to protecting online accounts belonging to people who have been hacked or arrested.
"The policies, as well as the support teams need to be adjusted to reflect heightened sensitivity when it comes to pages belonging to LGBTQ people in countries where they face persecution," she adds.
In Amin's view, the first step towards liberating Iran's persecuted LGBTQ population is to pass protective laws that decriminalize homosexuality and criminalize discrimination against members of the LGBTQ community.
For Amin, the situation in Iran is not unique or new. "History shows us that cultures around the world have not always been LGBTQ friendly, including in European countries," she concludes. "I do not think that under the Islamic Republic regime we will see a deep change related to our human rights in Iran, but we will continue our struggle."