Chicago winters are long and brutal. If you live in or have visited the city between November and early (ok, even late) March, you likely know this as a fact. It's a pretty safe bet that once April rolls around, the snow will cease and temperatures will be well on their way to pleasant. Whether coming out of hibernation with the animals at Lincoln Park Zoo or catching some sun at one of the city's landmark parks, these seven Chicago attractions are perfect for welcoming warmer temperatures.
1. Lakefront Trail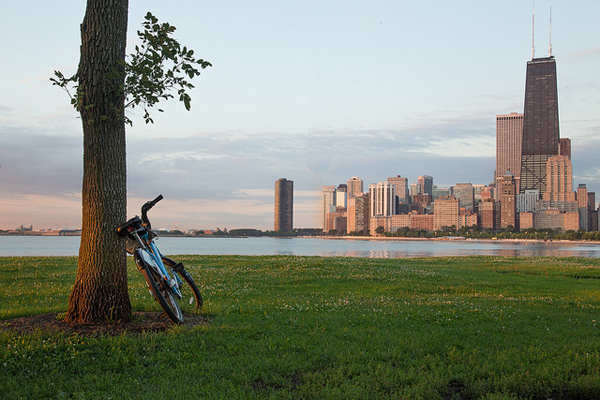 Photo via Flickr / Danny Fowler
Swimming in Lake Michigan right now would feel more frigid than refreshing, but that doesn't mean it can't be enjoyed. Rent a Divvy bike (Chicago's bike sharing system) or strap on a pair of rollerblades and head out on the 18-mile Lakefront Trail. You'll be rewarded with expansive views of the lake as you pass several of the city's must-sees like Soldier Field, Grant Park and Navy Pier.
2. Rooftop Patios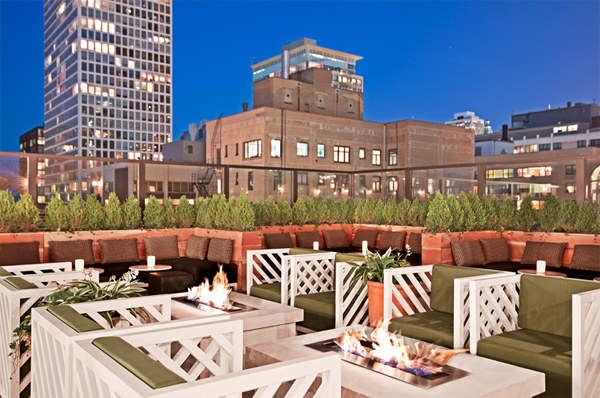 Photo via Drumbar
Look up if you're itching to enjoy the weather along with Chicago's renowned food scene. Countless rooftop patios sit atop some of the city's best restaurants and hotels. The beer menu at Little Goat changes frequently, but it's a safe bet you can sip a pint from a local brewery like Revolution or Half Acre on the rooftop patio of this popular West Loop gourmet diner. The J. Parker offers as impressive a menu (see: spiced churros, pickled sweet peppers and a walleye burger) as the views from its patio on the rooftop of the Hotel Lincoln. Drumbar (pictured) is where you go when you want a view paired with an inventive cocktail menu that includes ingredients like maple-soy syrup, absinthe and orange flower water. The swanky Gold Coast bar is located off Michigan Avenue atop the Raffaello Hotel.
3. Millennium Park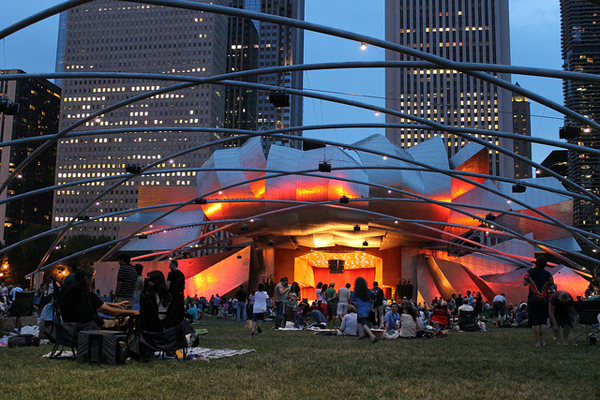 Photo via Flickr / Connie Ma
Chicago has a plenty of parks, but none is better on a warm day than Millennium Park. It sits on nearly 25 acres between Michigan Avenue and the lakeshore in the Loop and is chock full of reasons to visit. The park is home to the Frank Gehry-designed Jay Pritzker Pavilion (pictured) and the city's famous Bean, formally known as Anish Kapoor's Cloud Gate.
Mark Your Calendar: Hozier and Dawes play Pritzker Pavilion on June 10, followed by Damien Rice and Iron and Wine on June 21. Millennium Park will also host the 30th annual Chicago Gospel Music Festival from May 29-31.
4. Boat Tours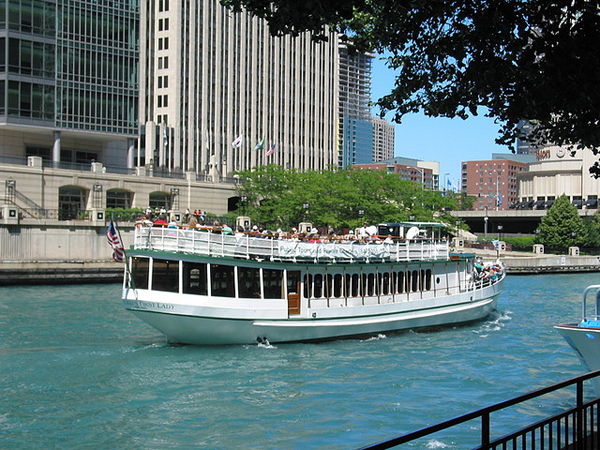 Photo via Flickr / sroot2006
While the bodies of water in and around Chicago don't warm quite as quickly as outside temperatures do in spring, there's no shortage of ways to enjoy them without having to get wet. Get up close and personal with the city and its river on an Urban Kayaks tour (season begins May 1). Take an architectural tour of the city aboard the Chicago Architecture Foundation's river cruise (season begins in April). Set sail from Navy Pier aboard a 148-foot tall ship named Windy (season begins in May). If it's a thrill your after, then watch the skyline pass you in a blur as you race along the lakefront on a Seadog speed boat tour (season begins in April).
5. Lincoln Park Zoo / Lincoln Park Conservatory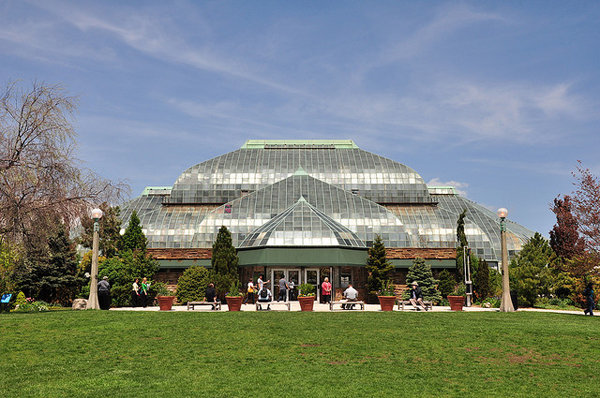 Photo via Flickr / Stephen Hanafin
It's open year-round, but spring is arguably the season things come to life at Lincoln Park Zoo. The weather is warm enough to comfortably spend an afternoon walking through the 35 acres of exhibits that include a lion house, sea lion pool and bear habitat. While you're there, take a stroll through the verdant Lincoln Park Conservatory located next to the zoo. The historical botanical garden dates back to the late 1800s. Today it includes the impressive show house (pictured), along with palm and orchid houses and a fern room. Entrance to both the conservatory and the zoo is free.
Mark Your Calendars: Sample more than 75 specialty beers from over 35 breweries at the zoo's Brew to Be Wild event on June 13.
6. Cubs/Sox Game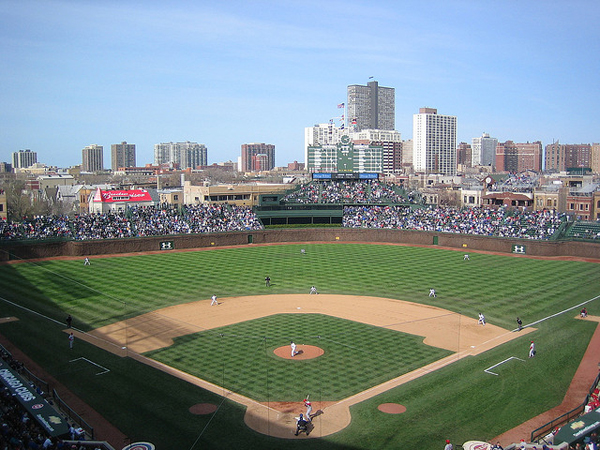 Photo via Flickr / Jeramey Jannene
With opening day behind us and a hopeful season ahead, both Cubs and White Sox fans will be donning jerseys, taking to the stands on their respective sides of the city and cheering on whoever they consider the true Chicago home team. Whichever game you choose to attend, it will give you a chance to get in on the rivalry and enjoy the weather with a Chicago "dawg" in hand.
7. Maggie Daley Park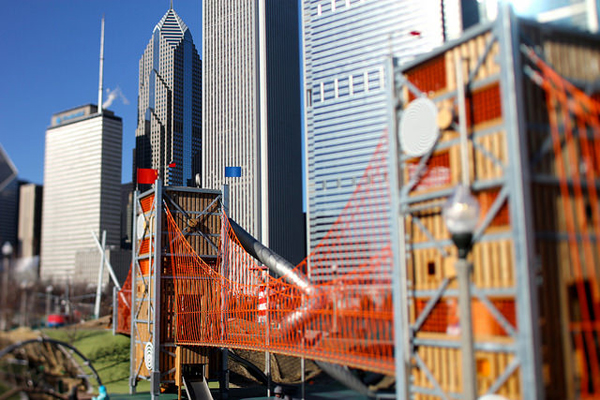 Photo via Flickr / Daniel X. O'Neil
Trade the concrete jungle for a jungle gym at Chicago's newest park. Twenty acres of land was repurposed between Grant and Millennium parks to make way for Maggie Daley Park. It officially opened in December when the ribbon was cut on the winding ice-skating track and playground. This spring the park's climbing wall will open, along with a children's garden and more play spaces to let your inner kid run wild.
Lauren Kilberg is a Chicago-based freelance writer and blogger. Her travels have found her camping near the Pakistani border of India, conquering volcanoes in the Philippines and being humbled in Haiti.