The City of Light may have had a tough few weeks, but it's lost none of its luster. While it's natural to feel a bit nervous about visiting Paris considering the recent attacks, some would argue that there's never been a better time to show your support by showing your face—and opening your wallet.
Paris is the most popular city in the world for Airbnb rentals with millions of visitors opting to rent charming, authentic apartments instead of the city's notoriously cramped hotel rooms. Even Paris' luxury properties have taken a beating over the last year.
Besides giving visitors the chance to rent fully furnished apartments, often for a fraction of the cost of Parisian hotels, Airbnb also offers experiences, from the chance to drink with a local ($34) to dinner cooked by a private chef in your apartment ($77).
Entire place rentals in the city reach upwards of $4,000 a night, but the current average is just $98—which means that it's easy enough to find a clean, centrally located, well-reviewed apartment for $100 or less. Here are 10 of our favorites.
Note to reader: Descriptions correspond to the images just above text. And, please make sure to double-check prices and details before booking your stay.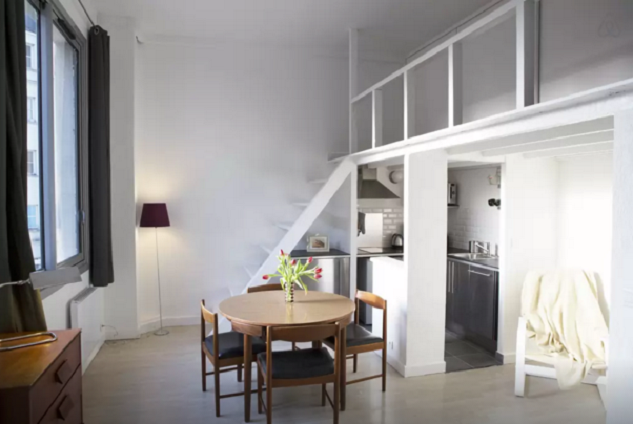 This sunny loft is located in an old factory in the diverse Belleville neighborhood. There's a petite kitchenette with a washing machine, mid-century modern furnishings, a large shower (rare in Paris) and even a view of the tip-top of the Eiffel Tower. Nearby, guests will find a fromagerie, authentic bistros and brasseries, the colorful Canal Saint Martin and a fresh market four days a week. There's a metro station just outside of the building.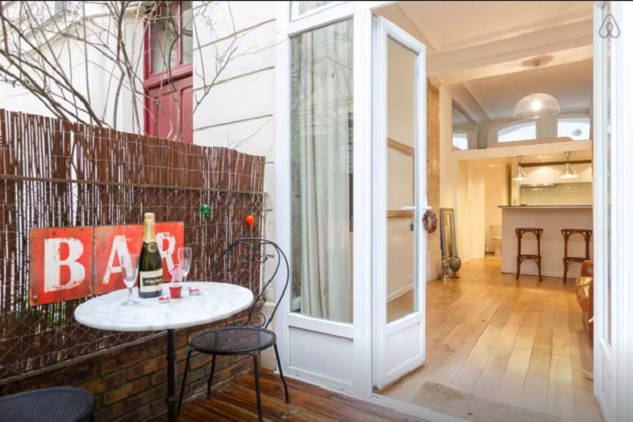 With a quiet little terrace in a historic Haussman building, this little loft is a breath of fresh air in the village-like Quartier des Batignolles near Montmartre and Champs Elysees. The bed is hidden away in a cozy, low-ceilinged loft area, with the galley-style kitchen underneath. The host, Raphaelle, provides guests with a custom-made guidebook highlighting her favorite haunts in the neighborhood.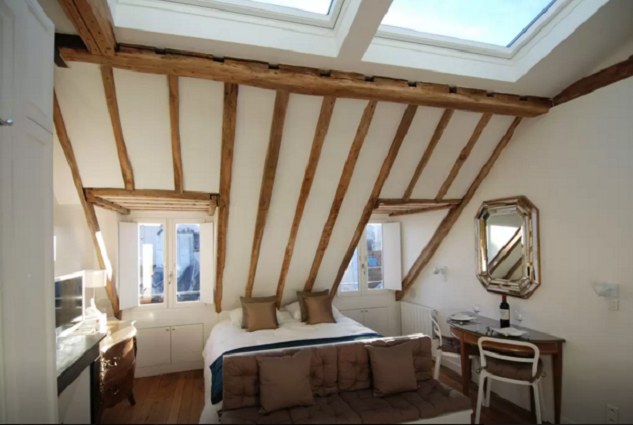 Le Marais is home to winding medieval streets, trendy boutiques, falafel restaurants, and this penthouse apartment. On the sixth floor (with an elevator to get you most of the way there) the apartment offers stunning views of the surrounding rooftops as well as two skylights to keep things bright.

You may have to sleep on a fold-out couch in this recently renovated apartment, but the view of the Eiffel Tower, Notre Dame, and other landmarks from the seventh-floor balcony just might make it worth it. The host supplies drinks and breakfast foods, and there's even a swing and binoculars for taking in the view.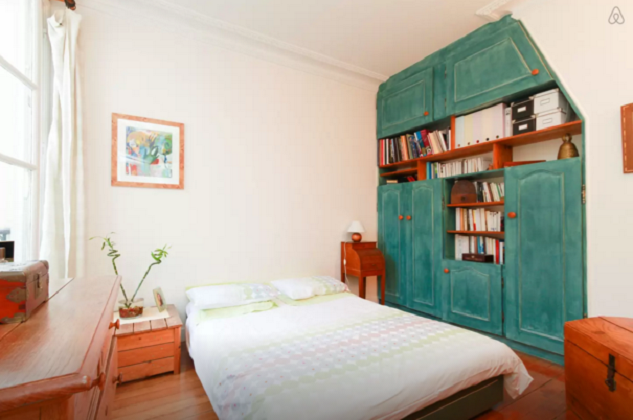 Though a bit off the beaten path in La Butte aux Cailles, this one-bedroom apartment is close to everything you need for an authentic Parisian experience: family-run bistros, parks, an open-air market and a Velib bike-rental station just outside the door. Host Isabelle has won past guests over by stocking the kitchen with coffee, jam, and good French butter.

Very roomy by Parisian standards, this 600-square-foot apartment (pictured at top) in the bustling 10th arrondisement has a living and dining area, separate bedroom, and spacious kitchen and bathroom. It's on the fifth floor (without an elevator), but the height means there's a good view of the surrounding area—and you can work off all those baguettes. The Canal Saint Martin and Place de la Republique are five minutes away.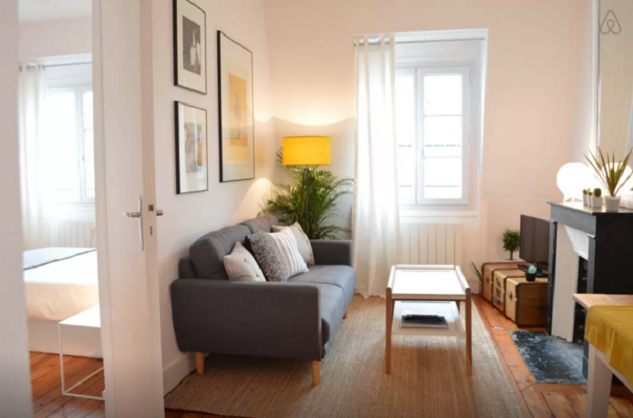 This two-room flat near Pigalle is also on the fifth floor, with no lift (sensing a theme?). Moulin Rouge, Sacre Coeur and the luxurious Galeries Lafayette department store are close by along with all of the necessities for daily life in Paris: boulangeries, patisseries, brasseries….

With room for up to four guests, this colorful Montmartre apartment is near the Dali museum, Au Lapin Agile cabaret, and the city's "secret" vineyard, Clos Montmartre. There's a cheery (and miniscule) powder blue kitchenette, a washer/dryer in the bathroom, a large Wi-Fi-equipped TV and a Nespresso machine with pods for your morning café.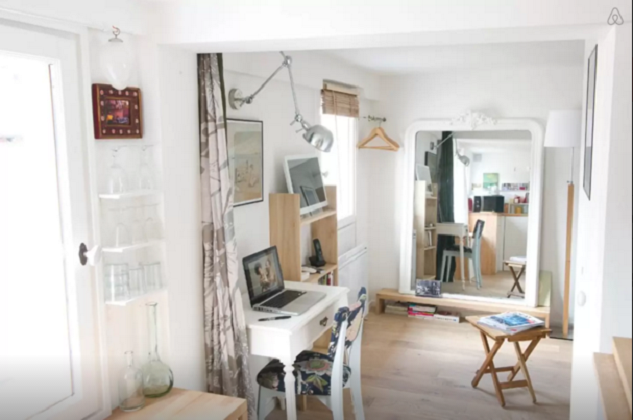 Just down the street from the Pantheon in the Quartier Latin, this charming studio feels just like a Parisian apartment should. Space is at a premium and the ceilings are low, but the central location makes up for it—the Luxembourg Gardens, Notre Dame Cathedral and Rue Mouffetard are all an easy stroll away. Artsy hosts Jean-Baptist and Coralie have earned more than 100 five-star reviews for the thoughtfully decorated space.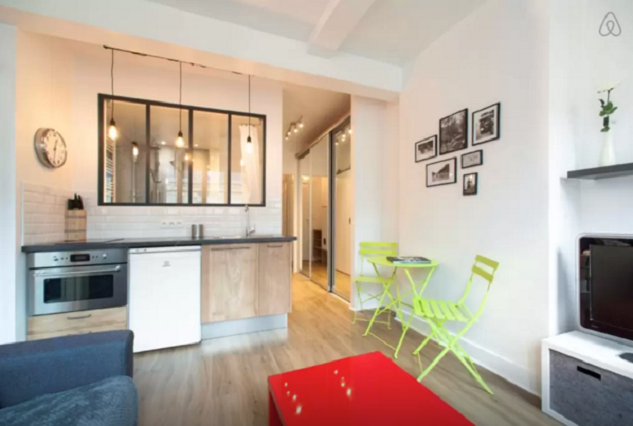 Sunlight floods this Montorgueil apartment thanks to its top-floor location—and there's even a small elevator. The neighborhood is one of Paris' most beloved for shopping and dining, with many of the businesses open seven days a week. The Passage du Grand Cerf, a covered arcade filled with shops selling everything from vintage eyewear and jewelry to flowers and wine, is a block away.

Looking for more info on Paris? Airbnb's neighborhood guide is chock full of useful tips, while sites like Hip Paris, Time Out Paris, and Paris By Mouth will tell you what's going on in the city.
Paste's Airbnb columnist Erica Jackson Curran is a former alt-weekly editor turned moonlight freelancer based in Richmond, Virginia.