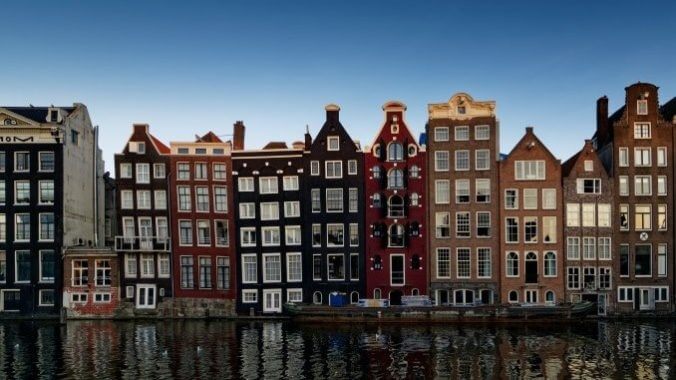 "Get Out There" is a column for itchy footed humans written by Paste contributor Blake Snow. Although different now, travel is still worthwhile–especially to these destinations. Today we travel to Amsterdam.
Holland has a much bigger reputation than its compact capital of Amsterdam would have you believe. In fact, the most famous Dutch city is downright cute, refreshingly clean, and filled with more canals than Venice and more flowers than any other country on a per export basis. 
Of course, Amsterdam is also known for its vices—the scent of pungent reefer and red glow of prostitution fill several tourist areas. But those novelties are just a small part of what make greater Amsterdam and Holland (aka The Netherlands) worth visiting. After a weeklong visit during peak tulip season, here's what stood out.
Cozy good looks 
If you like big, shiny skyscrapers, don't look here. Instead, Amsterdam is characterized by its compact, intimate, and endless rows of brick, rectangular buildings, apartments, and large townhomes. In a word, adorable. 
But the more than 60 miles of canals is what really sets Amsterdam apart. This is a city and people defined by water. To celebrate their king, they float on it in canal boats, beers in hand, decked in orange, the official color of the royal family. 
Getting around is easy
Amsterdam is as flat as Oklahoma (although significantly more scenic!), which makes walking, biking, and public transport a breeze on dedicated biking highways (complete with their own curbs), trams, trains, buses, and subways. Since the population is only 800,000, getting around is even easier with so many transportation methods at your disposal, Uber and bike apps very much included. 
As a bonus, over 90% of Dutch speak English, more than any other non-native country. That said, there is no language barrier here. You can get and communicate anything you want and will always be understood. It's so good (or bad, depending on your perspective), that I didn't even bother to learn local sayings, which in hindsight made me feel lazy. (Next time I'll at least learn "hello, please, and thank you.") 
Best things to do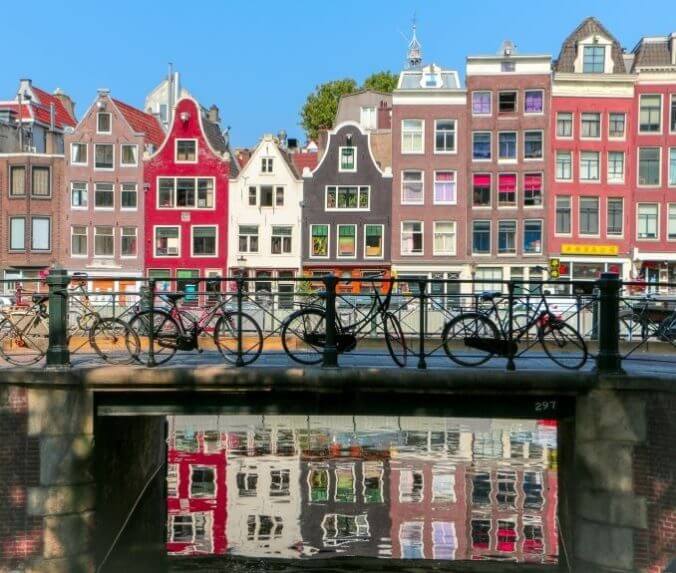 Although Amsterdam has more museums than any other city, my wife and I came for one thing: the tulips. At world-famous Keukenhof, you can find over two million of them at peak season. Billed as "the most beautiful spring garden in the world," the sprawling showcase is like a Disneyland for flowers, the crowds are so thick. But also like Disney, everyone's happy and the park smells fantastic. As one old man exclaimed, "Everywhere you look is beautiful!" He's not wrong. 
After the tulips, we stayed for the energizing City Loop bike tour to our favorite restaurant and some of the better museums, the Straat and Rijks chief among them. At the former, we craned our necks and openly wondered how spray paint (aka graffiti) artists could create such detailed paintings. At the latter, we took in some of Holland's "greatest hits" and sunbathed in the Parisian-like, flower-filled gardens. We also enjoyed one of the many hour long canal tours via low lying boats. 
ProTip: Although we also visited the top-rated Van Gogh museum, I would only recommend it to die-hard fans—it's sorta "meh" for everyone else.
What about the food?
There's no easy way to put this—the Dutch aren't known for their food. But that didn't stop us from enjoying their famous stroopwafels, french fries, and vla, a drinkable vanilla pudding. If you're really feeling adventurous, you can try eating a brined, raw, and slimy herring "the Dutch way" by letting it slide down your throat like a pelican would. But since you're neither a pelican nor Dutch, you probably won't enjoy it. As those who know like to say, "it's not for everyone," which is code for, "not very good but very traditional."
Where to stay
My wife and I lodged at the fantastic, jungle-filled, and warm-wooded Hotel Jakarta on Java Island, which is a 20 minute walk (or 10 minute tram) to central station. Their included fresh breakfast is a highlight worth feasting on and writing home about. 
---

Blake Snow contributes to fancy publications and Fortune 500 companies as a bodacious writer-for-hire and frequent travel columnist. He lives in Provo, Utah with his adolescent family and two dogs.