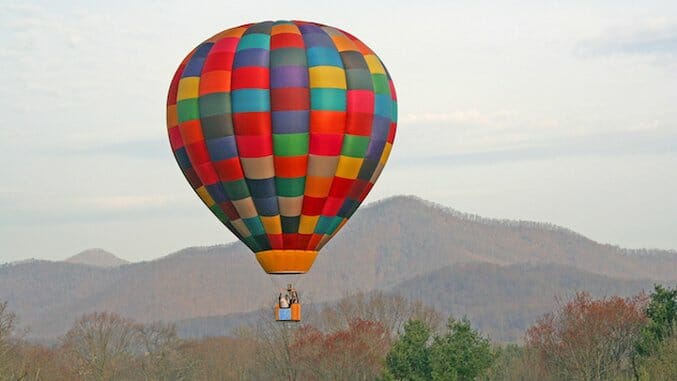 "This song is a reminder for someone in particular, but also to all of us: that you can always come back home … to Asheville, North Carolina!"
Ben Phan is starting to settle into his set now as the crowd at The Grey Eagle cheers wildly from their folding chairs; whether a local or a transplant, Asheville pride is a surefire crowd-pleaser. Phan, an Asheville-raised Latvian-Vietnamese-American with the folksy pipes of Ray LaMontagne, makes an easy poster child for this progressive community nestled in the sleepy south.
As the smell of pork barbecue (and vegan-friendly tempeh asada) wafts over the audience from the venue's taqueria, Phan croons passionately about a variety of social issues—from gay and women's rights, to addiction, to mental health—all in a seemingly incongruent southern twang. Oh, and like many events in Asheville, the concert also doubles as a fundraiser for the donation-based yoga nonprofit Asheville Community Yoga Center.
Founded in 1797, Asheville grew slowly with the expansion of the railway system in the south and came to national prominence with the completion of the Biltmore Estate—still the country's largest private residence—in 1895. Today, with a population of fewer than 100,000 residents, Asheville has been called the "Paris of the South" and has made a name for itself in the national craft beer scene.
The year-round resort town is home to all kinds—creative types mingle easily with the fleece-clad mountaineering set who cross paths regularly with the area's longtime farmers. One of the prized jewels of the South, Asheville is a living, breathing city that grows and changes daily. Here we offer you a snapshot of the city's best experiences to have over a few days in this eclectic town.
Day One
Morning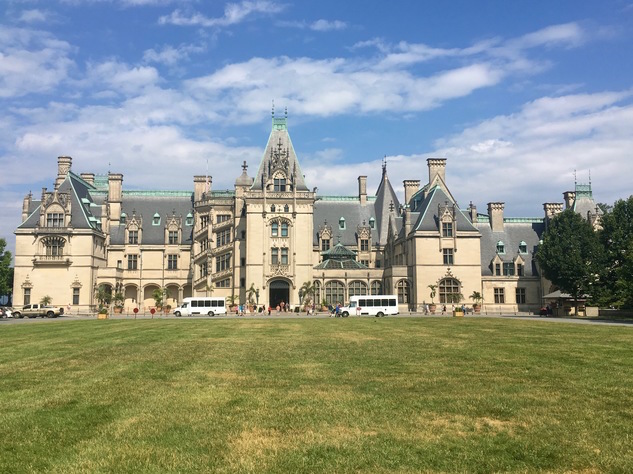 Photo by Bridget Nurre Jennions
Start your day off at Vortex Doughnuts in the heart of Asheville's trendy South Slope neighborhood where you can choose from a wide variety of "twisted" flavor combinations—from pomegranate matcha to the daily local beer glaze—that are baked fresh daily. Filled with a couple of America's best doughnuts, drive a few minutes down to the Biltmore Estate, a must for any newcomer to the area. George Vanderbilt's sprawling 8,000-acre property is as impressive as it is intimidating, so make sure to go in with a plan. You can save $10 off the $60 admission by buying tickets a week in advance. Even if it's not a high-traffic day (which require reservations), make sure to get there early to beat any crowds.
Begin your visit with a self-guided tour of the Biltmore House, where a small fraction of the 101 bedrooms and 43 bathrooms are displayed for visitors as they looked at the turn of the century. Make sure to check out the bowling alley, swimming pool, and kooky Halloween Room in the basement before wandering out to explore the home's immaculate gardens. Make the most of your entry ticket by driving over to Antler Hill Village for the included tasting of up to 20 of the Estate's wines.
For an additional $19 fee, you can cover even more of the property by bus on the impressive Legacy of the Land tour, which offers more insight into the Vanderbilts' construction process and access to parts of the estate normally closed to the public. With limited time on the estate, you can also plan your visit by choosing from the Biltmore's suggested itineraries that are tailored to the interests of history buffs, admirers of art and architecture, wine lovers and more.
Afternoon
After a full morning of walking and wine tasting, head back to the South Slope to refuel with Asheville's best rendition of Carolina barbecue at Buxton Hall. The pulled whole hog barbecue sandwich with a side of green beans is a triumph of southern comfort cuisine. Just a block away, you can walk off your food coma with a stroll through the numerous locally owned boutiques along Lexington Avenue. Don't miss Lexington Glassworks where you can buy hand-blown glass and sip local craft beers while you watch them work. Next, ease your sore muscles and feet with a massage around the corner at Spa Theology, which offers a variety of treatments, including one "to uncover your personal spirit animal."
Evening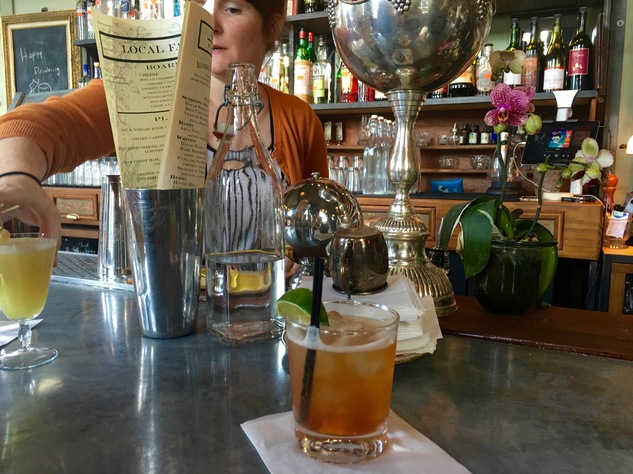 Photo by Bridget Nurre Jennions
Feeling relaxed and refreshed, make your way over to Sovereign Remedies, a lounge with a chic vibe and an impressive cocktail list. If you are lucky enough to find yourself in Asheville on the first Friday of the month, you can go from there to either the Downtown Art Walk or the drum circle that takes place in Pritchard Park every Friday evening.
Having worked up an appetite from walking or dancing, take the 15 minute stroll or quick taxi ride over to the historic Montford neighborhood for handmade pasta at Chiesa, a rising star on Asheville's food scene that is set in a converted Pentecostal Church. With one of the husband/wife ownership team at the restaurant every night, the customer service is mind-blowing even in a town that's known for it.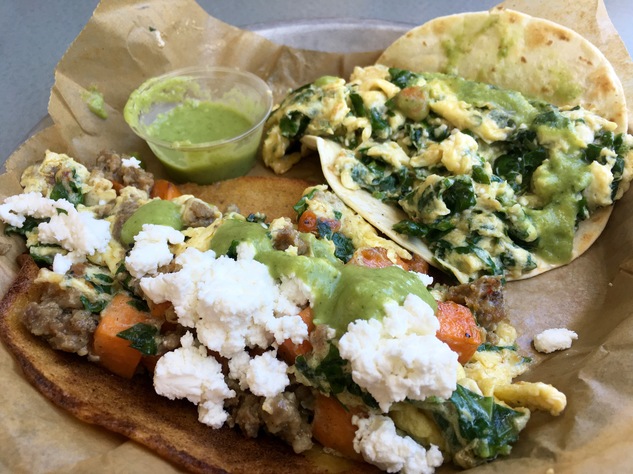 Photo by Bridget Nurre Jennions
Day Two
Morning
For breakfast, check out TacoBilly (pictured above), a hot new West Asheville spot that serves breakfast tacos all day. At less than $4 apiece, each taco is overloaded with local ingredients like veggie chorizo, goat cheese, avocado and more on your choice of a flour, corn, or plantain tortilla. One should be more than enough to prime your stomach for the next stop: the farmers market. With fresh produce and samples abounding, visit one of Asheville's countless farmer's markets to try anything from homemade kimchi to ghee. Don't be surprised if you also find yourself being talked into joining a flash mob to counter deforestation. The Western North Carolina Farmers Market is one of Asheville's largest and is open every day year-round.
Afternoon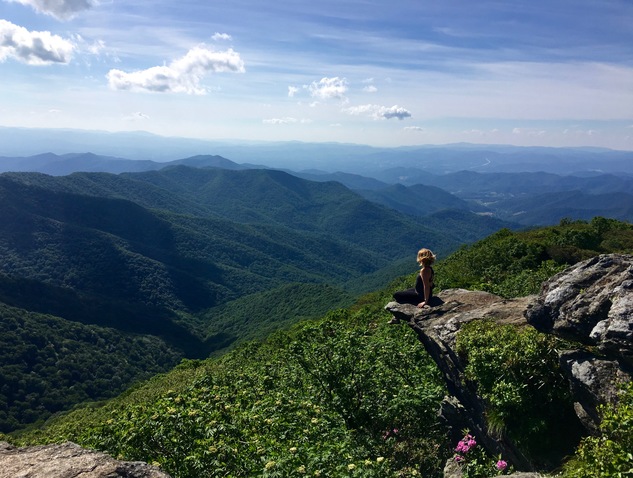 Photo by Bridget Nurre Jennions
Before heading off to lunch, check out one of Asheville's newest cultural attractions, aSHEville Museum. The museum, which opened in July 2014, tells stories of the triumphs and challenges of women and girls around the world. The permanent exhibit on the 16 women who have won the Nobel Peace Prize is particularly inspiring.
You'll have a chance to discuss the feats you just learned about on the 20 minute walk over to Gan Shan Station where you will find the city's best Asian fusion. Named for the Sunset Mountain neighborhood of Asheville where the chef was raised, the restaurant serves up a rotating menu of Asian classics like ramen noodles and Korean fried chicken. Go from Sunset Mountain to the Blue Ridge Mountains (you will need a car for the 20 mile drive) to take in some of the area's best natural scenery. The Craggy Pinnacle Trail provides the perfect taste of what the Blue Ridge Parkway has to offer by way of a quick hike with rewarding late afternoon views.
Evening
You can't leave Asheville without visiting one of city's breweries (more than 20 to choose from), so grab a post-hike beer at one of our favorites: Burial Beer Co. Check out their take on your favorite traditional ale or lager, or simply work your way through our list of the brewery's highlights. If you've gone for option two, you might be in need of a good burger. A 20-minute bus ride on the W1 or W2 away (plus a little walking), Smoky Park Supper Club, a restaurant housed in a shipping container on the French Broad River, serves a great burger, as well as a wide range of wood-grilled and roasted locally sourced meats. Definitely make this your dinner stop. From there, round out your time in Asheville by checking out the local music scene. The Orange Peel is one of the city's mainstay venues where you can find a variety of artists from Henry Rollins to Matisyahu.
Getting Here
Asheville Regional Airport is located about 20 minutes south of the city (right next to the Sierra Nevada Brewery, just sayin') and serviced by regular connections from Charlotte, Atlanta, Newark, and Chicago. The city is also less than a five-hour drive from major southern cities like Atlanta, Nashville, Charleston, and Savannah.
Where to Stay
For a taste of true southern hospitality, indulge yourself with a few nights at the five-room Bunn House or snag one of The Windsor's 14 rustic modern suites. Both inns offer modern luxury while celebrating the turn of the century charm of the buildings in which they are housed.
For more affordable accommodations, try the quirky Airbnb rentals or the Sweet Peas Hostel, which boasts a central location on top of Lexington Avenue Brewery and clean, comfortable beds starting from $28 per night.
Breathtaking Balkans columnist Bridget Nurre Jennions is an Emmy-winning TV journalist and an international development specialist in Kosovo. Follow her travels on her blog, Bridgekrieg.