Greetings From Athens, Greece
Art by Sarah Lawrence; Photo via Flickr/dimitris plantzos
Travel
Features
Athens
Athens has hit the news for all the wrong reasons lately. Economic crisis, social unrest and corruption in high places have become the blight of the city considered the Birthplace of Western Civilization. Some 2,500 years ago, classical ideals of democracy, philosophy and beauty were born here. Today it's a chaotic jumble of high-rise concrete apartment blocks, dense traffic and soaring unemployment. But as Greeks look for a new way forward—they voted in the radical-left Syriza Party on an anti-austerity manifesto in January 2015—the city is still as exciting and exuberant as it has ever been … with tons of culture, a balmy Mediterranean climate and an unstoppable all-out nightlife.
Day One
Morning
Drinking coffee, be it Elliniko (Greek-style) or frappe (iced and frothy) is a ritual here, so start the day in true Athenian style, with coffee at Tailor Made. Take a seat on the terrace, overlooking the blue-flowering jacaranda trees on Agia Irini Square, just off the pedestrian-only thoroughfare of Aiolou. Tailor Made is currently one of the hippest cafes in town, and its name is a tribute to the fabric stores and sartorial businesses that once thrived in this downtown neighborhood. The building itself was designed by Ernest Ziller, a German architect who pioneered the neoclassical style in Athens in the late 19th century, following Greek independence from the Ottoman Turks. Inside, carefully chipped plasterwork and exposed concrete create a portrait of Ziller on the back wall behind the bar.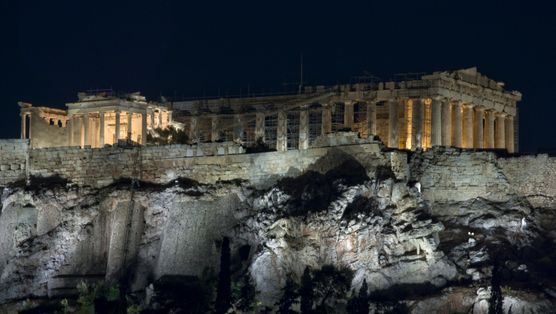 Photo courtesy of Athens Convention & Visitors Bureau
Walk through Plaka, Athens' oldest residential neighborhood, a labyrinth of narrow streets lined by pastel-colored neoclassical mansions, many of which are now souvenir shops, pseudo-rustic tavernas or small hotels. It's undeniably quaint, but feels more authentic in winter, when there are fewer tourists. Plaka is also home to several diminutive Byzantine churches, which tended to be erected on the sites of pre-Christian temples, and often incorporated pre-existing carved stonework from the earlier buildings. One of the nicest is the 12th-century Little Mitropolis, which stands next to the more cumbersome Mitropolis (Metropolitan Cathedral) from 1862. If the former is open, take a peep inside for a mystical experience: Orthodox chanting, medieval frescoes, flickering candles and bearded priests are discernible through clouds of incense.
A steep hike uphill through Plaka brings you to the Acropolis, a rocky plateau, rising above the sprawling modern city. Athens was founded here, some 2,500 years ago, with the construction of several magnificent temples. The best known is the Parthenon, dedicated to the goddess Athena, the city's namesake. In the centuries that followed, it was used by the early Christians as a church, and as a mosque by the Ottoman Turks. You'll probably recognize it. The Acropolis has been used as a location in many films, including My Life in Ruins (2009) and The Two Faces of January (2014). Note that the Acropolis entrance ticket also gives you access to various other ancient sites, so put it in your pocket and keep it safe.
Afternoon
In contrast to the ancient relics, a 10-minute walk southeast of the Acropolis stands the ultra-modern glass-and-concrete Acropolis Museum designed by Swiss starchitect Bernard Tschumi and opened in 2009. The light and airy interior displays ancient finds from the Acropolis site—classical statues of gods, mortals and animals, carved in marble. On the top floor, you can see a life-size reconstruction of the frieze that once decorated the Parthenon, with the Acropolis in clear view through the museum's floor-to-ceiling windows. For a lunchtime snack, opt for the museum's bar-restaurant, which has tables on an open-air terrace.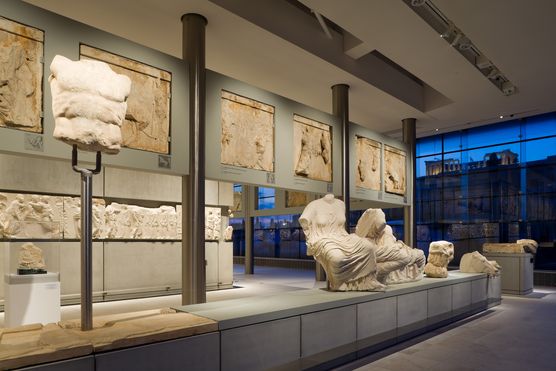 Photo courtesy of Acropolis Museum press office
From here, walk back along the 2.5-mile, tree-lined, car-free Archaeological Promenade, which curves around the base of the Acropolis Hill. On the way, you'll pass the second-century A.D. Odeon of Herodes Atticus, an amphitheater with astounding acoustics, designed to seat 4,800 spectators. Nowadays, it hosts the annual Athens Summer Festival. Luciano Pavarotti, Liza Minnelli and Goran Bregovi? have performed here. Also take a look in the Ancient Agora, where philosophers, merchants and religious worshippers met in ancient times. An Arcadian landscape planted with olive trees and scattered with crumbling ruins, its most notable building is the well-preserved Temple of Hephaestus, dedicated to the God of Fire.
Time for a sunset drink? Nearby, you'll find The Art Foundation, better known as TAF. Entered through an unimposing doorway, it centers on a 19th-century courtyard garden rimmed by former-stables, each one of which serves as a tiny gallery exhibiting contemporary artworks: painting, photography and installations. Take a look at what's on display, then order a cocktail at the open-air bar and enjoy the mellow atmosphere and background music.
Evening
Greeks eat late. To catch the local atmosphere, try to arrive around 9:30 p.m. for dinner at the informal Oinopoleion in Psirri. Originally a wine store opened by the Markou family in 1928, they still serve their own wine by the carafe, as well as tasty food such as vareniki (homemade ravioli filled with cheese) or the veal and tomato casserole. On Saturday nights, they stage live bouzouki music, with seating in a leafy garden out back.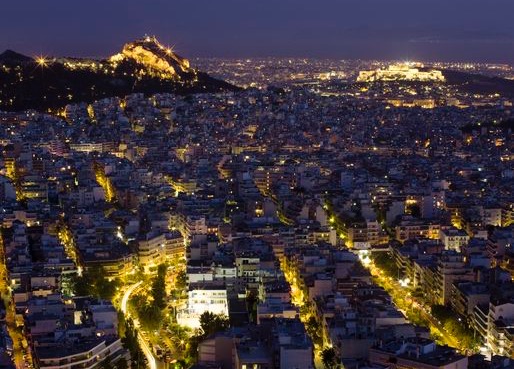 Photo courtesy of Athens Convention & Visitors Bureau
Afterwards, track down the nearby Six D.O.G.S. An avant-garde venue that combines a café, bar and performance space, it is named after the concept of "six degrees of global separation," which claims that everyone on the planet is connected through a chain of six acquaintances. They have an ongoing program of quirky concerts. Chris Eckman of Seattle rock band The Walkabouts and New York post punk band Dirty Fences are scheduled to play here in 2015. Later, Seven Jokers (Voulis 7) is a popular after-hours spot; it's tiny and gets very smoky and crowded, and rarely closes before sunrise.
Day Two
Morning
You'll probably need a kick-start this morning, so head for Manas Kouzina Kouzina, where they do a Sunday brunch from 10 a.m. to 12:30 p.m. Located opposite Agia Irini square, where you had coffee yesterday, Manas occupies the ground floor of Hotel Emporikon (see To Stay below). Everything they use in the kitchen is locally sourced, so you're in for a feast, with delights such as scrambled egg with smoked sausage, Cretan cheese pie drenched in honey and apple cake sprinkled with cinnamon.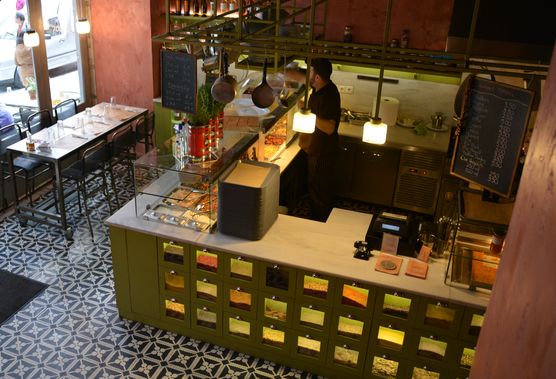 Manas Kouzina Kouzina
To learn a little more about Greek folk music, head for the tiny Museum of Greek Musical Instruments in Plaka. Traditional regional instruments are displayed in glass cases with headsets next to each exhibit to listen to instruments being played. If you like what you hear, there's a museum shop selling CDs.
Continue to Syntagma Square, home to the Greek Parliament, originally built as the Royal Palace in 1843. This is where the recent anti-austerity protests have been staged. In 2011, thousands of Greeks occupied the square, calling for change, only to be challenged by police with riot shields and tear gas. Since the January 2015 election, the situation has calmed somewhat and the barricades in front of Parliament have been dismantled.
Walk through the National Gardens, with towering palms trees, artificial ponds and strutting peacocks, to arrive in posh Kolonaki. A neighborhood of foreign embassies, up-market residences, designer-label boutiques, and schmanzy restaurants. There is obviously a lot of money here. Where it has come from and how much of it has been declared is anyone's guess.
For a chronological overview of Greek art history, from the Stone Age to the 20th century, take a look in the Benaki Museum. On display are hordes of intricately crafted gold jewelry, marble figurines and religious icons featuring sultry-eyed saints.
Afternoon
Proceed to neighboring Exarhia. The total antithesis of Kolonaki, Exarhia is grungy and alternative, and much loved by students, bohemians, artists and anarchists. This was the site of the Athens Polytechnic Uprising, which ended in bloodshed on 17 November 1973, but ultimately caused the fall of the much-maligned military junta (1967-1974). It's also where local teenager, Alexandros Grigoropoulos, was shot by police on 6 December 2008. Grigoropoulos' death lead to several days of all-out street riots. There's a shrine to him on the corner of Mesolongiou and Tzabella streets.
Exarhia abounds with cool graffiti and informal eateries. You're probably not very hungry yet, but you must taste a local take-away souvlaki. Head for Axilleas Vergina (Valtetsiou 62), just off Exarhia Square, and order pita kalamaki hirino apo ola (chunks of skewered pork, wrapped in warm pita with fresh tomato, onion, fries and garlicky tzatziki).
You can burn off those calories with a hike, following the steps that zigzag through dense Mediterranean vegetation to the peak of Mount Lycavittos (970 feet). Planted with pinewoods, agaves and cacti, and crowned by a tiny white Orthodox church, this is Athens' highest point. Affording amazing panoramic views over the city, sea and mountains, it's a great spot for photos. On the northern slope, an open-air theatre hosts summer concerts, with recent acts including Dead Can Dance, Morrissey and The Dandy Warhols.
Evening
Make sure you reserve in advance for dinner at super-romantic Strofi. The best tables are on the roof terrace, and lie directly in the gleam of the floodlit Acropolis, making an unforgettable backdrop for your last night in Athens. Downstairs, walls are hung with photos of well-known actors and musicians who have eaten here. The proximity to the Odeon of Herodes Atticus makes it a popular post-theatre dinner venue during the Summer Festival. Choose from tasty dishes such as lamb baked with rosemary, or pork fillet stuffed with sun-dried tomatoes, gruyere cheese and peppers. Ask your waiter to recommend a good bottle of Greek wine.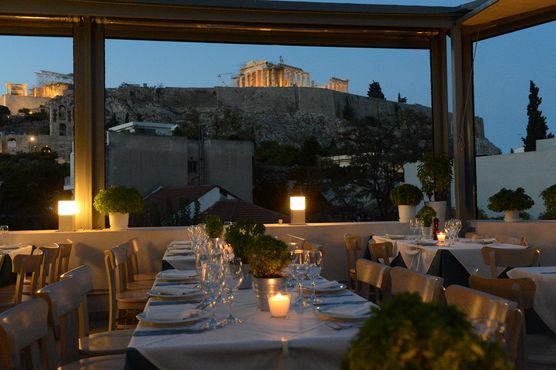 Strofi
Round off with a nightcap at the equally romantic Brettos, a family-run distillery dating from 1909, where they serve their own raki (a potent liquor) in a quirky selection of fruity flavors. The colored bottles that line the floor-to-ceiling shelves are backlit, giving the place a lovely warm glow well into the early hours. In fact, you probably won't want to go home, so we'll leave you here.
Getting There
Delta (from JFK in New York) and Air Canada (from Montreal and Toronto) fly to Athens International Airport.
To Stay
To feel like a local in downtown Psirri, stay at EP16 apartments. Occupying a 1930s Modernist building, the five apartments (sleeping three-to-four people) have wooden floors, slick open-plan kitchens, marble bathrooms and whitewashed walls hung with works by contemporary painters and street artists. You also get a communal roof garden.
Alternatively, also in Psirri, on the pedestrian-only street of Aiolou, the 14-room boutique Hotel Emporikon reopened in January 2015. A carefully restored pink neoclassical building, dating from 1850, it had lain derelict for decades. You'll find the informal eatery, Manas Kouzina Kouzina, under separate management, on the ground floor.
Jane Foster is a British freelance travel writer, with a background in architecture, specializing in Greece, Croatia and Montenegro.