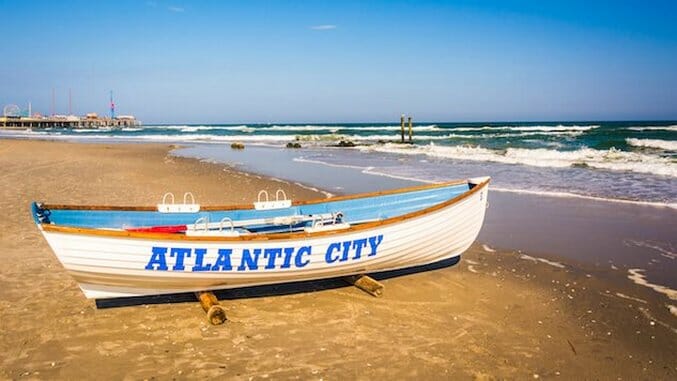 Atlantic City, New Jersey enjoyed a bout of fame from 2010 – 2014 thanks to the HBO drama, Boardwalk Empire, which starred Steve Buscemi as Enoch "Nucky" Thompson, a corrupt and powerful Atlantic City politician during the 1920s and 1930s Prohibition era. Show aside, the city has mostly had a rocky reputation. It was once dubbed the Las Vegas of the east coast because of the dozen dazzling casinos that spanned several blocks and the abundance of visitors that flocked here to gamble. Over the years, tourism declined sharply and several casinos and local businesses floundered, leading to local economic turmoil and a new seedy reputation. Today, however, Atlantic City is experiencing a major economic revitalization, shedding much of its negative status. The city is still home to seven casinos, popular restaurants and luxury shopping areas on or within strolling distance of the boardwalk. World-class performers such as The Roots and award-winning artist Common have performed at the Borgata's event space, which is located near State Marina, a more upmarket part of town. This year, Jerry Seinfeld, Chris Rock, Anderson Cooper and Andy Cohen will take the stage at the Borgata.
Since Atlantic City is just off Interstate 95, which runs through most east coast states from Maine to Florida, it is worth the stop to refuel and have some fun. The city is also accessible from the nearby Atlantic City International Airport.
1. Casinos
Four casinos (Bally's, Caesars, Resorts and Tropicana) are located along the boardwalk whereas The Borgata, Golden Nugget and Harrah's reside along the marina. Try your luck at one or all since each offers standard gambling options like poker, roulette, slot machines, blackjack and high-stake games in smoking and non-smoking areas. Drinks are still sort of free; tipping isn't required but expected. Starting bets differ per casino and time of day; they are usually higher in the evenings and on weekends when more people are present. Hotel accommodations are available at all casinos as well.
2. Tanger Outlets
If you're lucky, you can spend some of your winnings at the Tanger Outlets shopping center, which features sales at almost 75 stores and restaurants including Calvin Klein, Coach, White House Black Market and Brooks Brothers. For food, head to popular restaurants such as Ruth's Chris Steakhouse, The Melting Pot and Wingcraft, a gastropub. All the stores and restaurants are within walking distance of each other, so some calories can be exercised away with post-meal window or actual shopping.
3. Playground
Playground, a niche three-story shopping and entertainment center, juts almost 1,000 feet over the Atlantic Ocean and houses luxury brands such as Louis Vuitton, Swarovski and Tiffany & Co. Upscale restaurant options include Buddakan, Phillips Seafood and Souzai Sushi and Sake. After dinner, lounge at one of the seven pubs and southern-themed clubs.
4. Knife and Fork Inn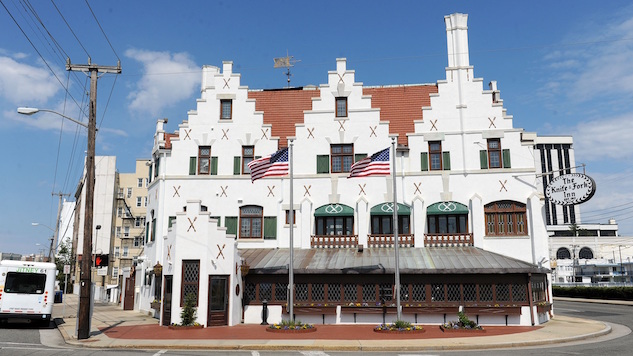 Photo by Casino Reinvestment Development Authority (CRDA)/Atlantic City Tourism District
This restaurant, established in 1912, still has a bit of Prohibition Era glamour, but offers a modern menu of filet mignon; braised short ribs; shrimp, crab and scallop risotto; and lobster thermidor. Knife and Fork Inn's sustainable menu features buttermilk fried quail, venison chops and, our favorite, the maple pecan salmon with butternut squash. Whether a table for one, two or few, make a reservation to dine on the second floor, which, during the Prohibition Era, was an all-women's lounge, as they were barred from dining with men in the main dining room on the first floor. Everyone is now welcome on the second floor and seats near the window offer ocean views.
5. Atlantic City Boardwalk and Beach
For visitors who just want to sightsee, the AC boardwalk/beach is the place to be. The boardwalk has an assortment of souvenir shops, apparel shops, food stands and arcade-like entertainment. Bike carts abound to take tourists to and from each end. For relaxation and sun, head to the beach, which is large enough for people to have a sense of privacy while sitting on the sand or swimming.
6. Borgata
As a luxury hotel and casino in Atlantic City, it's no surprise that the property features several event spaces for concerts and parties. Idina Menzel, Maxwell, Leela James, Ledisi, Jerry Seinfeld, Sting and many others are slated to perform at the hotel this year. Check the Borgata website for specific dates and to purchase tickets. Post-performance, head to Premier, the property's on-site club, to show off your fancy footwork.
---
Carolyn is travel/lifestyle writer and essayist who can pack her luggage in 30 minutes. In between completing her forthcoming book of essays, she likes to look for doughnut shops in any city she visits.