Thirsty? You're in luck. This is the first installment of a new drinking-and-travel series we call City in a Glass. In each, Paste mixes and stirs a city's signature concoctions and slides them down the bar to readers. Saddle up to the bar. The first round is on us.

Dallas is one of the rare cities that straddles a variety of American regions: the South, the Southwest and, of course, Texas, which counts as a region all its own. As cowboy as all that sounds, Dallas is actually surprisingly cosmopolitan. In this northeast pocket of the state you'll spot more Teslas and Nieman Marcus shopping bags—the flagship, downtown store from 1914 is a historic landmark—than you will camo' hats or belt buckles.
But that's not to say the whole city caters to the white-tablecloth crowd. (In fact, a humorous insult in Dallas is calling someone a "$30,000 Millionaire," as in a person who earns entry-level wages but who lives like an oil tycoon.) Dallas' regional influencers really reveal themselves in the city's eclectic dining and drinking scene. Here you'll find everything from casual BBQ joints and taco stands to glamorous Latin American eateries and speakeasies.
Want a sip of Dallas? Here are three essential cocktails you need to try and where to find them.
1. Red Pegasus Redux
Where to order: Midnight Rambler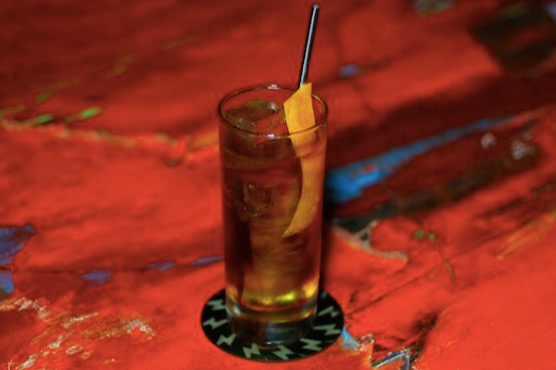 Photo courtesy of Midnight Rambler
At Midnight Rambler cocktail bar, located in the Joule Hotel downtown, you can literally drink the Texas great outdoors. Here co-owner Chad Solomon, a recent New York City ex-pat, makes an avant garde take on the Americano aperitivo using some rather wild local ingredients: grapefruit and Texas cedar. Yes, as in the wood. "The idea for the drink is centered on the interplay between gentian (a bitter herb) and grapefruit," he says. "We introduce Texas cedar into the mix to push the 'woodsy' flavor profile of gentian."
His Red Pegasus Redux aperitivio is made with Italian vermouth, Texas cedar-infused Suze (a gentian liqueur), grapefruit zest and soda. To concoct the specialty Suze, Solomon combines the essential oils of Texas cedar, bergamot (a citrus fruit), vetiver (an edible grass) and ginger and then cooks them into the Suze sous-vide style for 48 hours. Two days later he filters out the fats. The finished cocktail is earthy and refreshing. "The aroma of grapefruit peel on the nose gives way to woodsy gentian and the Texas cedar flavor with an astringently clean finish," Solomon says.
The drink is named in honor of the iconic, 40-foot-long Red Pegasus sign downtown. The twin flying horses were built atop the Magnolia Hotel in 1934 to represent the Magnolia Oil Company's logo. Today the sign is owned by the city, a neon red silhouette in the Big D skyline.

2. Peruvian Welcome Drink
Where to order: San Salvaje by Stephan Pyles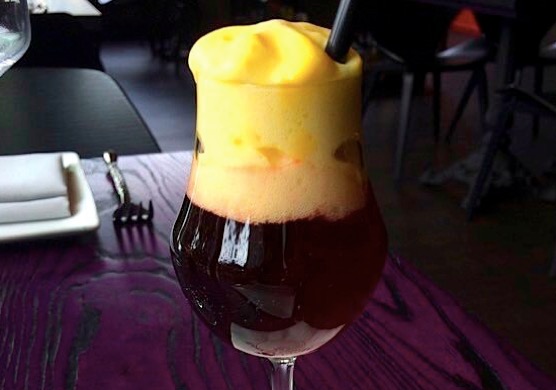 Photo courtesy of San Salvaje
Chef Stephan Pyles, a fifth-generation Texan, is one of the original champions of Southwestern cuisine in the U.S. He's been a Dallas fixture for 25 years and in his newest restaurant, San Salvaje, he celebrates the foods and drinks of indigenous peoples in the Southwest and Latin American. Meaning "wild saint," San Salvaje's menu features unusual ingredients such as chicha morada, a Peruvian punch made from purple corn.
Maize is a Peruvian staple—the country has some 3,000 varieties—and it is particularly delicious when turned into a sweet, nonalcoholic beverage. San Salvaje general manager Victor Rojas says making chicha morada is simple. "We submerge purple Peruvian corn in pineapple juice, cinnamon, sugar and other spices," he says. "Everything is brought to a boil, then steeped for a few minutes." Once it is removed from the stove and cooled, Rojas incorporates it into a violet-hued cóctel called the Peruvian Welcome Drink. To make the beverage, he combines ¾ ounce chicha morada and 1 ounce pisco in a cordial glass and then tops it with an orange foam made of passion fruit.

3. Tomar de los Muertes
Where to order: Victor Tangos

Photo: Kim Duffy
Tepache is a fermented beverage made from pineapple rinds. The lightly boozy drink has been popular in central Mexico for centuries, where it is often spiked with brown sugar and cinnamon and served over ice. Up until recently, though, tepache in the U.S. was only available as a home brew, sold discreetly at taquerias and Mexican grocery stores. The drink has since caught on. Now it is popping up in bubbly "beertails" (light Mexican beer mixed with tepache) and is a coveted ingredient in Latin-influenced cocktail bars across the country.
One bar taking full advantage of the tepache craze is Victor Tangos gastropub in Dallas' Knox-Henderson neighborhood. There, barman Alejandro Galindo brews tepache in-house. Then general manager Matt Ragan incorporates it into a cocktail he calls Tomar de los Muertes. "I can't think of an ingredient I've been more excited to play with in recent memory than tepache," Ragan says. "It's fun and fruity, but it has a ton of depth and nuance." For the cocktail, Ragan combines tepache with tequila and smoky, Oaxacan mezcal. "You get that tropical pineapple on the front and that earthy, spiced tang of mezcal on the finish," he says.
Tepache
By Alejandro Galindo, bartender at Victor Tangos
2 pineapples
2 cinnamon?sticks
10 cloves?
10 tamarind pods?
2 cones of Piloncillo (Mexican brown sugar)
Distilled water (2:1 pineapple juice to water)
Cut the rinds off of the pineapples and extract the pineapple juice. Combine the pineapple rinds, pineapple juice, distilled water, cinnamon, cloves and tamarind pods in a large vessel. Cover with a cloth to prevent debris from falling into the vessel, and ferment for four days at room temperature. After four days, grate both pyramids of Piloncillo into the vessel and stir vigorously. Cover and ferment again in the refrigerator for three more days. After three days, strain the liquids off of the solids and press the pineapple rinds to release as much liquid as possible. The resulting liquid is the tepache.
Tomar de los Muertes
By Matt Ragan, general manager at Victor Tangos
1 oz. Alipus San Luis Del Rio mezcal
1 oz. Tapatio Blanco tequila
1 ½ oz. tepache
½ oz. lemon juice
½ oz. agave syrup (1:1 agave to hot water)
Combine all ingredients in a cocktail tin. Shake and strain over ice into a double rocks glass.
Top photo: Ryan Hyde, CC-BY
City in a Glass columnist Alyson Sheppard writes about travel and hangovers for Playboy.com. She currently resides in the great state of Texas.