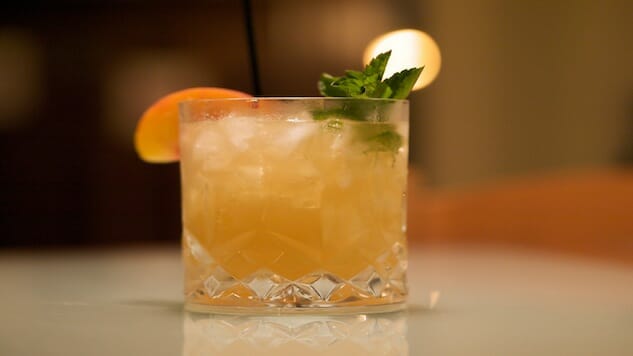 Thirsty? You're in luck. In Paste's drinking-and-traveling series, City in a Glass, we mix up a city's signature swills and slide them down the bar to readers. Grab a stool. This round, in Manhattan, is on us.

New York City is the best cocktail city in the world. In addition to its rich drinking history—this is, after all, where the Manhattan, the Bloody Mary, the Tom Collins and the Carrie Bradshaw originated—New York is also home to the modern-day cocktail bars that set the standard and pace for the rest of the country. This is where cocktail culture is invented and reinvented, where trends unfold before they're even trends and where bartenders become household names.
Today, with the combination of rising rent prices and the oversaturation of traditional late-night destinations such as the Lower East Side and East Village, cocktail bars are staking claims in new neighborhoods, ones that have never really been known for offering good drinks. On this city tour we're going to take you to the award-winning bars that are pioneering cocktail culture in new locations around Manhattan. Here's where to find three great drinks and even how to replicate them at home.

1. Whiskey & Cola
Where to order: Porchlight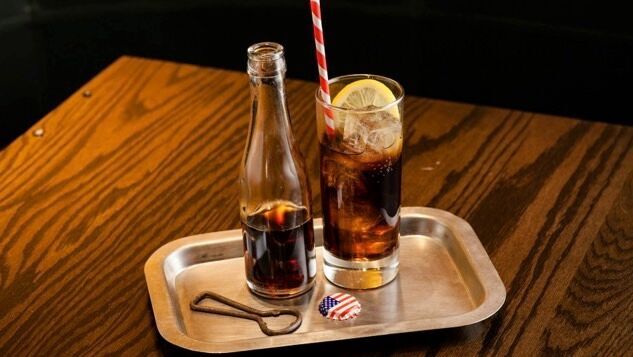 Photo courtesy of Union Square Hospitality Group
You can order a simple whiskey and Coke at any bar in the country. But you'll actually want to order it at Porchlight, restaurateur Danny Meyer's first standalone cocktail haven. And stand alone it does: The new, Southern-inspired bar is one of the few businesses even operating in the sparse neighborhood of West Chelsea. Don't worry, Porchlight's serious takes on common mixed drinks makes the trek oh so worth it.
"The Whiskey & Cola came about because we wanted to have a drink on the menu that everyone would immediately recognize and feel comfortable with," bar manager Nick Bennett says. "It was going to be the kind of drink that someone could saddle up to their corner bar and ask their bartender for, but we also wanted to make it as best as we can."
So Bennett opts for Mellow Corn, a potent and corn-forward American whiskey, plus homemade cola and Fernet bitters. "The flavors of the cola and Fernet aren't lost behind too much char or overly aged whiskey," Bennett says. "It tastes like the best Whiskey and Cola we've ever had." After tasting Porchlight's version, you probably won't be satisfied with a whiskey and Coke from anywhere else again.
Whiskey & Cola
2 oz. Mellow Corn whiskey
¾ oz. cola syrup (homemade, but can also be bought at a specialty store)
½ oz. Fernet-Vallet liqueur
2 oz. water
Make homemade cola in a Soda Stream. Add the whiskey, liqueur and cola to a glass filled with ice. Stir. Can also be served in glass soda bottle with a side of ice.

2. Rockaway
Where to order: Seamstress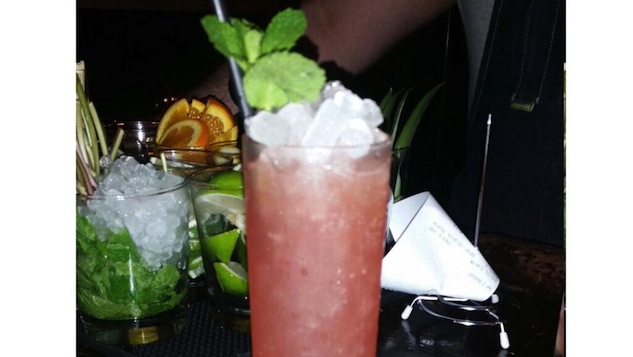 Photo courtesy of Seamstress
On the weekends during the summer, New Yorkers slather on sunblock and make the long, A-train pilgrimage to Rockaway Beach. This sliver of sand along the coast of Queens has killer waves for surfing, art fairs, and plenty of boardwalk food shacks and surf clubs for partying. It's the perfect escape for many city-dwellers, including bartenders at Seamstress cocktail bar on the Upper East Side, who named their fall tiki drink Rockaway in its honor.
Seamstress, open since early 2015, is one of the first craft cocktail venues in the U.E.S., an overwhelmingly residential part of the city. The bar's owners lived in the neighborhood and knew how underserved they were, so they took the initiative to open their own place. Now Seamstress attracts its own city-wide pilgrims, who would vouch for the bar's cool riffs on classic American cocktails like the Rockaway. Created by bartender Ranjini Bose, this summertime rum drink is balanced with cool-weather ingredients such as allspice and pomegranate. "The combination of the rum and the allspice help achieve that winter flavor," Bose says. "But it's still fruity and refreshing, like a good beach drink."
Rockaway
1½ oz. Mount Gay Black Barrel rum
½ oz. Pama liqueur
½ oz. lime juice
½ oz. demerara syrup (recipe below)
¼ oz. St. Elizabeth allspice dram
Dash of absinthe
Mint spring, for garnish
Make demerara syrup: Combine 1 cup demerara sugar and 1 cup water in a saucepan. Heat slowly, stirring until the sugar dissolves. Simmer for 2 minutes. Remove from heat and let cool.
Make Rockaway: Combine all ingredients except absinthe and mint in a cocktail shaker. Shake. Pour into a glass filled with crushed ice. Top with more crushed ice and a dash of absinthe. Garnish with a mint sprig.

3. John the Baptist
Where to order: The Dead Rabbit Grocery and Grog

Photo courtesy of Dead Rabbit Grocery and Grog
In the 1850s, bartender Jerry Thomas jumpstarted the American cocktail movement from a bar in the neighborhood that is now known as the Financial District. This is also where in 2013 Jack McGarry and Sean Muldoon chose to open their historical, Irish American-themed bar, The Dead Rabbit Grocery and Grog (McGarry and Muldoon are the same team behind the Italian American-themed cocktail bar GreenRiver in Chicago).
The Financial District is more known for its stockbrokers and frat boys than its cocktails, but McGarry and Muldoon were not deterred. "It had everything except a cocktail bar," Muldoon says. Now Dead Rabbit is the cocktail bar, not just for FiDi, but for the world: in 2015 it received the coveted World's Best Bar title at the annual Tales of the Cocktail Spirited Awards. It also won World's Best Cocktail Menu for its history book-like cocktail tomes. Dead Rabbit's current menu (a new edition is released every February) is book-ended by the winter of 1850 and the fall of 1851. This 40-page-long saga tells the story of Lewis Morris Pease, a social reformer whose faith was tested by the Five Points' nefarious characters. The menu includes excerpts from Pease's journal, a lesson on New York's best saloons and grog-shops during the time period, newspaper excerpts, graphic-novel quality illustrations, and of course, plenty of cocktails.
The cocktails are organized by season. The winter section of the menu includes drinks named after figures that embody cold-weather traits: "A gentle blanket of calm covering the countryside. Or whipping gales that smash dead branches onto the ground. Both are winter." Going with this inspiration, bartender Long Thai whipped up John the Baptist, an everything-but-the-kitchen-sink cocktail made of Irish whiskey, green tea, apricot, pistachio, coconut and absinthe. It's a drink that will leave you, too, prophesizing the coming of Jesus—and the undeniable supremacy of Manhattan cocktails.
John the Baptist
1½ oz. Green Spot Irish whiskey
¾ oz. Coco Lopez cream of coconut
½ oz. pistachio syrup
½ oz. Marie Brizard Crème de Cacao Blanc
¼ oz. Blume Marillen Apricot Eau-de-Vie
¼ oz. Marie Brizard Apry apricot liqueur
¼ tsp. Matcha green tea powder
2 dashes absinthe
Nutmeg, for garnish
Combine all ingredients except nutmeg in a cocktail tin with ice. Shake. Strain into a tiki mug filled with ice. Garnish with nutmeg.
Top photo: Michael Korcuska, CC BY-SA
City in a Glass columnist Alyson Sheppard writes about travel, restaurants and bars for Playboy.com. She spent many years drinking in New York before resettling in the great state of Texas.