Santa Cruz has always been a place that rides its own waves. While it has long been a community of free thinkers—from novelist Jonathan Franzen to wetsuit inventor Jack O'Neill—Santa Cruz residents hadn't put their creativity toward brewing craft beer until recently.
Breweries and craft beer bars are rising up in Santa Cruz County as quickly as the famous surfable waves that batter this section of the California Coast. With new recruits Corralitos Brewing Company and New Bohemia Brewing Company opening taprooms just months ago, now there's enough beer making and drinking going on in Santa Cruz that a retrofitted school bus dubbed Brew Cruz is doing three and a half-hour tours. And it's a good thing because between the bacon brown ales and solar powered breweries, there's a lot to see and sip.
The Breweries
Breweries in Santa Cruz are not confined to one neighborhood but spread out around town from Santa Cruz Mountain Brewing on the Northwest side of the city to Corralitos Brewing Co., which is located in a rural area 15 miles south. A tour of the city's breweries provides a sampler of Santa Cruz County's different communities through its different brews.
Santa Cruz Ale Works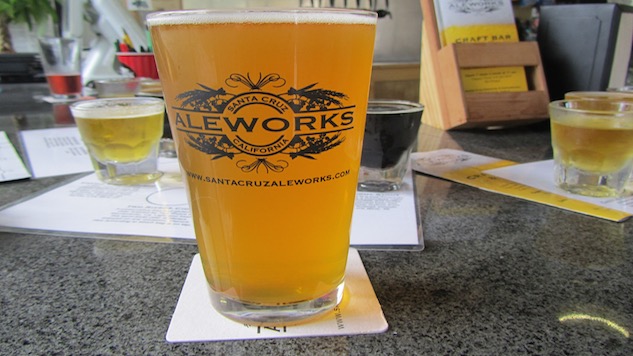 Located within a small suite in a business facility, Santa Cruz Ale Works is a little out of place—which is part of its appeal. These home brewers who turned pro do four beers (an oatmeal stout, an IPA, a kolsch, and their lauded hefeweizen) with an occasional seasonal beer thrown into the mix. The coup here is that this is not only a brewery but also a terrific deli where everything on the food menu is made in-house except for the deviled eggs. Let us recommend the effervescent hefeweizen paired with the "Holy Smokes!" sandwich, a tasty concoction of house smoked pastrami, bacon, green chilies, pepper jack cheese, and chipotle aioli pressed into a French roll.
Santa Cruz Mountain Brewing
This certified organic brewery is an elder statesman in the local craft-brewing scene. A family operation, Santa Cruz Mountain Brewing has been winning over locals and slowly expanding in their small industrial space since 2005. The small indoor taproom pours superb suds like their flagship IPA that is so drinkable it borders on session IPA territory, and The People's Porter, which utilizes roasted organic coffee and vanilla beans. Behind the bar, beer club members' mugs hang from a brass tree art piece, while outdoors, a long and narrow beer garden hosts events including Monday movie nights.
New Bohemia Brewing Company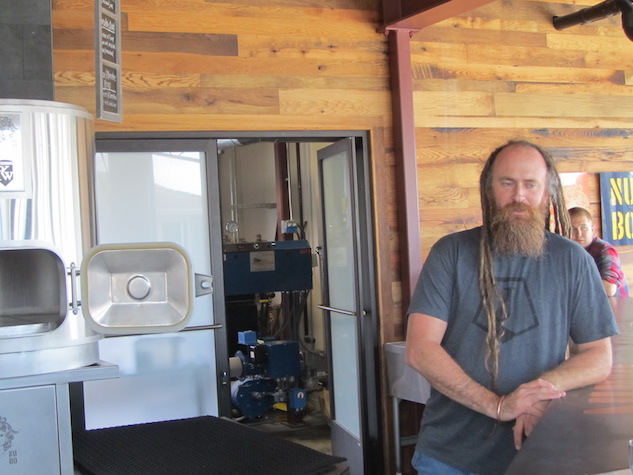 Dan Satterthwaite—the bearded and dread-headed co-owner and brewer of New Bohemia Brewing Company— began brewing beer in his UCSC dorm room before working at a brewery in Germany's Black Forest. The latter experience clearly set the stage for New Bohemia, which focuses on the production of European style craft lagers that includes their Point Czech Lager, the Velvet Revolution Vienna Lager, and the Highway to Hefe Hefeweizen. The long bar on the bottom floor of the two story building overlooks the brewing equipment so that drinkers can feel like they are a part of the brewing experience. The brewery is just a few blocks from Pleasure Point's many popular surf spots making this place an ideal pit stop for a post-surf brew.
Discretion Brewing
Just a few blocks from New Bohemia, Discretion Brewing resides in a large red building half a block off 41st Avenue. Everything is brewed on-site at this solar powered facility, where only organic beers are made. The favorite is the Uncle Dave's Rye IPA, which is a pleasantly malty take on the typical IPA. The 12 taps of house-brewed beers can include a tasty black lager (Oh Black Lager) and a German style Pilsner (Shimmer Pils). Discretion scores extra points for its kitchen that serves items including a pork belly slider snack that goes very well with a cold pint.
Sante Adairius Rustic Ales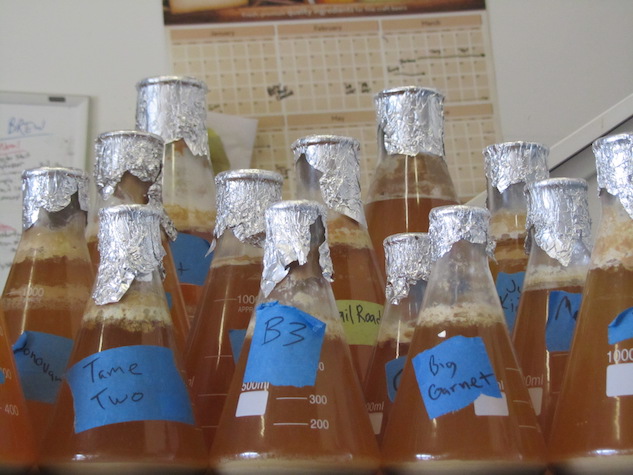 Sante Adairius is quickly becoming a favorite in California's connoisseur craft beer scene with their boldly flavored brews. Sip their barrel aged farmhouse ale Appreciation or their Saison Bernice in the front room with stools set up around wine barrel tables, or migrate into the brewing warehouse where you can sit at a picnic table. People flock to the tasting room, located just south of the city in Capitola, on any day when their limited number of bottled Sante Adairius beers are sold.
Uncommon Brewers
Known for unique beers like a nut brown ale brewed with bacon cured pork, Uncommon Brewers' creations are distributed around California, the Midwest, the East Coast, Canada, Denmark, and Japan. They also do a porter spiked with licorice root and anise star along with a twin ale that utilizes lemongrass, kaffir lime leaves, and coriander. Despite their wide range, the brewery doesn't have a taproom or brewpub though it does allow brewery visits by appointment. Call (831) 621-6270 for details.
Corralitos Brewing Company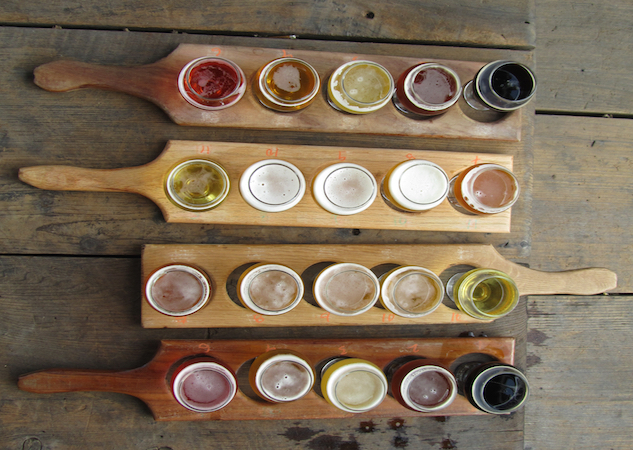 Corralitos is a small community in southern Santa Cruz County that was previously known primarily for the Corralitos Market and Sausage Company. That was until the Corralitos Brewing Company opened its taproom this year. Right across from fields yielding produce, the taproom features beautiful woodwork from its ceiling to its bar to the floor. Out front is an unassuming front porch, which is a perfect place to drink their fine red ale and flagship IPA. Despite being in a locale most would say is next to nowhere, this place fills up with beer enthusiasts who take over the parking lot forcing others to park along the country road.
Seabright Brewery
A brewpub, Seabright Brewery has been around since Ronald Reagan was president, and, more importantly, a year before the 1989 Loma Prieta Earthquake caused extensive damage to Santa Cruz's downtown. Sit out on the large patio on sunny days and drink their popular Blur IPA with an order of salmon fish and chips. Tuesday nights bring a crowd for Seabright's $4 pints and $9 pitchers.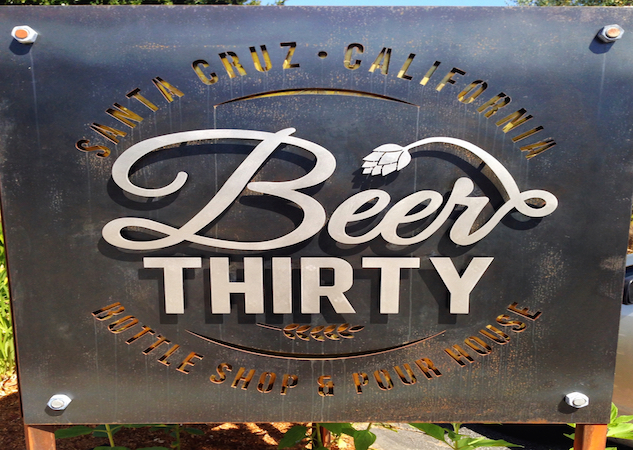 Photo by mob mob CC BY-NC
Beer Bars
Beer Thirty
Beer Thirty is a stellar newcomer to Santa Cruz County's beer bar scene. Located just south of the city in the town of Soquel, this place is a beer lovers' playground with 30 rotating craft beers on tap and over 300 bottled beers. Enjoy your brew in the large outdoor beer garden that has a dog friendly section and a game area with Ping-Pong tables. Beer Thirty has a strict rule of carrying only craft beers so you will not be able to find mass produced domestics here. They also feature limited release items. The party doesn't end when you leave; you can purchase a cold beer from Beer Thirty's large fridge to drink when you arrive at home.
99 Bottles of Beer on the Wall
Open since 1992, 99 Bottles of Beer on the Wall has a great location just a block off bustling Pacific Avenue. There are 45 beers on tap along with over 200 bottles. Come early on Wednesdays for trivia night.
Lupulo Craft Beer House
Also in downtown Santa Cruz, Lupulo Craft Beer House is a destination for discerning craft beer fans. The 16 rotating taps hosts sours, farmhouse ales, and ciders. Check their website for the latest list.
West End Tap & Kitchen
Just a few feet from Santa Cruz Mountain Brewing, this large space pairs food with beer and wine. The beer menu highlights brews from Tied House, a microbrewery over the hill in Mountain View. West End makes room for locally made beers from both Uncommon Brewers and Santa Cruz Ale Works.
Parish Publick House
This strip mall beer bar features mostly West Coast beers on its 16 taps. It also has bottles, a food menu, a billiards table, and $5 shots of Jameson to go with your beer if you are so inclined.
Top photo: Henry Hoffman, CC-BY
Stuart Thornton lives in coastal California and is the author of the Moon Coastal California Handbook, the Moon Santa Barbara & The Central Coast Handbook, Moon California Road Trip, and the upcoming Moon Monterey & Carmel Handbook.