Beaches and beverages go hand in hand in creating the ideal relaxing getaway. On the beach front (pun intended), it's hard to imagine a destination more ideal than Maui, thanks to the island's lush landscape, polished resorts and pristine sand. And you don't have to sip an embarrassing fruit-filled cocktail to get the other half of that equation—unless that's your thing.
One of the island's most fascinating (and fun) features is perhaps also its best-kept secret. With warm days, ocean breezes and rich volcanic soil—prime growing conditions for sugar cane, pineapples, grapes and other natural ingredients—Maui is home to several facilities that produce island-made wine, beer, vodka and other spirits. If drinking in ocean views and tropically tinged brews at the same time calls to you, visit these five spots around the island to lap up Maui's world-class liquid agriculture offerings.
MauiWine
Nestled roadside on the lush southern slopes of Haleakala volcano, MauiWine (pictured at top) occupies the historic former Rose Ranch estate and grows grapes in its ocean view Ulupalakua vineyards, just a short drive up Highway 37. Its main building is called the King's Cottage, a nod to its use by Hawaii's last reigning king, Kalakaua, and Queen Kapi'olani as a place of R&R. Today, the charming, newly refurbished building houses a registration desk for winery tours and a bright and breezy tasting room, where guests can sidle up for complimentary samples of handcrafted reds (Syrah, Grenache and Malbec), whites (Chenin Blanc and Viognier) and rosé, as well as its signature—and delicious—pineapple wines and its crisp, bright sparkling Rose Ranch wine, Lokelani. Winery tours are free, but for a $50-per-person fee, guests can upgrade their experience to a King's Visit, complete with a tour and a tasting in the winery's intimate Old Jail building. Guests who sign up for tours won't be granted access to the vineyards (an extremely limited number of vineyard tours are offered throughout the year for a hefty fee), but they'll get a peek inside the winery's colorful history, and its pineapple-wine-making process, which is what sets this spot apart in the first place.
Hali'imaile Distilling Company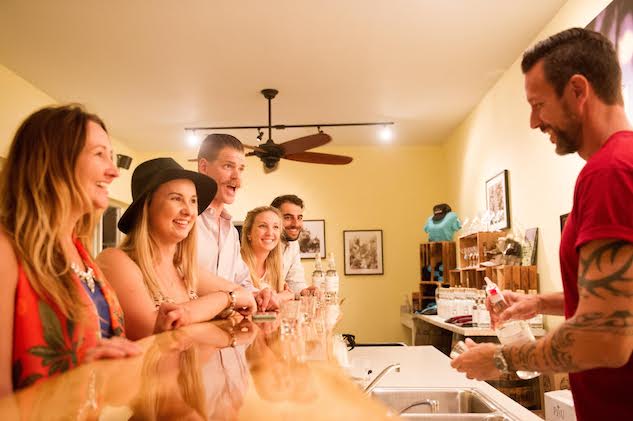 Founded in 2010 by the LeVecke family—the creators of Hana Bay Rum and Whaler's Rum whose roots in Hawaii's spirits industry date back 30 years—Hali'imaile Distilling Company makes its home among pineapple and sugar cane fields in Makawao, on the slopes of Haleakala. Here, Colorado import and master distiller Mark Nigbur; his son, Cory; and their meticulous team use Nigbur's self-designed/engineered stills to produce the micro-distillery's flagship Pau Maui Vodka, which is distilled using Hawaii-grown pineapple. Before you balk: there's no trace of the tropical fruit in the vodka's clean, crisp flavor. Also distilled and bottled on-site is Paniolo Whiskey, Maui Moon Vodka and Sammy's Beach Bar Rums—warming spirits with hints of tropical flavors ranging from coconut and banana to macadamia and cherry, sold under rocker and part-time Maui resident Sammy Hagar's own label. Distillery tours are $10 per person, and visitors 21 and over can sample up to six spirits during their visit. If you need something to soak up those samples before you hit the road, head across the street to Hali'imaile General Store for chef Bev Gannon's make-you-cry crab pizza, fragrant coconut fish curry, fresh poke bowls and legendary pineapple upside-down cake.
Maui Brewing Company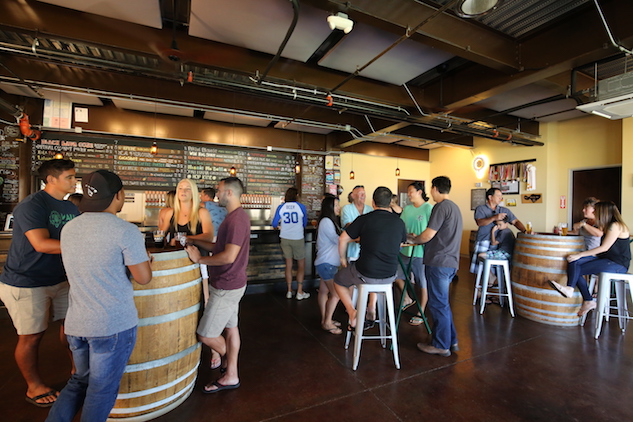 Craft beer is having a major moment in states across the country, and Hawaii's no exception. In fact, thanks to San Diego transplant Garrett Marrero, Maui is officially on the microbrew map. Marrero fell in love with Maui while on vacation in 2001, and a few years later, he made the move and set up shop brewing beer. Maui Brewing Company has since taken off, and the Kihei brewery's tasting room is packed elbow-to-elbow with beer buff tourists and locals alike on any given afternoon or evening. Brewery tours run daily for $15 per person and end with a tasting of the company's flagship beers, plus a token for a full beer (Island Root Beer for underage guests) served in a keepsake glass. Not sure which brew to cash in your token for? The crisp, signature Bikini Blonde is a solid bet on a hot Hawaiian day.
OCEAN Organic Vodka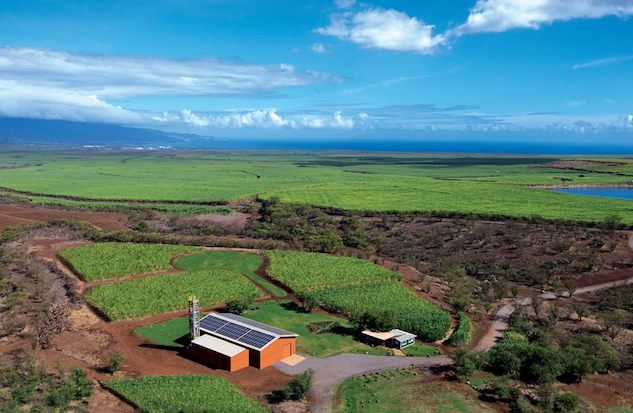 Makers of the beautifully bottled OCEAN Organic Vodka, which launched in 2005, say it's the only vodka in the world distilled from organic sugar cane and blended with deep-ocean mineral water. What's so special? Water used in OCEAN's vodka originated as part of a Greenland glacier more than 2,000 years ago and traveled gradually around the world via deep ocean currents until it reached the islands of Hawaii. Today, the water is sourced from 3,000 feet below the Big Island's Kona Coast—pure, ice cold and packed with naturally occurring minerals. The water is then organically purified and desalinated through a proprietary, natural filtration process that removes sodium while retaining potassium, calcium and magnesium. The vodka itself is distilled at the solar-powered Hawaii Sea Spirits Organic Farm and Distillery in Kula. Like MauiWine and Hali'imaile Distilling, the farm and distillery is situated on the slopes of Haleakala, and offers tours and tastings of OCEAN vodka and sister product Deep Island Hawaiian Rum, which is also distilled on-site. Love martinis? Don't miss the farm's Martini Garden, where local ingredients (and garnishes) like Kula lavender, citrus, passion fruit, pineapple and strawberries grow. Farm and distillery tours start at $10/person (lunch is included for an additional fee) and, for guests 21 and over, include a sample and a souvenir OCEAN Organic Vodka shot glass.
Maui Kombucha
Happily for health food junkies and travelers who simply aren't alcoholically inclined, liquid agriculture on Maui isn't limited to boozy beverages. But that doesn't mean they can't get their buzz on. At Maui Kombucha, whose main cafe and facility is located in sleepy Haiku, patrons can sip several varieties of the tart, cider-like sparkling drink, which comprises a fermented blend of tea, sugar, and a culture of beneficial bacteria and yeast and gives consumers a natural jolt of energy. Kombucha is beloved by the health food community and vegans for its wealth of probiotics, amino acids, enzymes and B vitamins, as well as its digestive benefits. Maui Kombucha is sold at various locations around the island, but patrons at the main cafe and brewery in Haiku can also try vegan cheesecake and other creative treats.
Lindsay Lambert Day is an Atlanta-based freelance travel and lifestyle writer and, thanks to her stay in Honolulu, street art addict.