Before Airbnb began, the idea of sharing a room with strangers was something reserved for college and post-grad backpacking trips through Europe. But recently, while chatting with a group of travel journalists, one announced she was spending the night in a hostel. She'd have her own room, of course, but wanted to meet other travelers in the hostel's social spaces instead of staying solo in a hotel suite. Everyone looked at her as if she were raving about the nearby Motel 8, but her point made perfect sense. As boutique hotels are pulling younger travelers who are leaving the business hotels for a different generation, big-name brands like Marriott and Hyatt are replicating what hostels have done all along, creating new millennial-driven brands like Moxy and Hyatt Centric that cater to a market looking for reasonable rates—and a design-centric space to go along with it, too.
It's no surprise that hostels are stepping up their game doing what they do best while bringing in high-end chefs and renowned decorators to craft a new wave of designer hostels that look like boutique hotels, attracting a crowd of more than just backpackers.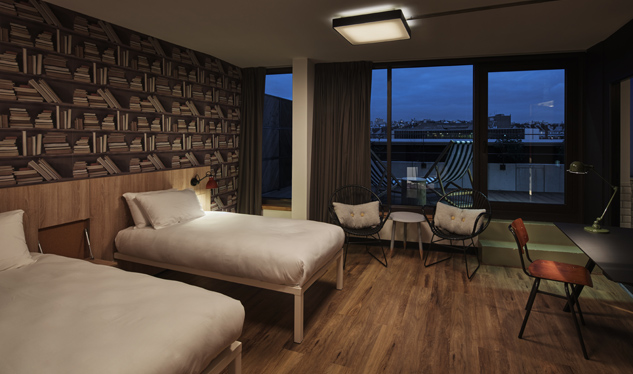 Photo by Nikolas Koenig, courtesy of hotel
Since rebranding in 2012, Generator has upped its number of hostels in Europe from two to 10 with the latest crop opening next year in Stockholm, Rome and Amsterdam. When Generator Paris opened near the Canal St-Martin in the up-and-coming tenth arrondissement at the start of the year, Condé Nast Traveler deemed it Paris's Coolest New Hotel. The largest Generator property to open so far, the 920-bed hostel feels like you're walking into a trendy nightclub, with a bouncer manning the door and the reception desk lit by up like a retro movie theater entrance. The sleepy eight-story insurance company office building was redone by French architect JJ Ory, adding a glass atrium dining area; a rooftop bar looking out at the Sacré-Cœur, a café outfitted with original Paris subway tiles; and a Moroccan-inspired lounge. Of course you can stay in traditional hostel-style digs with rooms sleeping up to 10, but the property also has private rooms complete with a terrace and hammock, offering free linens and towels so no need to worry about bringing your own (or paying a deposit).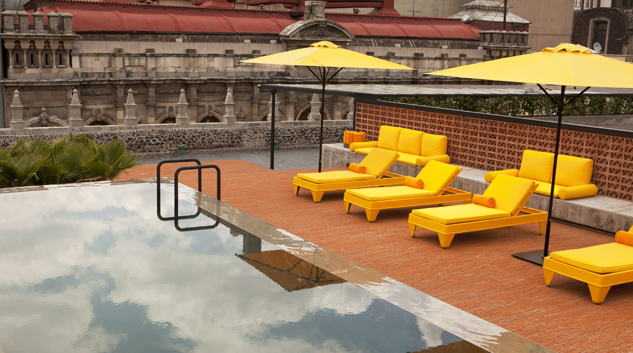 Photo courtesy of Design Hotels
Mexican brand Grupo Habita is known for its collection of beautiful boutique hotels, choosing to build a community around each property, whether it's starting one or blending into the one that's already there. Downtown Mexico City, the group revamped a 17th century residence that was the palace of the countess of Miravelle. The concept here is all about bringing the local inside, and this starts the moment you enter the courtyard through the grand studded wooden doors. Lined with boutiques and restaurants like local favorite Azul Histórico, this isn't your typical hotel lobby. In the back of the square, the group corners both markets with the 17-room boutique Downtown hotel on one side and the hostel portion, Downtown Beds, on the other. While the palace side of the property is home to the hotel, the one-time servants' quarters was converted into a hostel with original red-clay bricks lining the vaulted ceilings and neon yellow bunk beds in geometric shapes that look more like an art installation than something you may have slept on as a child. Even better, guests can head next door and take advantage of the hotel's amenities like the rooftop pool and bar overlooking the historic skyline, which becomes a hotspot for the stylish Mexico City set come nightfall.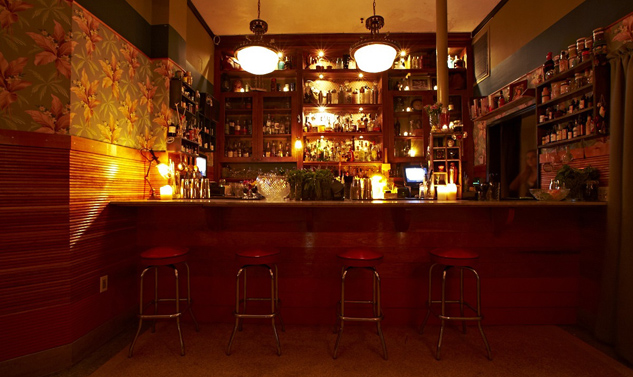 Photo by Adrian Gaut/Freehand
Three years ago, Freehand (pictured at top) took over the old 1930s Indian Creek Hotel, bringing in Roman & Williams to design the space in summer camp-style. Not only was it South Beach's first designer hostel, suites look just as snazzy as some of the luxury high rises you'll find just minutes away on the beach. When Freehand opened and brought back Miami's favorite pop-up bar, Broken Shaker, the courtyard and pool were an instant hit, but just last year the hostel threw in a long-anticipated culinary concept, 27. Located in the original 1930s house on the property, with Bar Lab crafting cocktails, former Chef James Seyba curated a menu at 27 that mixes international dishes with local ingredients, like Elad's shakshuka, using Homestead eggs and Zak The Baker bread. While 27 is unique to the Miami hostel, the Freehand recently opened its second location in Chicago in a 1927 building in the River North neighborhood, setting up the award-winning Broken Shaker bar, but adding a Chicago-style spin to its mixology program.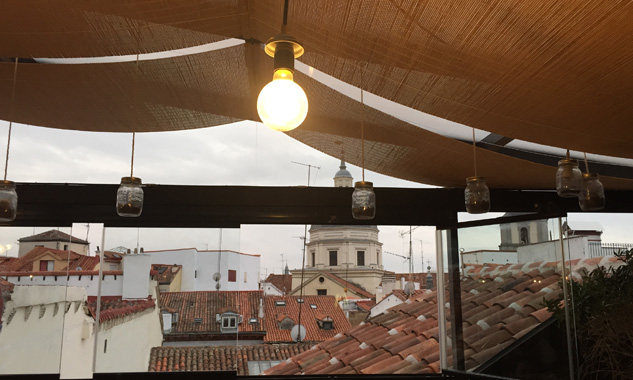 Photo by Lane Nieset
A little over a year ago, The Hat opened up in a 19th century mansion off of the Plaza Mayor in Madrid with the motto "Wherever I lay my hat, that's my home." With 42 rooms spread across four floors connected by a wrought-iron staircase, the design-savvy spaces offers up luxe amenities like queen-size beds and private terraces looking out at Madrid's rooftops. While the rain showerheads and smart TVs are some of the things I love about this haute hostel, the rooftop solarium is what ties everything together. One of the best-kept secrets by locals, anyone can make a trip up to the bar and catch one of the best views of the sunset over the city, as well as super cheap glasses of Rioja.
Lane Nieset is Paste's Jet-Set Bohemian columnist and a freelance writer covering all things travel from her home base in Nice, France.