If you're in search of nonstop revelry, few places deliver as much spirit as New Orleans. There are a thousand ways to test that statement, but one possibility is to kidnap your soon-to-be married friend, corral her best mates and hit the bars until sunrise. After all, she's not ready to head down the aisle until she's staggered down Bourbon Street.
Whether your vice is food or drink, NOLA is a glutton's paradise. Here's how to have a bachelorette weekend to remember—Big Easy style.
1. Set Up Camp
Nothing dampens a bachelorette party like a friend who's missing in action. Big crowds, copious cocktails and long stumbles in the dark don't mix. Stay safe by establishing home base among the neon lights. The Four Points by Sheraton and The Royal Sonesta are two comfortable options right on Bourbon Street.
2. Find Sustenance
Before you fill your belly with daiquiris, Hurricanes, Hand Grenades and shots, embrace NOLA's fabulous culinary scene. Cochon, one of five lauded restaurants by Donald Link (named Best Chef in the South by the James Beard Foundation in 2007), serves a tempting selection of seafood, comfort dishes and, naturally, pig products. Tapas-sized portions make this an apt choice for group dining. Be sure to try the wood-fired oysters with chili-garlic butter, the meat pie with spicy mayonnaise and the braised pork cheeks with grits, grapefruit and toasted almonds.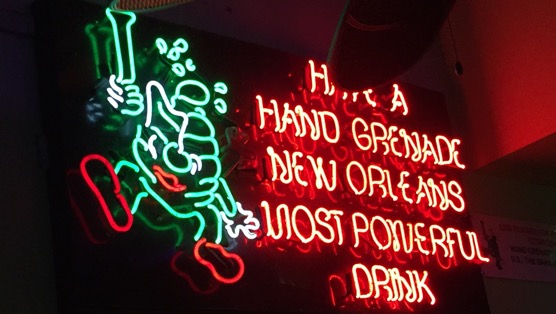 Photo by Katie Hendrick
3. Keep It Classy—At Least One Night
Toast the bride-to-be with an artisanal nightcap at a swanky establishment, such as The Hotel Monteleone's Carousel Bar or The Roosevelt Hotel's Sazerac Bar. You'll find a long and luxurious list of libations at either locale. If you want a signature New Orleans cocktail, order a Vieux Carre (Bulleit rye whiskey, Hennessey, sweet vermouth, Benedictine liqueur, Angostura & Peychaud's bitters), an Old New Orleans Perfect Storm (Old New Orleans Spiced Rum, ginger beer), a Sazerac (six-year rye whiskey, Peychaud's bitters, sugar) or a Ramos Gin Fizz (Hayman's Old Tom gin, fresh citrus, cream, egg whites, sugar, orange flower water, club soda).
4. Fuel Up
Your first full day in the Big Easy warrants a hearty breakfast. Daisy Dukes is a hole-in-the-wall joint on Chartres Street, where you can fill up without draining your wallet. For $7.95, you get a po' boy of your choice (catfish, alligator hot sausage or vegetable), served with a cup of gumbo or red beans. Tack on a very worthwhile $8 for bottomless Bloody Marys, which Where Y'at magazine deemed the city's best for the past four years.
5. Walk. Rest. Hydrate. Repeat.
Saturday should be spent ambling. Mosey through The French Market, where you'll find six blocks of vendors selling souvenirs from T-shirts and masks to provocatively named hot sauces (such as "The Hottest Fuckin' Sauce") and alligator-claw back scratchers. Superstitious? Purchase a voodoo doll and show it to the groom in case there's a chance he might get cold feet.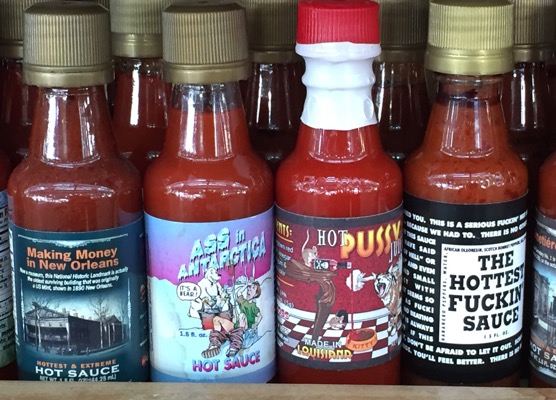 Photo by Katie Hendrick
Head southwest to Canal Street to board the St. Charles Avenue Streetcar. The $1.25 fare provides a drive-by glance of Audubon Park, Tulane University and Uptown. Get off in the Garden District to tour Lafayette Cemetery 1 and admire the neighborhood's antebellum architecture.
Meander east on Magazine Street to Sophie Wright Place on your way back to the trolley stop. This path passes plenty of independent businesses such as Down the Hatch, a casual, quiet watering hole known for its 20+ brews on tap and heavy burgers to soak up the alcohol.
6. Get Gussied Up
Save space in your carry-on bag. You can procure all manner of bachelorette garb (tiaras, feather boas, phallic-themed anything) at literally dozens of gift shops in the French Quarter. Pile on the beads so the bride can heckle men from bar balconies.
7. Indulge Sin
Three words: Debbie Does Doberge. The bakery, which delivers to the Quarter, makes several products with cheeky names, such as "D Cups" (dome-shaped miniature cakes) and "Salty Balls" (cake truffles topped with sea salt). But the real hedonistic treat is the New Orleans classic, the doberge cake: an eight-layer confection of flour and pudding, coated with ganache, and finished with poured fondant icing. With Debbie's 35 available flavors, paring down the contenders can feel like an impossible challenge. A solid choice: salted caramel.
8. Warm Up Your Pipes
Pat O'Brien's may well be the most recognized bar in New Orleans. And for good reason: it's fun. Dueling piano players rouse the entire bar to sing the tunes we all know by heart. And when you're with the bride-to-be, your song requests take precedence. If it's your first visit, a Hurricane, the bar's famous rum-based drink served in a souvenir glass, is a must. (If the taste reminds you of fraternity-party jungle juice, you're not alone.)
When the group's ready to cut a rug, head to Saints & Sinners, which bills itself as New Orleans' bachelorette headquarters. Whether it's the free shots or the portrait of owner Channing Tatum hanging inside, this two-storied bar with a VIP room does indeed attract young ladies in flocks, which makes for a lively dance party.
Then, if the bride has a strong stomach and an intrepid personality, have her take a spin on Edward's Barber Chair at Spirits on Bourbon. Warning: the ride involves groping, Fireball shots and much disorientation.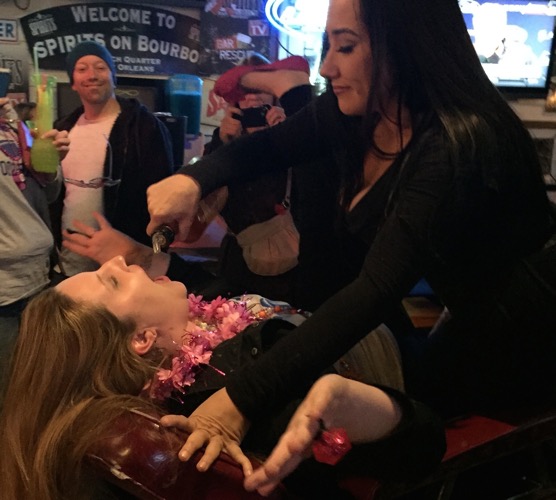 Photo by Katie Hendrick
9. Give Parenting A Trial Run
Many a bachelorette party involves a scavenger hunt-like game with racy dares. But in an environment like Bourbon Street, where's the challenge? Instead, buy a king cake (available in the myriad of gift stores and bodegas) and take turns watching the tiny plastic baby (read: photographing compromising positions of said baby) that's hidden in it. She who misplaces the bambino buys the group another cake. Or a round of shots.
10. Go To The Powder Room
Is Café du Monde cliché? Bien sur. But a plate full of powdered sugar helps the hangover go down. (The beignets and chicory are good, too.) Open 24 hours a day, this venerable landmark at the edge of The French Market, established in 1862, is a godsend for bachelorettes unable to sleep off the previous night's fun.
When the weekend is over and done—in this city overflowing with booze—there's still plenty of potential for bad decisions. The worst one of all: booking the 7 a.m. flight home.
Katie Hendrick is a freelance writer in Sarasota, Florida. Her work has appeared in Garden & Gun, Popular Mechanics, The Local Palate and Our State.