Festival Outsider: New Orleans Jazz & Heritage Festival
What to do in New Orleans in between the jazzy festival sets.
Photo below by Rick Diamond/Getty
Travel
Features
New Orleans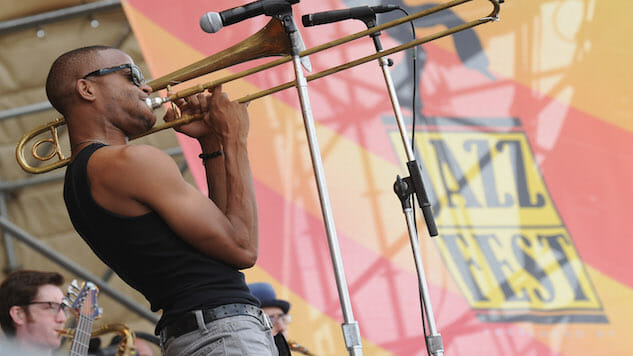 The Birthplace of Jazz is getting ready to host one of its biggest parties of the year. The 2016 New Orleans Jazz & Heritage Festival will feature more than 600 acts on multiple stages. The combination of local talent and national artists includes an incredible slate of talent, from Stevie Wonder, Bonnie Raitt, Gary Clark Jr., and Brothers Osborne to Beck, Irma Thomas and Trombone Shorty (pictured above). But the real star of the festival is the city itself.
The Main Event
Held the last weekend of April and the first weekend of May every year since 1970, Jazz Fest kicks off on April 22. While the festival goes down on the Fair Grounds and Racetrack, on the days in between the two weekends, music events—even more than usual—happen all over town. Every year, hundreds of thousands of people flock to the Crescent City for the shows and with single-day tickets ranging in price from $65 to $75, you might consider making the last-minute trip yourself.
Rooms at area hotels, including those at the city's newest hot spot, the Ace, are available at special rates. The latest addition to the hip nationwide chain is even getting in on the party, by hosting events—including a Q&A brunch with George Clinton—in its music venue Three Keys.
Setting the Stage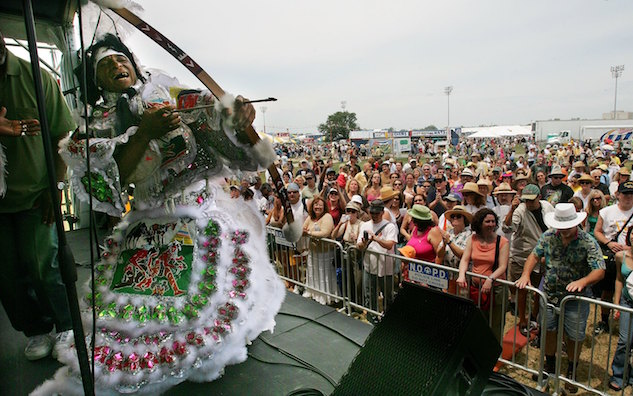 Photo by Mario Tama /Getty
New Orleans was founded in 1718 by French colonists. That European culture is evident in architecture that mixes French, Spanish and Creole heritage, a background that has also made the Crescent City famous for its cuisine and music.
In July 2005, New Orleans endured what's been called the worst civil engineering disaster in American history when the levee system in the city failed during Hurricane Katrina. Eighty percent of the city was flooded, but true to the spirit of New Orleans and the strength of its residents pulled through, and both the Jazz Festival and the city's other major celebration—Mardi Gras—didn't miss a beat, occurring on schedule less than a year later.
Eat It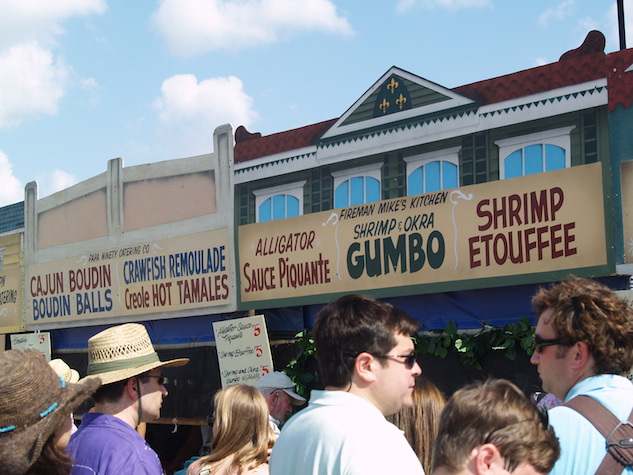 Photo by Jay Combe
There is food—a lot of it—to be found at the fest, but this is a city known for unique flavor, so show up hungry. From slow-smoked barbecue at The Joint BBQ to soul food at We've Got Soul, getting a taste of this town is easy.
Compère Lapin taps into New Orleans' multicultural heritage, while The Cheezy Cajun offers more casual, down-home-style fare. And any New Orleans travel guide would be remiss to leave out Cafe du Monde. We know, we know … "but the tourists!" Just go there. It's an experience.
Celebrity chefs abound here, but you can't come to town and not dine at one of Donald Link's restaurants. The 2007 winner of the James Beard Award for Best Chef of the South has several outposts in New Orleans, including Peche where they cook seafood over a live fire. 
Cochon Butcher offers a more casual option, serving gourmet sandwiches, most of them made with pork. For a more traditional New Orleans' sub—otherwise known as a po'boy—head to Erin Rose. Well, technically head to the back of the Irish pub where the Killer PoBoys reside.
And finally, if you're looking for a sweet treat to cool you down that's nonalcoholic (we'll get to the other variety in just a bit), Hansen's Sno-Bliz set the town's sno-ball (that's soft-shaved ice to non New Orleans locals) standard in 1939 and continues to reign supreme.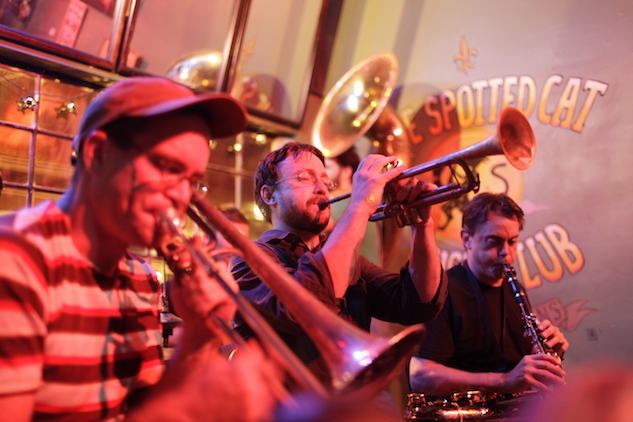 Photo by Chris Granger
Poison and Wine
Speaking of reigning, you're in NOLA. At Jazz Fest. You're going to get a daiquiri. Why not get one worthy of Queen Bey and Jay Z? When the powerhouse couple was thirsty for frozen delights, they chose Gene's Curbside Daiquiris. You don't need a better Yelp review than that.
Drinking and the spins can go hand-in-hand—especially in the Big Easy—but at the Carousel Bar at Hotel Mentelone, it's not just you. The bar actually moves. Another unique experience can be found at Cure, an old firehouse-turned-cocktail bar.
If whiskey is your jam, head to Barrel Proof.
Frenchmen Street is a Bourbon Street alternative and a haven for dancing, music, art markets and dive bars like Spotted Cat (pictured above). Meanwhile, Tuesday nights with the Rebirth Brass Band at Maple Leaf Bar are a local favorite.
Forget the Fest
If you're looking for something else to do while in town, why not pay homage to the city's other main event? Mardi Gras World gives you a behind-the-scenes look at how floats are made for the famous parade. If you'd like to do a bit of parading on your own, check out Free Tours By Foot's cemetery walk. It's the only way to get into the infamous St. Louis Cemetery. The group also offers tours of the antebellum-mansion-filled Garden District.
If the weather isn't cooperating and you're looking for an inside adventure, the National WWII Museum offers interactive exhibits and a look at the lives of those who have fought for our country.
You Can Take it With You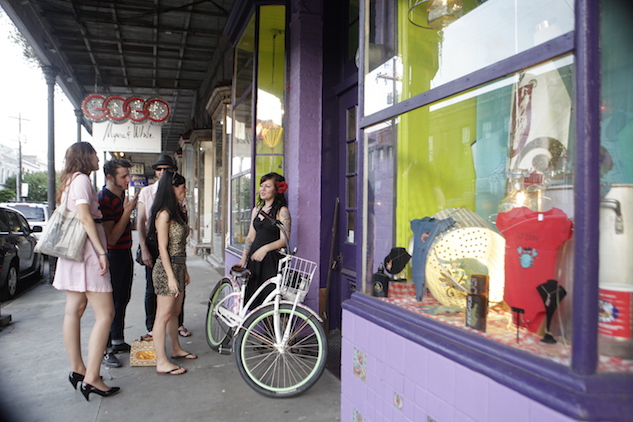 Photo by Chris Granger
History buffs and book lovers will likely fall in love with something on the shelves at Faulkner House Books and Librairie Book Shop. 
Kitchen Witch offers foodies on the hunt for used and rare cook books a special treat. And once you have those new recipes to try, head over to St. James Cheese Company for gourmet varieties.
Stop by Meyer the Hatter to grab the perfect addition to your festival look. The shop has been a neighborhood staple since 1894.
If you're a fan of local handiwork and like what you've seen around town in terms of signage, pay a visit to the working artisan tile studio that is Derby & Tile Pottery.
Other shopping can be found on the aforementioned Frenchmen Street, as well as Magazine (pictured) and Royal Streets.
And finally, if you're moved to take a souvenir of New Orleans' haunted history with you when you go, Boutique du Vampyre, the only vampire shop in the country, should be on your to-do list. 
But Leave Something Behind
It's too late to sign up to volunteer at Jazz Fest this year, but remember that it's an option for next year. There are, however, other opportunities for festivalgoers to give back to the city of New Orleans while in town. 
Green Light New Orleans could use extra hands to install light bulbs and rain barrels and plant vegetable gardens at homes throughout the community. Volunteers are asked to sign up online before arrival. The same request is being made for those interested in helping out in the repack room and/or community kitchen at Second Harvest.
Drop-in volunteers are welcome at the NO/AIDS Task Force, where phones need to be answered, things need to be filed, and food pantry orders need to be filled. 
For a meaningful experience over a meal, head over to Cafe Reconcile for lunch. The nonprofit restaurant helps change the lives of at-risk young people by training them for jobs in the food service industry. This is a way for you to make a mark on young peoples' futures and the city as a whole without doing much, so that perhaps on a future trip to New Orleans, there will be a new must-eat-at restaurant on your list.
Lead photo by Rick Diamond/Getty
Mary Anne Bargen is a freelance writer based in Nashville. She likes to choose her own adventure.