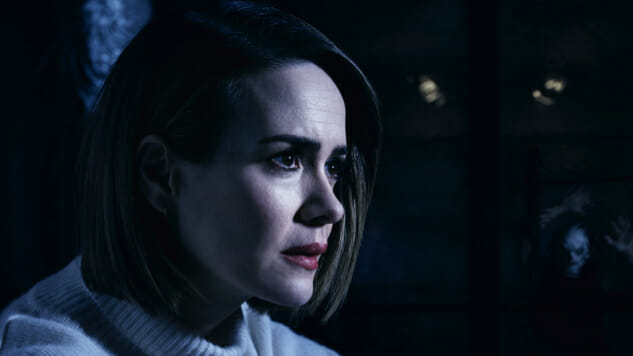 Long-running horror anthology American Horror Story just got even longer-running: FX Networks announced at TCA Thursday that the Ryan Murphy- and Brad Falchuk-created "limited series" has been renewed for three more seasons, tacking 11th, 12th and 13th installments on after the already-ordered 10th that's set to air in 2020.
A given at this early stage, FX provided no information on what these three new seasons will entail—as you all but certainly know, considering this show has been on since 2011, each season is built around a unique horror theme and/or setting, from the debut season's haunted "murder house" to the slasher-friendly summer camp of 2019's American Horror Story: 1984. The show has averaged 9.8 million total cross-platform viewers per episode and totaled a whopping 1 billion total viewers over the course of its nine-year run, making it FX's most-watched show. Between that and Murphy's superhuman ability to crank out television, it's no surprise whatsoever FX is stretching AHS out. The show's 95 Emmy nominations (and 16 wins) to date certainly don't hurt, either.
"Ryan and Brad are the undisputed masters of horror TV, having created the anthological limited series with American Horror Story and sustaining its success for nearly a decade as FX's highest-rated series," said John Landgraf, Chairman of FX Networks and FX Productions, in a statement. "We are grateful to them and Dana Walden and our studio partners for committing to another three years. AHS has showcased a wealth of award-winning actors since day one and we appreciate the contributions of everyone, including Ryan, Brad and fellow executive producers Tim Minear, James Wong, Alexis Martin Woodall and Bradley Buecker, the writers, directors, cast and crew for each new, unforgettable installment of American Horror Story."
Season 10 of AHS may see the return of certain key cast members and characters from the franchise, according to Murphy. However, that story concept seemed linked to Season 10 being the show's swan song, a circumstance that just went out the window, so who knows how Murphy and company may pivot—more info on the next nightmare as we have it. In the meantime, you'll soon be able to catch up on the entire series via Hulu.
Every scream. Every scare. All in one place. @FXNetworks on @Hulu is coming this March. #FXonHuluhttps://t.co/XiDVdT687g

— AmericanHorrorStory (@AHSFX) January 6, 2020