Your Favorite Beagle Is Back in The Snoopy Show's Season 3 Trailer
Photo Courtesy of AppleTV+
TV
News
The Snoopy Show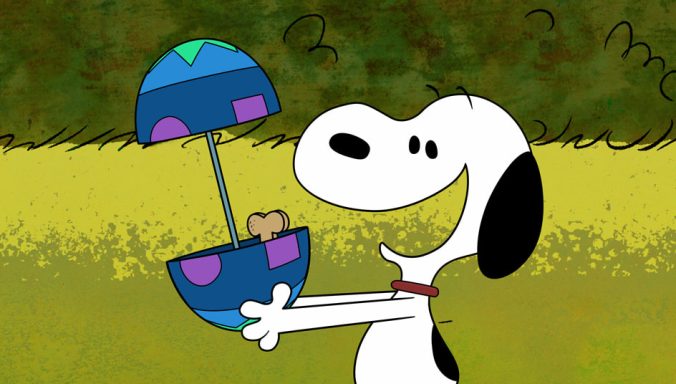 Apple TV+ has heard your prayers: the trailer drop for the third season of The Snoopy Show promises endlessly eccentric adventures for viewers of all ages with Snoopy, Woodstock, and the rest of the Peanuts gang, all to come next month.
In the new trailer, the eponymous Snoopy can be seen in a variety of his signature alter-egos, each of them just as unpredictable as the last: A detective. An astronaut. Even a leprechaun, green top hat and all. Who will Snoopy become next? There's no telling which new alternative reality Snoopy will occupy in his vast imagination, so we may just have to watch all 12 episodes at once.
A press release accompanying the trailer emphasizes other new specials coming soon, like "Snoopy Presents: One-of-a-Kind Marcie, which follows endearing introvert Marcie as she helps her friends in her own unique way, premiering August 18," accompanied by "Camp Snoopy, a new series featuring Snoopy and the Beagle Scouts," along with a "Snoopy Presents: Welcome Home, Franklin special uncovering the origin story of one of Peanuts' most treasured characters and how he ultimately makes friends with Charlie Brown and the gang."  
Produced for Apple TV+ by Peanuts and WildBrain, the series is directed by Rob Boutilier ("Snoopy in Space," "Kid vs. Kat"), and executive produced by Josh Scherba, Anne Loi, Stephanie Betts, Paige Braddock, Craig Schulz and Mark Evestaff.
All 12 episodes of Season 3 of The Snoopy Show will be released Friday, June 9th on Apple TV+. Check out the official trailer here:
---
Gillian Bennett is a writer and editor who has been featured in Strike Magazine, Her Campus, and now Paste Magazine. She enjoys watching copious reruns of Buffy the Vampire Slayer and fantasizing about living in London. You can find more of her neverending inner monologue and online diary on her Twitter or her blog.
For all the latest TV news, reviews, lists and features, follow @Paste_TV.