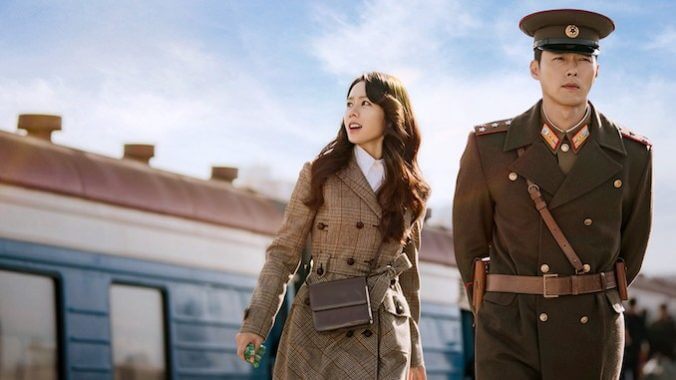 Korean dramas aren't new, but their global popularity has become more diverse and widespread in the U.S. in the last few years. Netflix has properly gotten into the K-drama game, joining existing streaming Viki as an easy streaming access point for American viewers interested in Korean content. Foreign-language media can be a big ask for some viewers, especially those who have less experience getting over that "one-inch barrier," as Korean filmmaker Bong Joon-Ho famously referred to subtitles during his Oscar acceptance speech for Parasite. Don't fear. I'm here to help. If you've never watched a K-drama before—or maybe if you've only ever watched Squid Game—here are a few gateway dramas to try as your entry into the rich world of Korean storytelling.

Fantasy Romance: Goblin
Honestly, "fantasy romance" is a relatively competitive category in the K-drama world, where stories so often and seamlessly mix elements of genre that it can be easy to forget that gumiho and body-swapping are not actual real things. But Goblin (also known as Guardian: The Lonely and Great God in English), a romance about an immortal hunk and a high school student who works at a fried chicken joint, is one of the absolute classics.
Kim Shin (Train to Busan's Gong Yoo) has been alive since the Goryeo Dynasty, when he was cursed to stay immortal forever as punishment for the soldiers he killed in war. He is… a goblin. The only way for Kim Shin to die is for the destined Goblin's bride to pull the sword from his chest and end his suffering. Ji Eun-tak's (Little Women) Kim Go-eun is a high school orphan, who somehow remains optimistic despite her shitty life. When Kim Go-eun accidentally summons Kim Shin, their two lives become intertwined to hilarious, romantic, and fateful results.
Goblin is a K-drama classic for good reason: gorgeous cinematography, a charismatic ensemble, and an epic story. The age difference between Kim Shin and Ji Eun-tak is cringey at points and feels narratively unnecessary, but if you made it through The Vampire Diaries, then you're good to go.
---
Zombies! Kingdom or All of Us Are Dead
Zombies is a pretty niche genre, but people love the rabid undead and Korea has some stellar entrants into the subgenre, so I am going specific on this one. Before Squid Game hit big on Netflix, Kingdom was the gory K-drama that got people who had never before seen a K-drama hooked. A zombie drama set in a fictional version of 16th-century Joseon, it follows Lee Chang (Ju Ji-hoon), aka the Crown Prince of Joseon, who is charged with investigating a mysterious illness that has afflicted the king. Spoiler: it's zombie-ism, and the crown prince's father isn't the only one who's got it. Kingdom, which was Netflix's first original Korean series, is a political thriller, period drama, and zombie horror all wrapped up in one.
If you like your zombie dramas more modern, you can check out All of Us Are Dead, one of Netflix's most popular TV shows of all time. The 2022 adaptation of popular webtoon All of Us Are Dead follows a group of teenagers at Hyosan High School, ground zero for a zombie outbreak. Thematically, the coming-of-age drama is about the failure of the adult generations to protect young people, which makes it both topical and incredibly depressing. You have been warned.
Note: Traditionally, most K-dramas have only one season, but this is slowly changing, presumably because of the influence of Netflix and other international streamers. Kingdom has two seasons, and a spinoff movie, while All of Us Are Dead is currently in production on a second season.
---
Suspense Thriller: Little Women
Director Park Chan-wook gets a lot of international attention, as he should, but not nearly enough acclaim is bestowed upon his frequent writing collaborator, Jeong Seo-kyung, who co-wrote Decision to Leave, The Handmaiden, and Sympathy for Lady Vengeance. In 2022, she penned a loose K-drama adaptation of the Louisa May Alcott novel Little Women. The suspense-driven drama follows three working-class sisters living in contemporary Seoul who get caught up in a dangerous embezzlement scheme that could lead to securing financial stability for the rest of their lives or could lead to, you know, death. Masterfully plotted—and touching on themes like alcoholism, moral ambiguity, and the corrupting nature of extreme wealth—Little Women was one of the most rewarding watches of 2022, and proof that female-led Korean content can exist in many different genres.
---
Procedural Dramedy: Extraordinary Attorney Woo
It's weird to recommend a series that was literally one of the most-watched TV series of 2022, but Extraordinary Attorney Woo is that special. Woo Young-woo (The King's Affection's Park Eun-bin) is a rookie attorney with autism and a deep love of whales in this series that brilliantly balances procedural elements and character-driven dramedy. Each episode follows a different case, as Woo Young-woo works to do her job in an office of neurotypical attorneys, most of whom have ignorant misconceptions about autism. As Woo Young-woo's colleagues (and perhaps the audience) learn more about neurodiversity (and whales), we become invested in the cases Woo Young-woo chooses and the relationships she develops in her new workplace. Extraordinary Attorney Woo was groundbreaking in Korea for its centering of a character with autism; it's also just a lot of fun.
---
Romantic Drama: Crash Landing on You
If a "Best K-Dramas" list doesn't have Crash Landing on You on it, don't trust it. This 2020 romance is maybe a perfect show—that intangible blend of clever writing, cast chemistry, and timing that comes together to create something magical. Crash Landing in You aired in Korea and on Netflix at the end of 2019 and into 2020, which means it was available in its entirety in that first, awful phase of the pandemic when most people were at home, distanced from many of their loved ones. In other words, if this ends up being your gateway K-drama, you're in good company.
This story about a chaebol heiress and entrepreneur (the incomparable Son Ye-jin) who crash-paraglides into the DMZ and into the life of the North Korean soldier (the iconic Hyun Bin) who decides to hide her became an escapist fantasy for many Americans stuck at home. Like other best K-dramas, Crash Landing on You doesn't just rely on its central romance (which, to be clear, is so, so good); it's also a story about family, community, severe depression, childhood trauma, independence, and the choices we make within the commitments we make to each other and to ourselves. No notes.
---
Kayti Burt is a culture critic with bylines at TIME, MTV News, Refinery29, and Den of Geek. For more pop culture analysis, including K-culture context, you can follow her @kaytiburt and visit her website.
For all the latest TV news, reviews, lists and features, follow @Paste_TV.