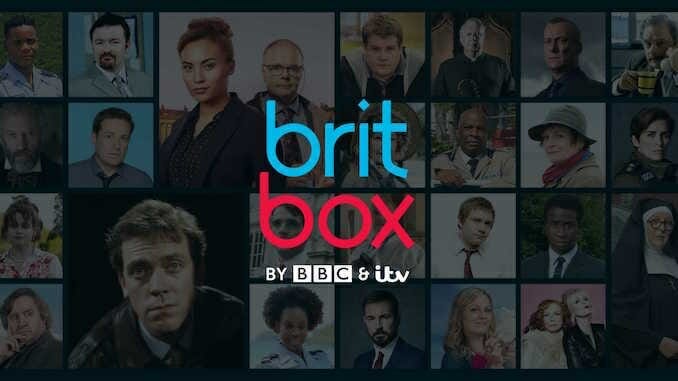 One of two niche streaming services* dedicated to serving UK content to global audiences, BritBox is the best place to look for all your favorite British TV available at any time. In honor of the streamer's commitment to British mysteries and detective dramas, Paste is presenting you, our readers, with this updated BritBox guide. Anglophiles, read on!
Comprising everything from the U.K.'s biggest contemporary hits to the most beloved classics from BBC and ITV eras past—plus Inside No. 9, which manages to be both—the BritBox catalog is sure to have something to fit whatever mood you might be in. Got a hankering to watch an alien Timelord travel through space and time? BritBox is the exclusive home of the first 26 series of classic Doctor Who. Curious to see how the British medical drama differs from Grey's Anatomy? Holby City Hospital is ready for you to burst through its ward doors. Itching to dive into the classic misadventures of your friendly neighborhood vicar? Well, has BritBox got a truly—and I mean truly—incredible number of clergy-adjacent options for you to choose from, including the tenth season of Father Brown, and the second season of Sister Boniface Mysteries, Father Brown's irreverent nunnish spin-off.
Of course, BritBox has more to offer than clergy-cloaked capers! Our new top 10 recommended titles (plus bonus lightning round featuring the best of the service's curated "channels") can be found below.
But first, a quick primer:
What Makes It Unique: All-but-live streaming of daily BBC/ITV programming like Good Morning Britain, Coronation Street and Emmerdale, as well as topical weekly programming like Brexitcast, Gardener's World and Mock the Week; the entirety of Classic Doctor Who and Midsomer Murders; exclusive access to other popular BBC/ITV programming, both new (Vera, Death in Paradise, RHS Chelsea Flower Show) and from the vaults (the Up series, Mr. Bean, The Sweeney)
What You'll Find on This List: For the most part, BritBox divides its extensive catalog into categories defined either by recency—Now, Classics, Last Chance—or by genre—Drama, Mystery, British Home & Garden.
* Profiled in a separate column, Acorn TV aims to scratch the same anglophilic itch that BritBox does. But while the two services cater to similar audiences, the experiences (and catalogs) they provide are different enough that it isn't really a question of which one is best. They are, like Hulu and Netflix, just… different. With its investment in not just original but also international content, Acorn TV is more reminiscent of Netflix. Meanwhile, with its network television roots and the fact that it posts new episodes of soaps, panel shows, and morning news programs within 24 hours of them airing in the U.K., BritBox much more closely resembles Hulu. Acorn TV gives its subscribers an eclectically global experience while BritBox has the edge in the "this is what to watch when you want to feel like you're in Britain" department.
That out of the way, let's get to the streaming goods:

The Cleaner
Starring: Greg Davies and Zita Sattar, with guest spots from Helena Bonham Carter, David Mitchell, Asim Chaudhry, Roisin Conaty and more
Seasons available: 2
We may love Greg Davies most around these parts for his iron rule as the Taskmaster on, well, Taskmaster, but a couple years ago he pulled on his bright white noddy suit and stepped into the role of small town crime scene cleaner for, funnily enough, The Cleaner. In a premise pretty much tailor-made for pandemic-era production, The Cleaner opens each episode with Paul "Wicky" Wickstead rolling up to a crime scene after the police have left, lorry full of cleaning supplies at hand, only to be confounded in one way or another by someone else on the premises. In some cases, it's the murderer. In others, it's a neighbor. Sometimes it's unclear, which lets Davies take the episode to unexpected places.
In the second season, new to the streamer this summer, Wicky takes on his most challenging scene yet: love. Or at least, the potential for it, as the bloody remnants of romance carpeting many of the crime scenes he's assigned to find the glimmers of a reflection in the possibly romantic threads cropping up in his personal life. The thrust of the series is still finding comedy in incidental interactions, and it's still focused on giving Davies a chance to chop it up with a rotating slate of funny guest stars like Asim Chaudhry and Roisin Conaty, but in giving its audience more insight into Wicky as a person, The Cleaner makes a solid case that anyone can grow, even in middle age.
---
Sherwood
Starring: David Morrissey, Robert Glenister, Lesley Manville, Lorraine Ashbourne, Claire Rushbrook, Adam Hugill, Adeel Akhtar, Clare Holman, Terence Maynard, Nadine Marshall
Seasons available: 1 (limited series)
Given the galvanizing upswing of unionization we have been in the middle of here in the States these past few years, the moment could hardly be better for a show like Sherwood, a limited series crime thriller which takes its narrative inspiration from two different historical events from the Nottinghamshire mining region. First, a pair of astonishing murders that took place in Nottinghamshire in 2004 (and which eventually led to the largest manhunt in UK history), and second, the violent clashes sparked by the miners' strike in the mid '80s, which set the miners on strike against both the local miners that crossed the picket line (scabs), and the brutish Met officers imported from London on Margaret Thatcher's orders to put the strike down. How the reverberations of that (fictionalized) 1984 strike inform not just the crossbow mayhem of the current day, but all the ways in which the community relates to one another (or, as often, doesn't) is the main question Sherwood sets out to answer, so no spoilers here. But if the power of collective action and the complexity inherent to building community is as interesting to you as serial crossbow murder, Sherwood is a show for you.
---
Gardeners' World & The RHS Chelsea Flower Show
Hosted by: Monty Don
Seasons available: 4 (2023 ongoing, plus 2021, 2022, and the most recent trio of Winter Specials), with new episodes from the 2022 season dropping every Friday through this year's growing season
One of the features that makes BritBox stand out in the niche streamer space is its next-day streaming of quintessential British mainstays. On the daily front, this means stateside viewers can keep up with Good Morning Britain (news), EastEnders (soap), Emmerdale (soap), and Doctors (medical soap). On the weekly front, this feature nets us everything from topical panel shows like Mock the Week to more straightforward punditry like Question Time to (most delightfully) seasonable home and gardening programming like Springwatch, Escape to the Country, and Gardeners' World.
This last one has been running since 1968 and has been gently hosted by master gardener Monty Don (and his dogs) more or less constantly since 2003. Gardner's World runs every Friday through the growing season and features a comforting combination of real-time planting projects Don has taken on in his gigantic home garden, visits by co-hosts to interesting gardens around the UK, and real-time growing tips Don calls "Jobs to do this weekend" that close out each episode. Since the start of the pandemic, they've added in home videos of gardens from viewers not just around the UK, but around the world, a feature which thus far has never failed to make this critic (and newbie home gardener) tear up.
And that isn't all: this summer, BritBox has given true British garden culture lovers even more reasons to subscribe by running the RHS Chelsea Flower show, a twelve-episode garden show extravaganza that ran new episodes daily in early June, and which features many of the same faces and segments as Gardener's World, just at a grander scale. Like, working kitchen-show garden, and mountainous gorilla habitat, and Mary Berry as guest host grand scale! A genuine streaming delight.
---
The Tower
Starring: Gemma Whelan, Tahirah Sharif, Jimmy Akingbola, Emmett J Scanlan, Michael Karim
Seasons available: 2 (and officially renewed for a third)
In many ways, The Tower is a classic of the gritty UK detective drama genre. Adapted by screenwriter and executive producer Patrick Harbinson from Kate London's Collins and Griffiths novels, the ITV Original is a tense, terse examination of the best—and the worst—the London Met has to offer. On the one hand, you've got multiple generations of diverse officers, working at every level of the force, in every department, all with a grumbling but mostly committed eye towards incorporating an evolved, contemporary understanding of how things like race and class and gender and immigration status can complicate not just a community's internal dynamics, but also those between that community and the cops assigned to police it. On the other hand, you've got intractable corruption. That classic mix!
What makes The Tower stand out is the two women it sets up as its leads, DS Sarah Collins (Gemma Whelan), a beleaguered and socially isolated internal affairs officer charged in the first season with investigating the on-duty death of a beat officer with a pretty rough (read: racist, sexist, bullying) reputation, and PC Lizzie Adama (Tahirah Sharif), that cop's rookie partner, who went suspiciously AWOL after watching him and teen Libyan refugee (Lola Elsokari) fall off the roof of the tower block where the girl's family lived. As women in an overwhelmingly male professional space, the two characters face many of the same obstacles—parallels that are only strengthened when taking into consideration Collins' sexuality and Adama's race, both details which serve to further marginalize them in the eyes of their mostly white, mostly straight, mostly male colleagues.
But rather than being set up as sympathetic co-conspirators in making the Met better, Collins and Adama are immediately and almost intractably positioned as magnetically opposing poles: Collins, the veteran, has zero patience for a rookie who seems constitutionally incapable of following the rules that are meant to keep her and the rest of the community safe, while Adama, the headstrong rookie, has zero patience for being told there's only one appropriate way to do things. Neither is "right," in both the first season and the second, but nor is either woman entirely wrong. It's a compelling set-up, and with fewer than a handful of episodes in each season, it's an easy enough watch for a long summer weekend.
---
The Curse
Starring: Emer Kenny, Allan Mustafa, Tom Davis, Steve Stamp, Hugo Chegwin, Abraham Popoola, Peter Ferdinando, Geoff Bell, Ambreen Razia
Seasons available: 2 (not yet renewed for Season 3)
Some of this might have happened.
So opens each episode of the 1980s-set crime comedy The Curse, which may or may not be loosely based on an infamous accidental heist of gold and diamonds in a Heathrow warehouse in 1983. Starring Allan Mustafa, Tom Davis, Steve Stamp, and Hugo Chegwin as a group of down-on-their-luck friends who stumble into a suspiciously easy cash grab, literally in the middle of which they stumble into a suspiciously fortuitous gold heist, The Curse is both a richly stylized romp of a period piece, and a thrillingly plotted doomed-from-the-start heist. Why doomed? Well, the audience doesn't know for sure, but if we're to trust the regretfully omniscient narration of Natasha (Emer Kenny), Albert's (Mustafa) braver-than-him wife, a sharp downfall is what's in the cards for all of them by the time this business is all done.
Which… is not quite yet. Already returned for a second run in the UK in March of 2023, the comedy will hit North American streaming screens later this summer. Meaning, no better time than now to invest in its short first season!
---
Death in Paradise
Starring: Ralf Little, Ardal O'Hanlon, Kris Marshall, Ben Miller, Don Warrington, Elizabeth Bourgine, Danny John-Jules, Tobi Bakare, Joséphine Jobert, Sara Martins
Seasons available: 12 (and already renewed for a 13th and 14th!)
If you ever find yourself missing the low-key vibes of USA Network's Blue Sky era—think Psych, Monk, Burn Notice, Royal Pains—then Death in Paradise, which finds an ever-changing series of white British inspectors decamping to the coastal capital of Honoré to take the helm of the island's one-room police force, is for you.
Set on a fictional Caribbean island named St. Marie (and filmed on sunny location on nearby Guadeloupe), the long-running comedic procedural nevertheless manages to be British to its core, mashing together Doctor Who's rotational approach to casting with Agatha Christie's love of a locked room mystery and somehow making it work. In its first two seasons, the series finds its comedy in the aesthetic tension between the be-suited formality (and barely concealed, bordering on xenophobic elitism) of DI Richard Poole (Ben Miller) and the loose, friendly warmth of his new colleagues, the sparkling DS Camille Bordey (Sara Martins) in particular. In the next several seasons, DI Poole's literally buttoned-up British repression is replaced by the bumbling affability of DI Humphrey Goodman (Kris Marshall), with DS Florence Cassel (Joséphine Jobert) stepping in as his second after Camille takes off for a new gig in France. Later on, a disarmingly sharp Jack Mooney (Ardal O'Hanlon) comes aboard as the chief inspector, and after him, DI Neville Parker (Ralf Little). The supporting cast ebbs and flows with the seasons, too, but what never changes is that every single murder the Honoré police force encounters can be immediately pinned down to just a handful of suspects, all of whom the inspector-at-hand sits down in a single room at the end of the hour so that he can explain, officially, whodunnit.
It's hugely, enormously goofy! But self-awarely so, Marshall's DI Goodman himself is flummoxed at the end of his first case to find the suspects all gathered in one room, only for Camille to explain, "That's just how it's done." And it is! And it's all the better for it.
---
QI
Hosted by: Sandi Toskvig (Series N-S), Stephen Fry (Series J-M)
Seasons available: 10 (J-S)
Unless one listens to much Wait, Wait… Don't Tell Me, it's like that the panel show, as a comedic format, won't be very familiar. Don't worry, though, BritBox has a whole heap of the BBC's best panel shows ready and waiting to get you quickly up to speed. 8 Out of 10 Cats Does Countdown (hosted by Jimmy Carr) and Would I Lie to You? (hosted by Rob Brydon) are fairly well known quantities here in the states, but if you're going to watch just one, make it QI.
An oddball combination trivia/quiz show that's been on the air since 2003, QI (which stands for "Quite Interesting") takes the alphabet as a loose organizing principle, theming the fact-packed episodes of each new season according to the next letter down the line (in early 2022, we're up to "S"). Originally presented by Stephen Fry (Series A-M), the program handed hosting duties off to Sandi Toksvig in 2016. Featuring comedian Alan Davies as the series' anchor competitor slash co-presenter and a rotating trio of most British comedians, actors and noteworthy names, the "competition" aspect of QI is more a race to the bottom than anything else, as most competitors—including the winners—end up in negative points. It's a weird little show, with a funny retro vibe, and I want everyone to love it as much as I do.
Star Wars fan Pro-tip: The L series' holiday episode, "No L," features Carrie Fisher herself among the panelists.
---
Karen Pirie
Starring: Lauren Lyle, Emer Kenny (also the series creator & writer), Chris Jenks, Zach Wyatt, Anna Russell-Martin, Ariyon Bakare, Buom Tihngang, Jack Hesketh, Michael Shaeffer, Bobby Rainsbury, Rakhee Thakrar, Jhon Lumsden
Seasons available: 1 (officially renewed for a second)
Set across the decades in St. Andrews, Scotland, with half of the story taking place in 1996 and the other in 2021, the first three-episode season of new BritBox Original Karen Pirie (based on the Val McDermid series of the same name) is an ambitiously dense whirlwind of an experience. In the 1996 timeline, a young bartender named Rosie Duff (Anna Russell-Martin) is found brutally murdered in the middle of St. Andrews' most famous (and wind-whipped) cemetery, and the trio of college kids who allegedly found her are punted straight to the top of the suspect list. In the 2021 timeline, DS Karen Pirie (Lauren Lyle) is assigned the cold case after a true crime podcaster (Rakhee Thakrar) digs it up and, in the process, starts dragging the reputation of the local constabulary through the Scottish mud. Visibly young, physically small, and one of the only female detectives on the force, Pirie's assignment is more about strategic optics than her superiors believing she's got the goods to solve the thing, but joke's on them: this series is called Karen Pirie; the big solve is just three stylishly clever episodes away.
---
Why Didn't They Ask Evans?
Starring: Will Poulter, Lucy Boynton, Jonathan Jules, Conleth Hill, Daniel Ings, Maeve Dermody, Hugh Laurie, Miles Jupp, Amy Nuttall, Alistair Petrie
Seasons available: 1 (new series)
The latest Agatha Christie adaptation to hit the small screens—and BritBox's biggest commission to date—Why Didn't They Ask Evans? is a classic British mystery lover's dream. Starring Will Poulter as the earnestly charming village vicar's son Bobby Jones and Lucy Boynton as the firecracker Frankie (Lady Francis) Derwent, the series comes to the streamer from director and executive producer Hugh Laurie (who also co-stars as Dr. James Nicholson). Based on a standalone Christie novel of the same name, the three-part limited series, which is set after the First World War, features impeccable production design, gorgeous costuming, and very clever dialogue. Moreover, it is just jam-packed with immediately iconic performances, all of which are led capably by the push-pull of Poulter's easy-going loyalty and Boynton's tightly coiled, wise-cracking independence. Honestly, while I understand that Why Didn't They Ask Evans? is a standalone novel, the chemistry between Poulter and Boynton is so winning that I wouldn't say a thing if BritBox (along with Laurie) decided to adapt other lesser-known Christie novels to give them even more runway to work with.

A BritBox "Channels" Lightning Round
BritBox Destinations:
What Makes it Unique: A geographically curated collection that will help demystify some of the regional nuances that might otherwise be hard to parse for audiences not based in the U.K.
Best Bets: Prime Suspect (London), The Office (The South), All Creatures Great and Small (Yorkshire and the Humber), Vera* (Scotland and the Northeast)
Cozy Muders
What Makes it Unique: Does what it says on the tin! If you've ever spent a Sunday evening cozied up to PBS for Masterpiece Mystery, this is the channel for you.
Best Bets: Father Brown (and its follow-up, The Sister Boniface Mysteries), Agatha Christie's Marple
Comedy
What Makes it Unique: Just a wildly exhaustive collection of fantastic (and fantastically dry) British comedy, both classic and brand new.
Best Bets: Up the Women, Toast of London, Miranda, The Thick of It, Moone Boy
Classic Doctor Who
What Makes it Unique: Your exclusive home for all things classically Whovian, helpfully organized by Doctor, with a smattering of can't-find-them-elsewhere specials.
Best Bets: Doctor Who (all 26 original seasons!)
BritBox Live
What Makes it Unique: Like flicking on a physical television in a cozy estate in London's outer boroughs.
Pros: Defeat the tyranny of (streaming) choice! Let BritBox do the picking for you!
Cons: No identifying information or subtitles for what's airing (though a live closed captioning transcription can be turned on via the screencasting toolbox in the bottom right corner).
*To read an interview Brenda Blethyn did with Paste in 2017 in the lead-up to the seventh season of Vera, go here.
A BritBox subscription costs $7.99 per month, or $79.99 per year for American subscribers (with a 7-day introductory free trial period), and can be used across up to 5 devices. Gift subscriptions are available, and credentialed educators can get a 30% Teacher's Discount.
---
Alexis Gunderson is a TV critic and audiobibliophile. She can be found @AlexisKG.
For all the latest TV news, reviews, lists and features, follow @Paste_TV.