Javier Bardem to Play Legendary Explorer Hernan Cortes in Steven Spielberg-Produced Amazon Limited Series
Photo by Christopher Polk/Getty
TV
News
Cortes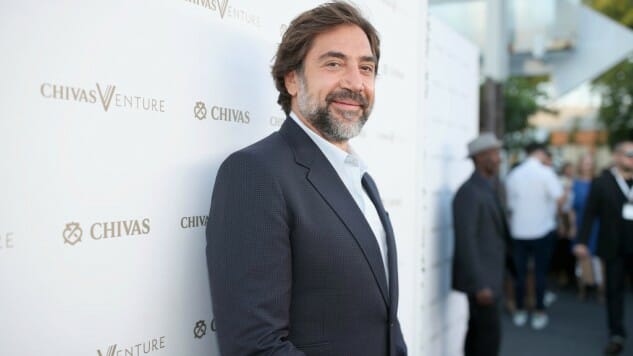 Amazon announced on Tuesday a straight-to-series order for a four-part miniseries about the legendary Spanish explorer Hernan Cortes. Academy Award winner Javier Bardem (Best Supporting Actor for 2007's No Country for Old Men) will play Cortes, with three-time Academy Award winner Steven Spielberg and Academy Award winner Steven Zaillain executive producing. Emmy-winning Darryl Frank and Emmy-nominated Justin Falvey will also executive produce for Amblin Television, with Bardem executive producing, as well.
The limited series, titled Cortes and scripted by Zaillain from a screenplay by Dalton Trumbo (Roman Holiday), follows the eponymous explorer and conqueror as he leads an expedition into the heart of King Montezuma II's Aztec empire, thus forever changing the course of history in this event that helped to form our modern world.
"Cortes' epic discoveries shaped the world as we know it today, and through the minds of Amblin, Steven Spielberg, Steve Zaillian and Javier Bardem, we will bring Prime Video members on an exhilarating journey," said Sharon Yguado, Amazon Studios' Head of Scripted Series, in a statement. "There are few moments in history that shape an entire culture such as Cortes' story, and this series will be one filled with drama and adventure."
"We are so pleased that Amazon has given us the opportunity to bring this exciting 500-year-old story to Prime Video members worldwide," said Frank and Falvey. "It is a part of history that had such a significant impact and largely influenced modern day civilizations. With Javier as Cortes, we have the perfect star for this role, and we can't wait to get started."
"It is a privilege to tell this epic story — one that is full of drama and conflict within this huge, historical spectacle where two distant civilizations clash at the height of their reign," said Bardem. "The best and worst of human nature came to life in all its light and darkness. As an actor, there is no better challenge than to serve such a unique project that I have been passionate about for years, and I am thrilled to be working with this dream team of Steven Spielberg, Steven Zaillian and Amazon."
Bardem is definitely one of the top talents in the industry today. The man has garnered three Academy Award nominations on top of one win and has shown enormous range outside his Oscar nominations, including his diabolical turn as a Bond villain in Skyfall, his romantic charm in Vicky Cristina Barcelona, his enigmatic performance opposite Jennifer Lawrence in Darren Aronofsky's Mother! and the multiple real-life figures he's brought to life, including Pablo Escobar in the film Loving Pablo with real-life wife Penelope Cruz.
Spielberg clearly needs no introduction. He won Academy Awards for directing and producing Schindler's List, and directing Saving Private Ryan. His collaborator Zaillain won an Academy Award for writing Schindler's List. Frank won an Emmy for producing the 2002 miniseries (alongside Spielberg, we might add) Taken, while Falvey received three Emmy nominations for The Americans, Into the West and All the Way (the latter two both with Spielberg, too).
This is clearly a huge attempt at Amazon attracting more people to their Prime streaming service, which is only available to Prime members. The studio's streaming service won two Golden Globes with The Marvelous Mrs. Maisel this year, and they have a juggernaut on the way in the form of their huge-budget Lord of the Rings adaptation, showing they are really upping their television game.
Cortes has no premiere date or even production dates set at the moment, but be sure to check back whenever more details drop.