Hulu's Dollface Is an Eccentric, Joyful Journey About Rekindling Old Friendships
Embrace it.
Photo Courtesy of Hulu
TV
Reviews
Dollface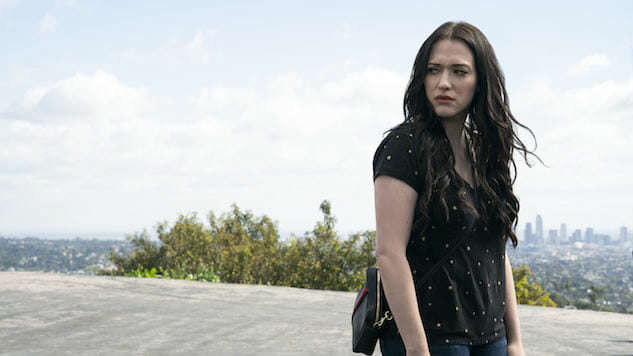 Some shows you just have to give yourself over to. You just can't fight what it's trying to do.
Hulu's new series Dollface asks for your cooperation almost immediately. After being summarily dumped by her boyfriend Jeremy (Connor Hines), a devastated Jules (Kat Dennings) boards a bus driven by a literal cat lady (Beth Grant). The bus is filled with other brokenhearted women and makes stops in places like "Rebound Town."
From the start, you have to decide whether you're going to be in or out on the comedy's frequent flights of fancy. In the third episode, Jules (a homebody), gets pulled into a game of "Should She Go Out," hosted by the cat lady (naturally) where behind one door is the "baby shower of the former co-worker's second kid." That joke speaks to my very core because I've been there, and if you are a woman in these pivotal years, you've probably been there too. I easily decided to go all-in on the series, because Dollface—created by 26-year-old Jordan Weiss—does a fantastic job of balancing the show's fever-dream segments with real human pathos.
We learn that Jules and Jeremy were together for five years, and during that time Jules (who Jeremy called "Dollface") made the mistake of letting her female friendships slip away. "Your personal relationships have all expired," she's told at the bus's final stop. That means her two former best friends Stella (Shay Mitchell) and Madison (Brenda Song) are very resentful about being ignored. It also means she has no friends at work, and when she tries to have lunch with a group of Allisons, their lunch table keeps moving farther and farther away from her.
The series plays out like Sex and the City for the millennial generation, but with less sex and more emphasis on friendships. There's Izzy (Esther Povitsky) who is so desperate for friends that she morphs into whatever she thinks people want her to be. To play my Sex and the City analogy out, she's the Charlotte of the group. Madison, the high achieving publicist whose current task is to launch a cookbook called "The Vegan Monologues," is clearly the Miranda. Stella who has tales of sexual escapades and knows random celebrities (including both Uncle Joey and Joey Lawrence) is the Samantha, leaving Jules as the more grounded Carrie.
Dollface is full of pop culture references. Jules and Jeremy share cats named "Johnny Drama" and "Turtle." Stella wants to hit the new bar owned by Armie Hammer and Niall from One Direction. Izzy orders a whiskey neat, which she declares to taste like "Don Draper and gasoline." And Malin Ackerman is a hoot as the CEO of Womb, the company where Jules works—she wants Jules to be able to do things like upload the scent of a new spray into the computer.
The guest stars are also fun. Goran Visnjic shows up in the fifth episode as the older (read: in his 40s) man Madison is dating. She wants to impress him by inviting him to a dinner party with her friends, where acceptable topics for conversation range from the absence of the middle class to the TV show Frasier. Macaulay Culkin guests in the sixth episode as a man Stella met on a ski trip who she thinks is great, but Madison thinks may be a psychopath.
Ultimately, the series really works because of the strong performances. Mitchell, who is perhaps best known for her seven seasons on Pretty Little Liars, brings a real sense of sadness to Stella's perpetual party style. "There's a version of settled-down me I'm interested in meeting," she tells Jules. Song, who began her career on the Disney Channel, goes beyond the stereotype of a high-achiever. None of these actresses let their characters become a cliché. Anyone who has watched Kat Dennings (who, by the way, guested in Sex and the City as a spoiled 13-year-old planning her bat mitzvah) knows she deserves a TV hit. Her talents far exceeded the six seasons she spent on 2 Broke Girls. Dollface leans into Dennings' innate charms. She's a great everywoman trying to navigate the tricky landscape of female friendships in your twenties. She wants to rekindle those friendships, she just doesn't know how.
This is the journey that Dollface wants to take you on, so long as you are willing to give yourself over to it. And you should—bus-driving cat lady and all.
Dollface premieres November 15 on Hulu.
---
Amy Amatangelo, the TV Gal®, is a Boston-based freelance writer, a member of the Television Critics Association and the Assistant TV Editor for Paste. She wasn't allowed to watch much TV as a child and now her parents have to live with this as her career. You can follow her on Twitter (@AmyTVGal).
For all the latest TV news, reviews, lists and features, follow @Paste_TV.