Divorce to End with Season Three, Premiering Tonight on HBO
Photos by Craig Blankenhorn/HBO
TV
News
HBO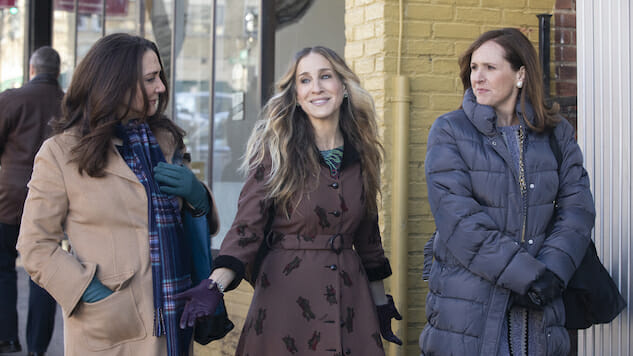 HBO and Sarah Jessica Parker comedy Divorce are breaking it off.
The six-episode third season, which premieres tonight, will be the show's last, per THR.
The show stars Parker, who also executive produces, and Thomas Haden Church as a couple—France and Robert—as they go through a divorce.
The beloved comedy was created by Sharon Horgan, the comedy and sitcom veteran behind Pulling and Catastrophe, but it has featured a new showrunner every season.
Sex and the City writer and self-help book author Liz Tuccillo helmed the final season of the show after taking the torch from Jenny Bicks, who also worked on Sex and the City as a producer and penned The Greatest Showman. Paul Simms was showrunner of the first season, but dropped out due to creative differences.
The final season of the show also marks a significant milestone for HBO as their first series with an all-female cast of directors.
The third season is set to hit the screen eight months after season two wrapped up on HBO. Production was backed up by lengthy negotiations that led to Divorce's reduced season length of six episodes, as opposed to 10 in the first season and eight in the second.
But Parker is still in business with the cable network with a first-look deal, so this all but certainly won't be the last we see of the Sex and the City actress and her Pretty Matches Productions on HBO.
Parker has been under HBO's umbrella for 14 years, working on projects spanning drama, comedy, documentaries and unscripted TV with her longtime producing partner Alison Benson.
"Sarah Jessica Parker has a unique ability to showcase the complexities of personal relationships with such empathy and humor," HBO Executive VP of Programming Amy Gravitt told THR. "With Divorce, she took our audiences through the keyhole and into the lives of a modern-day couple dealing with the fallout of splitting up. As we end with the third and final season of the show, we look forward to our next endeavor with Sarah Jessica and Pretty Matches."