Hulu Unveils Release Date for The Handmaid's Tale Season Three, Trailers for Shrill and Ask Dr. Ruth, More
Images via Hulu/YouTube
TV
News
Hulu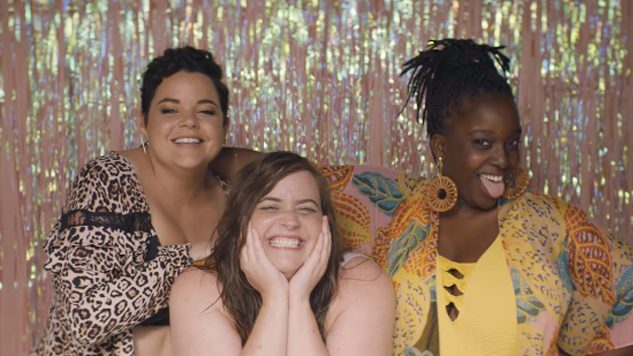 Here ye, here ye: Hulu has a plethora of programming landing in the near future, so you never have to leave the house again.
Besides the forthcoming Catch-22 limited series, the streaming platform has finally announced that The Handmaid's Tale is returning for its third season on Wednesday, June 5. Most recently, the teaser for this newest season was released during the Super Bowl.
If the dystopian series feels just a bit too grim considering our current political circumstances, the new comedy series Shrill serves as the perfect elixir. Aspiring journalist Annie (Aidy Bryant, with charm out the wazoo) tackles a whole host of hurdles—fatphobia, a douchey boss, an even douchier boyfriend—with effervescent energy in the new trailer (below) for the series, based on the book by Lindy West. Be sure to check out the previous teaser for the series here, too, before Shrill comes out on March 15.
Hulu is also expanding its documentary prowess with Ask Dr. Ruth, a touching portrayal of the Holocaust survivor and beloved sex therapist Dr. Ruth Westheimer. The doc about the doc comes out on Hulu May 10, and will have a limited theatrical release starting May 3. Check out the below trailer for Ask Dr. Ruth and appreciate the unrelenting enthusiasm of this 90-year-old sex education advocate.
The streamer also announced what is essentially its own version of American Crime Story, titled The Act. The first season follows the true story of Gypsy Blanchard, played by Joey King (The Dark Knight Rises, Crazy, Stupid, Love), who murders her overprotective mother (the unstoppable Patricia Arquette) in order to break free of her grasp. The first two episodes debut on March 20, with the following episodes coming out every Wednesday. Watch the teaser for The Act below.
For fans of The Favourite, consider adding The Great to your watch list. The "genre bending, anti-historical" series centers on Elle Fanning as Catherine the Great and tracks her ascent to Russian throne in the 18th century. Doubling down on The Favourite parallels, Nicholas Hoult appears in the series. The Great is created, written and executive produced by Tony McNamara (screenwriter of the Oscar-nominated film). The rest of the cast is composed of Phoebe Fox, Adam Godley, Gwilym Lee, Charity Wakefield, Douglas Hodge and Sacha Dhawan. Sadly, though, we'll have to wait until 2020 to see if The Great lives up to its name.
And in case all that wasn't enough for you, Hulu also ordered new Abigail Spencer-starring series Reprisal, a "hyper-kinetic revenge tale" that will go into production later this year ahead of a 2019 premiere, and a new adult, animated Marvel universe, featuring shows centered on M.O.D.O.K. and Howard the Duck, among others.