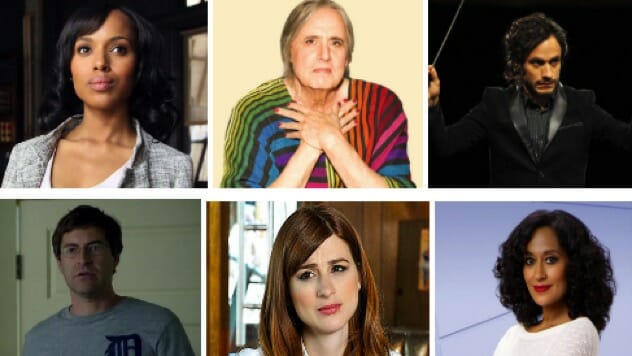 First, a confession: I actually did the unthinkable, and watched the Uncle Buck pilot a little while back… okay, half of the Uncle Buck pilot. Curiosity, boredom, eternal interest in whatever Mike Epps is doing? Blame one or all three, but there I was, not laughing and not enjoying the show on any level whatsoever. But I did learn something in the 15 minutes I spent with the now-canceled series: the TV world really, really wants to normalize wealth. For reasons that are completely unclear, the Uncle Buck adaptation cast Buck's brother and wife as one-percenters, which was made abundantly clear by the Architectural Digest-porn-like home in which the opening scenes were set.
Why? Why did those characters have to be wealthy? I didn't go on to watch the remaining episodes, but I suspect that whatever the plotlines were, they would have rolled out just fine with a middle class couple. The same is true for so many other TV shows, and it's becoming clear that TV writers, producers and creatives can't seem to imagine their worlds and their characters without a significant amount of money, and the housing that comes with. Sure, we all like to look at pretty houses, and pretty celebrities and their pretty cars, but when did we decide that it wasn't enough to see these pretty things in People magazine and gossip blogs?
One wonders if our culture's obsession with celebrities has trickled down to TV, and made it so that writers believe their characters have to live the lifestyles of (or actually be) celebrities, for audiences to watch. If this is the case, it proves that the concept of diversity or inclusion goes beyond a sprinkling of black and brown faces, and challenging gender norms.
Paste critic Mark Rozeman took on aspects of this issue in an essay about the overwhelming whiteness and wealth in excellent cable shows like Togetherness, Transparent, Flaked, You're the Worst and many more. You're the Worst is a great example of a wonderful series that would be just as hilarious and smart if the characters weren't well-off. Gretchen (Aya Cash) is a music publicist and her boyfriend Jimmy (Chris Geere) is an author—both of these facts contribute to great plotlines on the show, but it's not what makes the series. What makes You're the Worst is two young people resisting adulthood and love, all while entering into adulthood and love. It's the anti-rom com style that makes the series distinctive; the money all these characters seem to have just makes it more like so many other shows.
The counterpoint to this argument against more characters with money on TV is that it shouldn't technically matter that these characters have all this money, because they're just so damn interesting. And that's true, in a way. You "forget" that these are people who make up the one percent (or come close to it) because the writers create fascinating characters whose problems and flaws are so human and relatable. But if you're a broke person watching these shows (*raises hand), there remains a huge gap between the self and these fictional characters you want to love. I love the "Sunday Funday" episodes on You're the Worst as much as everyone else, but they would be far more enjoyable if I knew FX or FXX was also going to air a show about a group of friends who can't afford to brunch every weekend.
This obsession with well-to-do characters is having an interesting impact on shows that automatically suggest diversity or inclusivity by starring black people. As much as I want to celebrate every new show boasting a black cast—in the same way that I want to celebrate the greatness of shows like You're the Worst and what their existence signifies for progress in TV—I can't help but notice that Power, Survivor's Remorse, the forthcoming Queen Sugar, black-ish, Scandal, How to Get Away with Murder, and Empire all center on, or involve black families with money. I will watch anything Mara Brock Akil makes, but I couldn't help but let out a sigh when I read the words "power couple" in the description of her next developing series. Yes, to more black people on TV, especially those written by the Akils; no, to the idea that they all have to live in beautiful, unattainable (for the average American) homes. Why are we championing diversity and inclusivity when it comes to race and gender, but not class? Class, which we all know by now is just as much a defining factor in a person's life as race or gender (if not moreso).
It's not acceptable that the two biggest shows with black characters who are not rich or wealthy are Orange is the New Black and Underground. It sends the message that black people can be the Johnsons on black-ish, or prison inmates at Litchfield, or enslaved Americans. And it's not acceptable that so many prestige shows with white casts also insist on normalizing wealth through their characters. And although few people are "allowed" to be broke on TV, most of the time when we see such characters (today), they are white. To me, this represents the issue with defining "progress" by one thing alone—like blacks in leading roles on TV. If all of those black characters are well-educated and well-off, it's arguable that we're in just as bad a state as one where all of the black characters are uneducated and/or broke. There remains an issue with a lack of character diversity if all of our black women are variations on Olivia Pope—powerful, and with money in the bank.
And so the question remains—what stories are we leaving out, when we refuse to acknowledge an entire population of people?
There are a few shows that seem like they could break the mold, including HBO's forthcoming Insecure and FX's Atlanta . We also have The Carmichael Show on NBC, and although HBO's The Night Of certainly had its problems with the presentation of black characters, it offered a rare look at a protagonist who didn't come from money (although the young woman at the center of the whodunnit was well-off). Netflix's The Get Down also works as a great example of how a series can be colorful and flashy—aesthetically pleasing to the eye—with a cast of predominantly broke characters. The Get Down also serves as a reminder that broke characters don't have to be relegated to depressing figures, struggling to make it through life. Granted, the youthful aspect of the series helped, but broke people, young and old, have to be creative, and with creativity comes comedy. The simple act of buying turntables on credit, for example, could become a necessary house party for a broke person.
Perhaps my favorite "broke people" narrative came from this summer's hit, Stranger Things. Winona Ryder's character wasn't perfect, but when Joyce showed up at the hardware store and didn't have the $22.56 for the new phone, I could have wept tears of joy. I am a mother. I have kids. There have been many, many days when I did not have $22.56—where that amount of money felt like it would have saved my entire life. When Joyce, then, went off on her boss for hesitating to give her a two-week advance, and then showed up in the next episode demanding that he ring up her collection of Christmas lights which she clearly couldn't afford, it felt like a victory for broke ass moms everywhere. And, yes, we are everywhere.
Is it wrong for me to imagine a world where such scenes don't feel more shocking than cities filled with walking dead, or D.C. fixers sleeping with American Presidents? Surely, stranger things have happened! Surely, in this age of TV, where literally anything goes (hello, Preacher's Arseface, hello Power sex scenes), it's not too much to ask that broke people be deemed worthy of good and great TV.
---
Shannon M. Houston is a Staff Writer and the TV Editor for
Paste. This New York-based writer probably has more babies than you, but that's okay; you can still be friends. She welcomes almost all follows on
Twitter
.