Jussie Smollett Arrested, Charged with Disorderly Conduct
Photo by Theo Wargo/Getty
TV
News
Jussie Smollett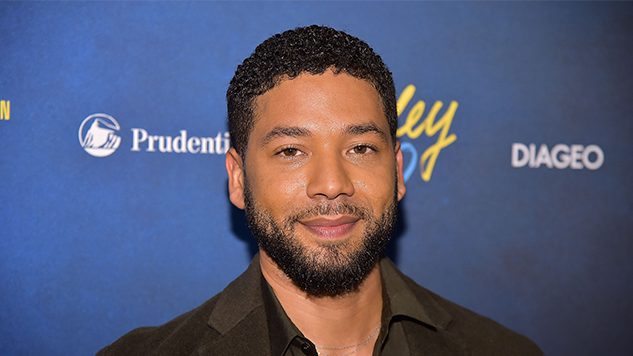 Chicago police have charged Empire actor Jussie Smollett with disorderly conduct for allegedly orchestrating a widely reported racist and homophobic attack against himself in late January, as per CBS Chicago.
At a news conference Thursday morning, the Chicago PD explained that Smollett staged the incident because "he was dissatisfied with his salary." He reportedly turned himself in to the police early on Thursday.
Originally, it was reported that a pair of men spewed racist and homophobic invective at Smollett, beat him, placed a noose around his neck and poured liquid chemicals on him. Now, police say that the two men, brothers Ola and Abel Osundairo, were paid $3,500 by Smollett to carry out the attack and the actor gave himself facial wounds. The brothers also reportedly informed police that Smollett had concocted the racist letter sent to Empire, but decided to escalate to the allegedly staged attack after the letter did not garner enough attention.
"Smollett took advantage of the pain and anger of racism to promote his career. This publicity stunt was a scar that Chicago didn't earn, and certainly didn't deserve," Chicago Police Superintendent Eddie Johnson said.
CBS Chicago reports that Johnson further stated:
I'm left hanging my head and asking why. Why would anyone, especially an African-American man, use the symbolism of a noose to make false accusations? How could someone look at the hatred and suffering associated with that symbol and see an opportunity to manipulate that symbol to further his own public profile? How can an individual who's been embraced by the city of Chicago turn around and slap everyone in this city in the face by making these false claims?
A number of people initially supportive of Smollett in the wake of the staged attack shared their concerns that his actions would negatively affect the large number of people who are targeted in hate crimes.
What we won't do is act like Jussie Smollett was lying about what MAGA is. Jussie lied, but MAGA is a hate group.

You and your supporters are bigots, and the only reason people have believed Jussie is because of how dangerous you and your supporters are @realDonaldTrump. pic.twitter.com/YI4RFbKhAn

— Frederick Joseph (@FredTJoseph) February 21, 2019
How would do something like this? Why would he think the police wouldn't investigate? Why would he make it harder for people who actually suffer from hate crimes? It makes no sense. The lie is so damaging. The time the CPD has spent/wasted on this. The people who supported him.

— roxane gay (@rgay) February 17, 2019
I will never regret having empathy for other human beings. If empathy is not your default it says more about you than any individual set of facts https://t.co/JblFHe5huh

— Zerlina Maxwell (@ZerlinaMaxwell) February 20, 2019
A statement from Smollett's attorneys reads:
Like any other citizen, Mr. Smollett enjoys the presumption of innocence, particularly when there has been an investigation like this one where information, both true and false, has been repeatedly leaked. Given these circumstances, we intend to conduct a thorough investigation and to mount an aggressive defense.
In a joint statement (via THR) issued Thursday, Empire network and studio Fox Entertainment and 20th Century Fox Television said, "We understand the seriousness of this matter and we respect the legal process. We are evaluating the situation and we are considering our options."