Killing Eve Season 3 Remains a Devilish Delight
Photo Courtesy of BBC America
TV
Reviews
Killing Eve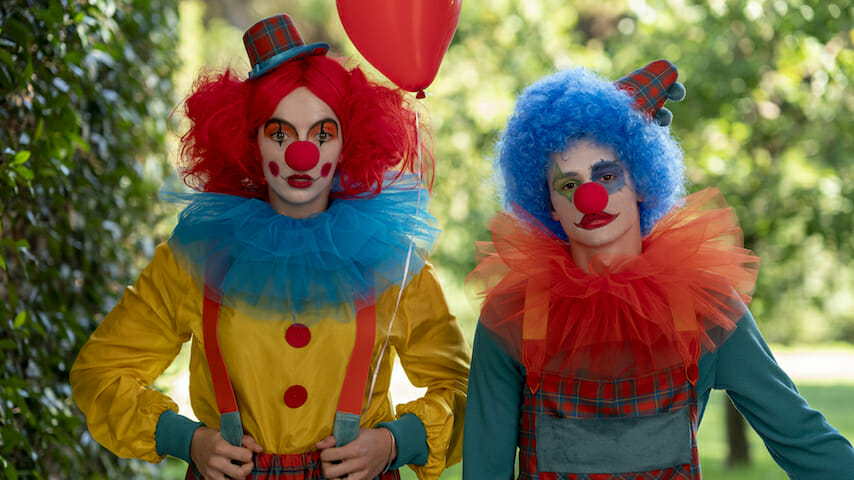 In its third season, BBC America's Killing Eve again subverts a typical anthology format. Usually it's the same lead writer / executive producer and a different story each season. With Killing Eve, it's the same story and a different lead writer / executive producer. This time around, Suzanne Heathcote takes the reins for the latest chapter focusing on the unique relationship between beleaguered agent Eve Polastri (Sandra Oh) and flamboyant assassin Villanelle (Jodie Comer), which picks up some time after the latter shot the former to end Season 2.
That moment mirrored the end of the first season, when Eve surprises both herself and Villanelle with a knife stab, a thematic motif that darts through the new episodes. Eve remains uncertain in how to process her feelings towards Villanelle—if they are sexual, obsessive, or perhaps something else entirely—and often conflates them with violence. She gave herself over to that in those first two seasons, allowing it to effectively end her marriage and ruin her career. In return, we find her alone in a crappy apartment, working odd hours in the kitchen of a restaurant, drinking too much, and spending her nights with Cup Noodles while Villanelle believes she's dead. In a way, she is.
Heathcote makes a decision to keep Eve and Villanelle separated (minus one brief and surprising scene) for the first five episodes available for review. There's more to explore with them apart, although Eve's story again suffers when not closely tied to Villanelle. Of course the sartorially-minded superstar assassin is the more interesting thread to follow, especially as Season 3 seeks to uncover more of her past. But (so far) it doesn't do the same for Eve, who again often feels secondary to her own story as she faces a personal wilderness.
Villanelle, meanwhile, is reunited with her assassin coach Dasha (an always exceptional Dame Harriett Walter, who also sparred with Comer in Starz's The White Princess miniseries). Through Dasha, and later, Villanelle's search for her family, we start to get context for our star killer that could prove tricky to navigate. On the one hand, filling out her backstory makes her more human; on the other, the series does an excellent job of reminding us (often) that Villanelle is a psychopath. (She kidnaps a baby for a laugh, whose mother she killed on her way up to a management position, although it's Dasha who places the crying baby swiftly into a trash can. It's okay, though. Really! I mean, kinda.) Is she beyond redemption? This is the silent question Eve struggles with, and there's no sense of when or if the show will ever answer it. Regardless, for now, Villanelle (and Comer's truly weird and wonderful performance) remains a centerpiece—despite some overplayed flourishes like the idea that Villanelle has put in enough effort to have a fiancée (and then, just as quickly, doesn't).
The new season feels particularly segmented among its many disparate narratives, and though the story of the mysterious Twelve continues on, and the lives of Konstantin (Kim Bodnia), Carolyn (Fiona Shaw), Kenny (Sean Delaney), and Kenny's new boss at an investigative online publication, "The Bitter Pill" (Danny Sapani) orbit and crash into one another and our leads, (and that of Owen McDonnell's poor, poor Niko), story has always been secondary to Killing Eve's raison d'être. That's not a criticism; the show presents a warped, globe-trotting fantasy world full of daring do and stunning fashions (not to mention an excellent soundtrack) that is escapist TV at its best. But it is also grounded in humor, particularly through constant, sly attacks on its home country ("Not ready for London?" Dasha says to Villanelle in her thick Russian accent. "You just need anorak and face like cheese.")
And yet, that in no way diminishes the Killing Eve's emotional gut-punches, particularly an early one that wakes Eve up and pushes her back into action. It's only the first of a few stunning twists that are meant to shock us as well, raising the stakes in a way the show absolutely needs to thrive.
In Season 2, we saw Villanelle start things off being knocked off-kilter and struggling to find her way back to the top. Now the same is true of Eve, as the series plays out its narrative seesaw. Where this all leads is uncertain (other than Season 4, for which the show has already been renewed), but so far Killing Eve's third season remains engrossing, surprising, and strangely funny (like when Villanelle gets an incurable case of hiccups over the prospect of seeing her family again). It's also casually brutal, something that continues to give the series its edge. Still, there is something fresh about this new exploration of what has become an old dynamic, and the episodes get better and deeper as the season progresses. It may not be as balanced as it was in that first magical outing, and some of the plot points may feel a little recycled, but Killing Eve ultimately remains a devilish delight.
Killing Eve premieres Sunday, April 12th on BBC America
---
Allison Keene is the TV Editor of
 Paste Magazine.
For more television talk, pop culture chat and general japery, you can follow her @keeneTV
For all the latest TV news, reviews, lists and features, follow @Paste_TV.