How Orange is the New Black's Laura Gómez Became the Leader of Litchfield's Revolution
TV
Features
Laura Gomez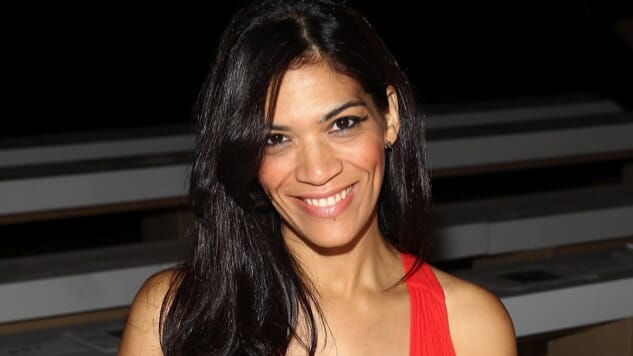 In "Turn Table Turn," one of the strongest episodes in Orange Is the New Black's stimulating, even controversial fourth season, Blanca Flores, the leader of Litchfield's nascent revolution, channels Henry David Thoreau's "Civil Disobedience"—and so, describing her preparations for the role, does actress Laura Gómez.
"Just like our show has grown in a different direction from where it departed from, I think the same has happened to many characters, particularly mine," Gómez says of "Turn, Table, Turn." The episode shows Blanca resist both a bigoted employer and the prison's racist guards. "It's presented in a very political way, but it comes from within. It's political, but it comes from principle."
If, as Thoreau writes, "Action from principle… is essentially revolutionary," then Blanca's defiant acts—intercourse with the landscaper in the employer's bedroom, a tabletop protest in the Litchfield mess hall—transform the character into a rebel with the courage of her convictions. It's a far cry from her initial place in the series' sprawling cast: In the beginning, Gómez says, the writers described Blanca simply as a "Dominican crazy lady."
This process of bringing a character from the margins of the ensemble to the center is one of the defining features of Orange Is the New Black, in which a single episode's flashbacks can throw an inmate's life into sharp relief. The series' structure is kaleidoscopic, creating new patterns with the same hues; each turn in the narrative, filtered through one or another character's perspective, fashions a heretofore unseen image, without sacrificing the sense that all are constituent parts in a colorful, multifaceted whole. As Gómez explains, the nature of Orange Is the New Black requires the actors to remain flexible, while offering a chance for close collaboration with the writers, producers and directors.
"It's very unpredictable," she says. "For us, we don't know who's going to have a back story or all of a sudden have an arc that's going to be essential to that specific season. But we are, at this point, a very tight family. It's a very healthy environment in that regard."
To this end, the performer featured in an episode's flashbacks receives the script much earlier than normal, to allow ample time for preparation—an approach that had added weight for Gómez with regard to "Turn, Table, Turn," which includes what the actress calls Blanca's "sensual scene." Carefully choreographed, filmed on a closed set, and subject to her approval, the sequence is one of which Gómez is particularly proud.
"It was showing such an essential part of Blanca, that animal-like response to her oppression," she says. "So that action connected with the action of standing on that table defiantly. It was never, in my mind, gratuitous. Whatever caricature Blanca could once have been, [she became] something above that."
Whether the fourth season's treatment of the Black Lives Matter movement is as deftly handled as Blanca's arc is an open question, however: Paste TV editor Shannon M. Houston has called the series' presentation of these issues "cowardly," while my own episodic recaps described the narrative as one ultimately focused on white silence more than black lives. For Gómez, a supporter of BLM, the events of Orange Is the New Black are a reflection of the race relations in the United States, rather than a judgment thereof.
"I think we're in a very vulnerable state overall right now, this society. We're in very turbulent times, and with every right, people are very sensitive about certain things," she says. "But I feel those criticisms are not quite accurate. I feel we are revealing a lot of what's happening."
In particular, Gómez defends the choice of Poussey, a "symbol of hope," and Bayley, the least brutish of the guards, as the central players in the season's tragic climax, suggesting that the moment might not have provoked such a "visceral reaction" from viewers had Humphrey, a "psychopath," murdered the lesser-known Blanca. Similarly, she argues, Daya grabs Humphrey's gun in the season finale in order to emphasize the pressure prison places on even "the most lovable character."
"I feel like the word for Orange [this season] is 'mirror,'" Gómez says of the Litchfield riot, adding that she rejects violent tactics wholeheartedly. "To go there, it was almost like it was given from the situations that we're living. In a way it makes us reflect on how much people can be oppressed or abused. The system is failing minorities. It's failing the Black Lives Matter movement. It's failing gay people. At some point, how much can we boil in hot water before jumping out of it?"
The real power of Orange Is the New Black, Gómez says, is the precise characterization, the fine detail, from which even the most surprising actions emerge. Blanca's Spanish is distinctly Dominican, for instance, to the point that Gómez, who was raised in Santo Domingo, often has the writers adjust the script for her dialect. It's "the beauty in being that specific," she adds, that works against stereotypes—an issue "Turn, Table, Turn" raises when Litchfield's Dominicans decide to apply foul smells to their bodies to avoid the guards' stop-and-frisk policy. (Remezcla's Mechi Estévez-Cruz calls the use of Dominican stereotypes one of this season's "long list of nopes.")
"There is truth in stereotypes," Gómez counters, noting that Blanca complicates the matter by using the guards' negative views of Dominicans to combat their abuse of power. "That's part of reality. And then the humanizing part is what makes it unique and breaks the stereotype. Prison is a system that works by generalizing everything and making everybody a walking cliché… Talking about tables turning, at the end we kind of have a defense of tables turning. And in a way, I think that's what the formation of the Dominican gang is reflecting—tables turning."
Gómez, who has also appeared in a guest arc on Law & Order: SVU and in David Simon's acclaimed HBO miniseries Show Me a Hero, gravitates toward political stories, and her next project is no different. She recently finished shooting Samba —the Domincan term for "sandbag" or "punching bag," she tells me—the latest feature from filmmaking couple (and new AMPAS members) Laura Amelia Guzmán and Israel Cardenas. Samba follows a man deported to the Dominican Republic after a stint in U.S. prison, in whom Gómez's character, a boxing promoter, sees untapped potential. The subject matter, at the intersection of incarceration, immigration, and race/ethnicity, is not dissimilar from that of Orange Is the New Black, which Gómez hopes pursues its political vein even further.
"I would like to see more of this fight," she says of the series' fifth season, coming to Netflix next year. "And based on what I know about our writers, I think that we will."
---
Matt Brennan is a film and TV critic whose writing has appeared in
LA Weekly
,
Indiewire
,
Paste
,
Slant
,
The Week
,
Flavorwire
,
Deadspin
, and
Slate
, among other publications. He lives in New Orleans and tweets about what he's watching @thefilmgoer.