Exclusive: Listen to Legion Season Two Soundtrack Cut "Dance Battle"
Images via Lakeshore Records/FX
TV
News
Legion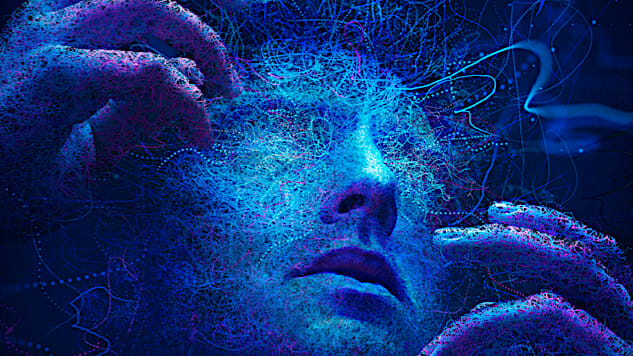 Legion's second season debuted in early April to much critical acclaim and the show has steadily followed along a path of riveting bewilderment, much to the delight and intrigue of both fans and critics. Part television show and part visual, moving art installation, Legion is an unparalleled television viewing experience in the modern age of prestige small-screen, televisual experiences. Though the second season is over halfway through, we are more than proud to present an exclusive song from the Legion season two soundtrack, due out digitally on May 25 via Lakeshore Records.
Composed by Emmy- and Grammy-nominated musician Jeff Russo, "Dance Battle" is a strikingly gripping five minutes of dense, disparate industrial electronics that slowly moves into more string-infused beats that ebb and flow between synth and string. Eventually, these discordant soundscapes amalgamate into a cacophony of ear-catching compositional prowess that both draws the viewer into the tonal moment of the show whilst giving them enough space to admire the music itself.
Russo has become an important and sought-after composer, arranger and songwriter in the worlds of cinema and television, and his work can be heard in FX's own Fargo, Netflix's Altered Carbon and HBO's Golden Globe-nominated miniseries The Night Of. He is signed on to score two upcoming films, John Avnet's Three Christs and Craig Macneill's Lizzie, and he still plays music with his rock band, Tonic.
Listen to "Dance Battle" below and pre-order the album via iTunes.
Legion: Season 2 — Original Television Series Soundtrack Tracklist:
01. Dance Battle
02. Farouk/The Shadow King
03. Future Syd
04. Many Days (Synth)
05. Where is David?
06. Lenny and Oliver (Farouk)
07. Division 3
08. Orange Bridge
09. Sliding Door David
10. End of Life
11. Lost in the Desert
12. 208 Main on Ends
13. Laboratory
14. 89 Days
15. The Magic Man
16. Carousel
17. 202 Main on Ends (Full Version)
Legion: Season 2 — Original Television Series Soundtrack Album Art: