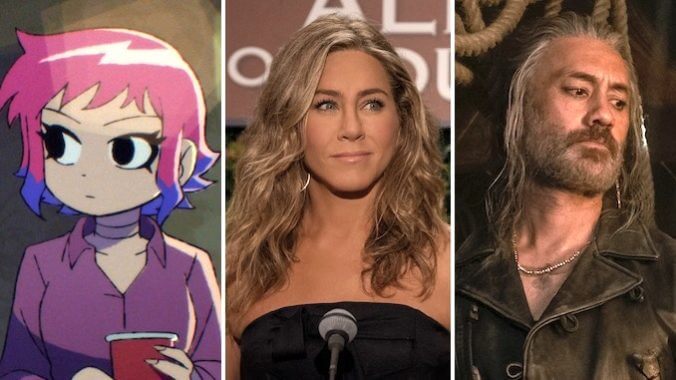 With the entertainment industry thoroughly shaken up, the coming Fall TV season is a bit of an odd one, to say the least. In a time before streaming, a summer where all the television writers were on picket lines rather than in writers' rooms would have been devastating for the medium, but in the age of streaming giants and non-traditional release schedules, TV continues to march along—albeit at a significantly subdued pace. After all, most of broadcast TV has been crippled by the writers' and actors' strikes, with just a few new shows actually making it to the airwaves this fall; the only uniquely-prepared broadcast network is NBC, which will be premiering at least two new scripted series (The Irrational and Found), and touting the return of hits Quantum Leap and Magnum P.I. Other shows have not been so lucky, like fan-favorite Abbott Elementary, which is delayed indefinitely.
However, with the untraditional release model that streaming has offered, where TV is produced and aired year-round, there will still be some new and returning shows to look forward to this fall, especially from the various streamers. Though, a number of streaming series have already found their once-fall release dates pushed in an effort to stockpile content for the foreseeable future, so the dates listed below are, unfortunately, subject to change.
Below, we've gathered the best new and returning shows to look forward to this fall while we all anxiously await a conclusion to the perpetual stalemate Hollywood has been subject to at the hands of corporate greed.

Star Trek: Lower Decks
Network: Paramount+
Premiere Date: September 7
Status: Season 4
Trek fans have been quite well-catered to as of late. Just a few weeks ago, the excellent latest run of Star Trek: Strange New Worlds wrapped up, and quite soon, we'll be treated to more with the fourth season of Star Trek: Lower Decks. For those out of the loop, it's an animated comedy series that started in 2020 focusing on "lower-deckers," members of Starfleet who are low-ranking officers with far less glamorous jobs than their more elite counterparts that the franchise usually focuses on. Helmed by Rick and Morty writer Mike McMahon, the series has been well-received thus far, and in our review of the first season, we said that it "finds a lot about the long-running sci-fi franchise worthy of lampooning, but mostly it's a fun, imaginative and clever look at this beloved universe from a very different perspective." —Elijah Gonzalez
---
The Changeling
Network: Apple TV+
Premiere Date: September 8
Status: New Series
Even though we've seen many "grounded" takes on horror in recent years from film studios like A24, outside of a few exceptions, it doesn't feel like there's been the same rush in the television landscape. The Changeling, an eight-episode adaptation of the book of the same name produced by Apple Studios and Annapurna, seems like it could fill this gap. Apollo (LaKeith Stanfield) and Lillian Kagwa (Adina Porter) are new parents who find their life taking a grim turn after the birth of their child, as a sinister prophecy and strange happenings threaten their new life. Described as a "fairytale for grown-ups," its trailer alludes to foreboding worlds hidden in plain sight as Apollo attempts to steer his loved ones away from frightening ends. The otherworldly imagery in the preview hints at an unsettling odyssey through New York City that will hopefully bring fantastical scares to life. —Elijah Gonzalez
---
The Walking Dead: Daryl Dixon
Network: AMC
Premiere Date: September 10 
Status: New Series
Daryl Dixon (Norman Reedus) has long been a Walking Dead fan-favorite since his introduction as a standoffish redneck touting an impractical bow-and-arrow as his Weapon of Choice, and September 10th marks his official time to shine. The spin-off follows Daryl after he's washed ashore in France (the origin of the zombie outbreak!) and struggles to find out how and why he's there. It seems we'll finally get to see how Europe dealt with the undead. Reedus stars alongside newcomers Clemence Poesy as Isabelle and Adam Nagaitis as Quinn.  —Gillian Bennett
---
Welcome to Wrexham
Network: FX (streaming on Hulu)
Premiere Date: September 12
Status: Returning 
While it is a series about soccer (or football, if you're across the pond), Welcome to Wrexham's charm stems from its very human portrayal of this underdog team, the warm town they call home, and the people that populate both the stands and the Welsh countryside. And of course it wouldn't be the docuseries it is without the celebrity status of the club's co-owners Rob McElhenney and Ryan Reynolds, who are learning to navigate the world of UK football, all while trying to build the Red Dragons into proper hometown heroes. Season 2 continues to provide the football, the fanatics, and the locale that made the first season a hit for FX, while further examining the sport, the celebrities, and the community thriving in North Wales. —Anna Govert
---
The Morning Show
Network: Apple TV+
Premiere Date: September 13
Status: Returning 
In many ways, The Morning Show feels like a soap opera masquerading as a prestige drama, but that's what makes it so enjoyable to watch. What started as a fictionalized take on the real-life Today Show scandal has now morphed into a show that seemingly will go to every length and do anything to make sure its characters are constantly yelling at each other—but when its Jennifer Anniston, Reese Witherspoon, Billy Crudup, and Julianna Margulies (just to name a few), what more could you ask for? In its third season Alex (Anniston) and Bradley (Witherspoon) are once again facing outside forces and real-life political curveballs as they fight to save the network, their show (the titular Morning Show), and their reputations. Throw in a ripped-from-the-headlines storyline surrounding a tech giant (and how that industry is changing media as we know it), and this season is sure to be the messiest—and most enjoyable—yet. —Anna Govert 
---
Wilderness
Network: Prime Video
Premiere Date: September 15
Status: New Series
Female revenge has become a subgenre of its own. Spanning everything from Gone Girl to Do Revenge, watching women get even is a cathartic experience, and Prime Video's latest thriller Wilderness is bringing more of that sweet, sweet vengeance to the small screen. The series follows Jenna Coleman's Liv, loving wife to Oliver Jackson-Cohen's Will—that is, until she discovers that he's been cheating on her. As they embark on the romantic, American road trip of their dreams, that dream quickly transforms into a nightmare as Liv attempts to use the setting to get the ultimate revenge on her unfaithful husband. With the couple's happy facade fading into the rearview mirror, this thriller is sure to entertain any fan of the genre, and anyone keen to see another woman get her revenge. And if you need any more reason to tune-in, "Look What You Made Me Do (Taylor's Version)" is the title sequence song, as if this show couldn't get any more enticing. —Anna Govert
---
Sex Education
Network: Netflix
Premiere Date: September 21
Status: Final Season
Everyone's favorite sex-crazed, bumbling Brits are back for the fourth and final season of Netflix's Sex Education. Goodbye Moordale, hello Cavendish Sixth Form: the gang is in a new school, where Otis (Asa Butterfield) has taken up his mother's mantle once more to so graciously be the school's new (and only…) student sex therapist. Only time will tell how well this goes for him the second time around. All I know is I need Maeve Wiley (Emma Mackey) to get her happy ending before series end.  —Gillian Bennett
---
The Continental
Network: Peacock
Premiere Date: September 22
Status: New Series
From the world of action franchise John Wick comes The Continental, a three-episode miniseries that catalogs the ins and outs of the iconic, underworld-friendly hotel chain The Continental. As hitmen, murderers, and all manner of seedy individuals come to stay within the hotel, the neutral ground provided by the chain allows the darkest figures within the John Wick universe to converge in one place. The series follows a young Winston Scott (portrayed here by Colin Woodell, taking the reins from Ian McShane) as his past comes knocking and he's dragged back into the underbelly of 1970s New York. The '70s-tinged action and further exploration of this intriguing world make The Continental more than worth a three-night stay when it premieres this fall. —Anna Govert
---
Gen V
Network: Prime Video
Premiere Date: September 29
Status: New Series
Have you ever watched an episode of The Boys, with its f—ed up violence, unhinged sexuality, and undeniable villany and thought, but what if they were hormonal college kids? Well, Gen V seeks to satiate that need in this The Boys spin-off from Prime Video. Taking place at the Vought International-run college for superpowered beings, the series seems to mix The Hunger Games-level bloodthirsty competition with Euphoria-level teen angst as it follows a group of Supes aiming to secure their spot at the top of their class. And featuring familiar faces from some of the best teen shows of the past five years (including Chilling Adventures of Sabrina's Jaz Sinclair and Chance Perdomo, and Teenage Bounty Hunters' Maddie Phillips) within its undeniably stacked cast, this series is not one to miss this fall. —Anna Govert
---
Frieren: Beyond Journey's End
Network: Crunchyroll
Premiere Date: September 29
Status: New Series
While the fall is full of standout anime, the one that I'm personally most eager to check out is the heavily-anticipated adaptation of Frieren: Beyond Journey's End, a story that seems to have a lot to say about mourning and the passage of time. It follows Frieren, an elf previously part of a legendary band of adventurers who saved the world from a great evil after a decade-long quest. However, unlike her compatriots, Freiren can live for thousands of years, and as her journey becomes increasingly distant, she must contend with leaving her companions behind. This evocative premise has been bouncing around in my mind since I first heard about the acclaimed manga years ago, but I abstained from reading the source material after learning it was slated to receive an adaptation from Madhouse with Keiichirou Saitou, who previously helmed the ingenious Bocchi the Rock! adaptation, serving as director. If its gorgeous trailer is any indication, the studio seems to be keying into the melancholic wavelength that this material requires. The premiere episode will be a 2-hour special, and I couldn't be more ready to be emotionally obliterated. —Elijah Gonzalez
---
Chucky
Network: SYFY (streaming on Peacock)
Premiere Date: October 4
Status: Returning
SYFY's kooky hit Chucky is coming back once again for more gruesome gags and horrifying hilarity. Picking up in the aftermath of Season 2, Chucky (Brad Dourif) has found himself with not just any family, but the family—the First Family. Jake (Zackary Arthur), Devon (Björgvin Arnarson), and Lexy  (Alyvia Alyn Lind) have to figure out how to remove Chucky from the world's most secure house before it's too late. Also featuring the return of Tiffany (Jennifer Tilly), who must contend with last season's murderous rampage, Season 3 of Chucky is the perfect way to kick off spooky season with some to-die-for hijinks from our favorite possessed doll. —Anna Govert
---
Our Flag Means Death
Network: Max
Premiere Date: October 5
Status: Returning
BlackBonnet fans rejoice! Our Flag Means Death, Max's queer breakout hit, is finally returning. The series has been celebrated not only for its quick wit and lovable cast, but also for its heartfelt portrayal of queerness across the spectrum, with the wildly popular relationship between Stede (Rhys Darby) and Blackbeard (Taika Waititi) anchoring the core of the series. Picking up from the end of Season 1, Season 2 finds Ed and Stede together still, and, according to the official synopsis, trying to "survive" the love they found on the high seas. Surely featuring more hilarious comedic moments and swashbuckling adventures, Our Flag Means Death is not a show worth missing. —Anna Govert
---
Loki
Network: Disney+
Premiere Date: October 6
Status: Returning
Let Loki (Tom Hiddleston) be the reigning authority on immortality and how to constantly avoid one's imminent death. He's back in Season 2 as Loki and Mobius (Owen Wilson) work against the clock… literally, to stop a war against the multiverse before it can fully begin. The pair, alongside Sylvie (Sophia Di Martino) and newcomer Ouroboros (Ke Huy Quan), slip through time to thwart the evil plans of Kang the Conquerer (played by Jonathan Majors, though it'll be interesting to see how Disney navigates this given his recent controversies).  —Gillian Bennett
---
The Fall of the House of Usher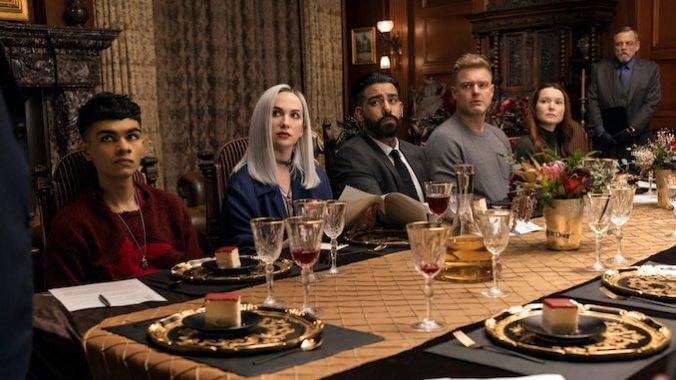 Network: Netflix
Premiere Date: October 12
Status: New Series
If you have watched any of Mike Flannigan's previous Netflix series, then you know The Fall of the House of Usher is not one to miss. Adapted from the Edgar Allen Poe story of the same name, this series follows the corrupt pharmaceutical titan Roderick Usher (Bruce Greenwood) as he rethinks his past actions after his children begin to die in mysterious ways. Featuring a cast of familiar faces from the Flanniverse (including Carla Gugino, Rahul Kohli, Kate Siegel, T'Nia Miller, and Henry Thomas—to name a few), this modernized take on Poe's twisted tale is sure to satisfy the Hill House and Midnight Mass fan in all of us. —Anna Govert
---
Lessons in Chemistry
Network: Apple TV+
Premiere Date: October 13
Status: New Series
Brie Larson stars as Elizabeth Zott in the upcoming adaptation of last year's #1 New York Times Bestselling breakout hit of the same name, Lessons in Chemistry. Written by Bonnie Garmas, the story follows Zott, whose lifelong dream has always been to be an award-winning chemist, as she struggles to be taken seriously as a female scientist in the early 1960s. Her life is further complicated when she ends up abandoned, pregnant, and fired from her job; because nothing has progressed in the 6-decades since this story is set and women have always been castrated for wanting to start a family. Who says a woman can't work and raise a child?  —Gillian Bennett
---
Pluto
Network: Netflix
Premiere Date: October 26
Status: New Series
Author Naoki Urasawa is known for creating several of the most acclaimed manga of all time, including Monster, 20th Century Boys, Billy Bat, and more. His award-winning sci-fi thriller Pluto is finally receiving a full adaptation from Studio M2 in eight one-hour episodes, all of which will be coming to Netflix. It follows Gesicht, a detective investigating a mysterious series of human and robot killings who finds himself pulled into a world-threatening conspiracy. Based on a story arc from Osamu Tezuka's Astro Boy, Pluto has been praised for using its murder-mystery premise to interrogate the tale that inspired it and the intricacies of its science-fiction backdrop. Although Studio M2 is a relatively untested outfit, it was founded by Masao Maruyama, who also co-created the legendary studio Madhouse, as well as MAPPA, meaning they likely have connections to industry talent. They've also been working on the series for a lengthy six years, which feels reflected in its impressive promotional material that makes me believe this speculative future will be well-realized. Between the strength of its source material and the apparent time and effort put into this adaptation, Pluto will be one to look out for when it drops on Netflix this October. —Elijah Gonzalez
---
Spy x Family
Network: Crunchyroll
Premiere Date: October
Status: Season 2
Spy x Family was one of last year's breakout anime hits, a compelling mixture of espionage-thriller and household comedy that proved gut-bustingly hilarious, stylish, and heartwarming in equal measure. The story follows the Forgers, a "phony" family of three living in the Cold War-spoofing city of Berlint. There's Loid, an undercover agent working behind enemy lines to avoid an encroaching war, Anya, the daughter he adopts to blend in (who also happens to have telepathic powers), and Yor, a government worker who turns out to be an assassin working for a rival government. While each of the three carries secrets and sometimes opposing goals, one of the series' great strengths is its ability to slowly break down the barriers that divide them, resulting in a delightfully earnest portrayal of found family. It also helps that Cloverworks and Wit Studio's treatment of this adaptation is top-notch, capturing everything from the manga's excellent visual gags and Anya's adorable gremlin behavior to its frenetic chase sequences. While the world of anime can be tough to get into for some, Spy x Family is an excellent entry point thanks to its fantastic sense of humor and well-conveyed familial warmth. —Elijah Gonzalez
---
All the Light We Cannot See
Network: Netflix
Premiere Date: November 2
Status: Limited Series
Despite premiering at TIFF in September, viewers will have to wait until November to catch this four-part limited series on Netflix. All the Light We Cannot See, adapted from the celebrated novel of the same name, follows blind French teenager Marie-Laure (Aria Mia Loberti) as she connects with with German orphan Werner (Louis Hofmann) over radio frequencies from her home in German-occupied Paris during World War II. After fleeing Paris with her father (Mark Ruffalo), Werner and Marie-Laure's lives become even more inexplicably intertwined. Directed by Deadpool's Shawn Levy and from Peaky Blinders' Steven Knight, this series promises both heartache and hope, examining how human connection can shine a light in even the darkest times. —Anna Govert
---
Invincible 
Network: Prime Video
Premiere Date: November 3
Status: Season 2
Comic writer Robert Kirkman is undoubtedly best known for co-creating The Walking Dead, but he's also behind the similarly long-running superhero graphic novel Invincible. In 2021, the series received a well-regarded first season, which delivered the beginning of Mark Grayson's (Steven Yeun) journey toward becoming a superhero. He's a teenager just coming into his powers, who also happens to be the son of the strongest hero on the planet, Omni-Man (J.K. Simmons). The series has been described as successfully blending old and new by threading the needle between the idealistic superhero stories of yesteryear and many of the more cynical contemporary takes. The first four episodes of the new season will be dropping on Prime Video this November, followed by the second half in early 2024. —Elijah Gonzalez
---
Scott Pilgrim Takes Off
Network: Netflix
Premiere Date: November 17
Status: New Series
Although I find it a little surprising that more than thirteen years after both the Scott Pilgrim graphic novel series concluded and its live-action adaptation aired, we're receiving another adaptation, I'm not exactly complaining. Scott Pilgrim Takes Off is an anime coming to Netflix in November with an exciting list of creatives attached. First off, Bryan Lee O'Malley, the author of the original comic, is handling showrunner duties alongside BenDavid Grabinski (Are You Afraid of the Dark). Animation is being done by Science SARU, an anime studio that has produced some of the most visually interesting and exciting series in recent years, such as Keep Your Hands Off Eizouken!, Devilman Crybaby, The Heike Story, and Tatami Time Machine Blues, among many others, with studio veteran Abel Góngora as the project's director. 
And then there are the ties to the 2010 film adaptation, with Edgar Wright serving as executive producer and almost the entirety of the film's actors, including Michael Cera, Mary Elizabeth Winstead, Kieran Culkin, Chris Evans, and more returning to reprise their roles. Even Anamanaguchi, who did the blistering earworm of a chiptune soundtrack for the tie-in videogame, are returning to compose the music. While we don't know how long each of its eight episodes will be, it's likely fair to assume there will be more room here to interpret the source material's six volumes than the previous adaptation, which diverged due to its shorter runtime—and because it was released before the comic series concluded. The small teaser we've seen for Scott Pilgrim Takes Off showcases a familiar but vibrantly realized art style that looks like it will bring the idiosyncrasies and chaotic tone of the comic to life. —Elijah Gonzalez
---
For all the latest TV news, reviews, lists and features, follow @Paste_TV.