Lizzie McGuire Reboot Production on Hiatus After Original Creator Steps Down as Showrunner
Photo by Ali Goldstein/Disney
TV
News
Lizzie McGuire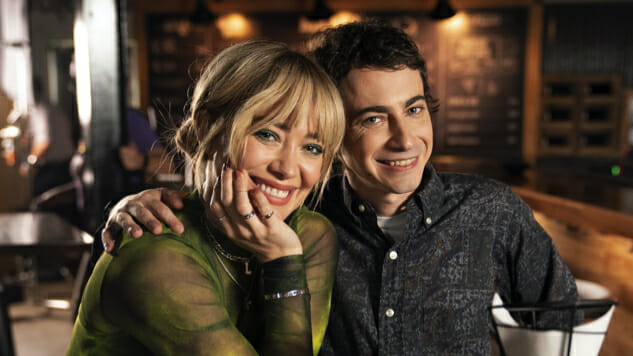 Just last week, Disney+ released a sizzle reel that sampled what would hit their streaming service in 2020. Nostalgia immediately ensued after a glimpse of Hillary Duff in the forthcoming Lizzie McGuire reboot was shown, saying: "Hi, it's me."
Is this not what 2020 vision means? From #ToyStory 4 and Aladdin to #LizzieMcGuire and WandaVision, here's a look into our future at the blockbusters and Originals coming to #DisneyPlus this year. pic.twitter.com/QHGMHat89n

— Disney+ (@disneyplus) January 1, 2020
But fans might have to wait even longer than anticipated for the reboot of the iconic early-'00s Disney Channel hit, as production has hit a pretty major snag: The original creator of the show, Terri Minsky, has stepped down as the showrunner of the series due to creative differences with Disney+.
"Fans have a sentimental attachment to 'Lizzie McGuire' and high expectations for a new series," said a spokesperson for Disney. "After filming two episodes, we concluded that we need to move in a different creative direction and are putting a new lens on the show."
The reboot was originally announced at the Disney+ D23 Expo in August by Duff herself, and filming began in November.
Production on the show is set to resume after a new showrunner is hired. With Duff currently on her honeymoon in Mozambique, the timing to resume shooting with a new showrunner might just work out.
The reboot is set to revisit McGuire on the cusp of turning 30, attempting to make sense of adult life while still featuring an animated version of her 13-year-old self as her inner monologue. It will feature many of the original Lizzie McGuire cast, including Gordo, Lizzie's parents and her now grown-up kid brother.
Well, at least we have The Lizzie McGuire Movie to tide us over in the meantime. Believe us—it still holds up!