What Mark Hamill Does in the Shadows: Star Wars Legend to Guest Star in Season 2 of FX Comedy
Photo by Michael Tullberg/Getty
TV
News
Mark Hamill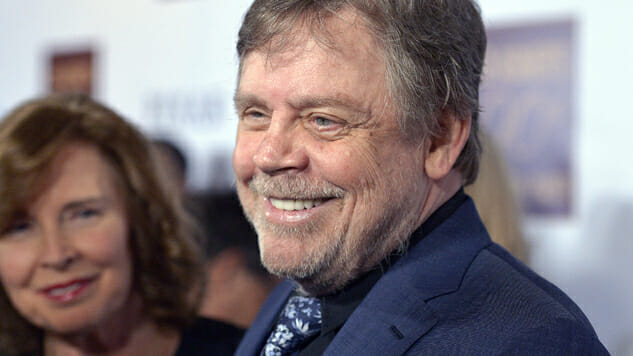 On Jan. 9, Jemaine Clement announced that Mark Hamill would be making a guest appearance on his FX series What We Do in the Shadows. The TV spinoff of Taika Waititi and Jemaine Clement's vampire comedy of the same name is set to air its second season later in April. The first season ranked among our favorite shows of 2019. Season 2 is sure to provide a sharper, even campier evolution of Season 1's outrageous take on roommate comedy. Hamill later tweeted about his upcoming appearance:
Remember when I told you about a project I really, really, really, REALLY loved but it was under an NDA? Well, @AJemaineClement just let the bat out of the bag & announced I'll soon be visiting my favorite undead family on @theshadowsfx!What Will I Do In The Shadows? #StayTunedpic.twitter.com/M9txUqSRxV

— Mark Hamill (@HamillHimself) January 10, 2020
We're eager to see how Hamill follows up on consistently excellent appearances from Star Wars alumni in comedic TV roles. In 2008, Hamill's on-film sister Carrie Fisher was nominated for an Emmy for her excellent guest role as Liz Lemon's dumpster-fire idol on 30 Rock, and in 2018 Natalie Portman appeared on SNL with a sequel for her iconic rap bit "Natalie Raps." Hamill has proven himself to be a certified funny guy via his Twitter, with several viral interactions with stars across the board such as Ariana Grande and Diego Luna.
Unfortunately, Waititi will not be returning for a guest role in Season 2, most likely busy with pre-production for Thor: Love and Thunder. Waititi, who also directed three episodes of the show's first season, is currently riding the awards show circuit for his film Jojo Rabbit, which received a modest two nominations at this past weekend's Golden Globes.
What We Do in the Shadows' 10-episode second season will begin airing on April 15.