Shonda Rhimes and Matt Reeves to Develop Blake Crouch's Forthcoming Novel Recursion for Netflix
Photos by Joe Scarnici/Getty, Alberto E. Rodriguez/Getty
TV
News
Netflix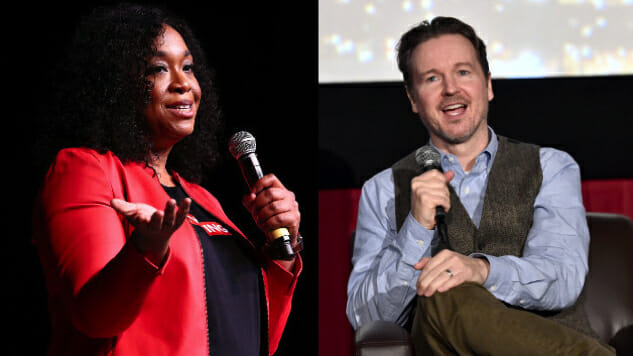 Shonda Rhimes and Matt Reeves will be teaming up to develop Wayward Pines and Good Behavior author Blake Crouch's forthcoming sci-fi novel Recursion for a television series and feature film at Netflix.
Recursion follows what happens when a brilliant female scientist develops powerful new technology that allows people to not just reactivate their memories, but to reinvent them, a technology that holds the power to reinvent lives, or, in the wrong hands, to upend the world.
Crouch's Wayward Pines novels were adapted into a television series, executive produced by M. Night Shyamalan, that ran on Fox for two seasons, and his Good Behavior novellas were adapted into a TNT series, which also recently wrapped its second season.
"I have been a fan of Shonda's and Matt's work going back years," said Crouch in a statement. "To have these titans of television and film working on something of mine is an incredible honor, and Netflix is the pitch-perfect home for people who want to adapt film and TV in the most innovative way possible."
Rhimes, the prolific hitmaker behind such shows as Grey's Anatomy and Scandal, shattered the television landscape last year when Shondaland, her production company with Betsy Beer, left longtime home ABC to sign a multi-year development deal at Netflix. This summer, Rhimes also announced a first slate, which included eight shows she was working on as part of the deal.
"Projects like this are why I came to Netflix," said Rhimes. "The opportunity to explore a multi-genre universe in innovative ways is extremely exciting. Matt and Blake both have the tremendous ability to build compelling characters and imaginative landscapes and I am thrilled to work alongside them."
Netflix announced a deal earlier this year with Reeves, which gives the streaming giant an exclusive first look at any features he wants to produce through his production company, 6th & Idaho. Reeves is the director behind the acclaimed Dawn of the Planet of the Apes and War for the Planet of the Apes films, as well as the forthcoming The Batman, which he will also write after taking over from Ben Affleck. With Recursion, a novel that hasn't yet been published, Reeves will have the opportunity to build a franchise from the start, as he did with 2008's Cloverfield, his directorial breakthrough.
"Blake's mind-bending novel presents an incredible opportunity to explore its expansive narrative simultaneously through both film and television," said Reeves. "Netflix is uniquely suited for this ambitious undertaking and I can't imagine a more exciting partner than the astonishingly talented Shonda Rhimes, whose work I have admired for years."
Netflix made waves with news of their deals with both Rhimes and Reeves, and their partnership bodes well for this promising new project.
Fans who want to read Blake Crouch's Recursion before the adaptations land on Netflix will get their chance to check out the novel when it's published by Crown on June 11, 2019.