Watch the Trailer for Santa Clarita Diet, Which Is as Loony and Gory as You Thought It Would Be
Photo by Erica Parise/Netflix
TV
Video
Santa Clarita Diet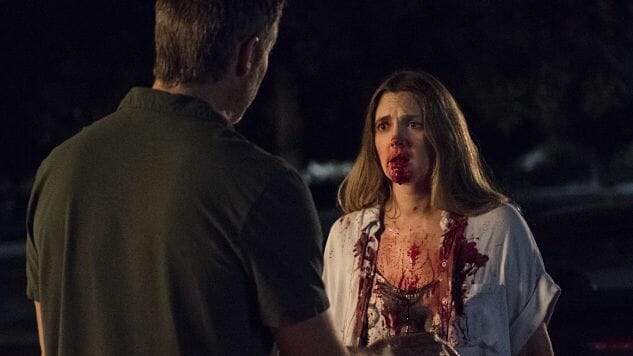 Following a USA Today interview in which Drew Barrymore revealed that the titular dining regimen of Netflix's forthcoming Santa Clarita Diet is, in fact, composed of humans, the trailer for the show has debuted with predictably macabre results.
Barrymore and Timothy Olyphant respectively play Sheila and Joel, a pair of realtors whose life is upended when the former dies—except she isn't quite dead. Despite being clinically deceased, Sheila looks more alive than ever, throwing it down on the dance floor in one moment and, in another, proclaiming her newfound ability to "parallel park in one move." But this freshly acquired liveliness has a catch: Sheila now has a craving for human flesh, something the trailer takes ample time to highlight. Whether in the sight of the character cheerily gnawing on a decapitated arm or in the close-up of a cup being filled with a suspiciously crimson smoothie, the trailer milks every drop of its premise for darkly comic laughs. Throw in the fact that Joel eventually resolves to kill people to help satiate his wife's cannibalistic hunger, and Santa Clarita Diet begins to resemble a cross between Hannibal and American Psycho, a show whose humor seems to stem in large part from the treatment of extraordinary barbarity in a matter-of-fact way.
Santa Clarita Diet debuts on Netflix on Feb. 3 and is just one title in a long list of original shows that the streaming titan will be debuting in early 2017. Watch the trailer above.