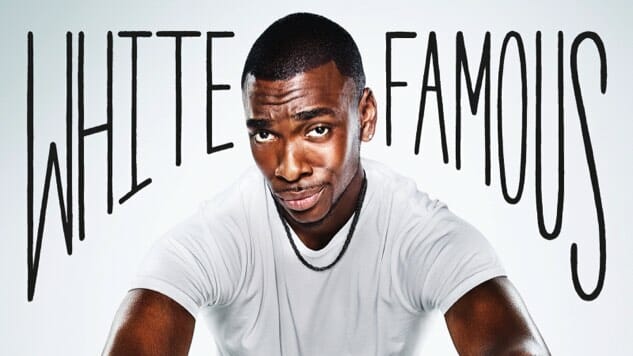 With the impending end of 2017 comes December, and with December comes a fresh batch of movies and television on Showtime. You'll never guess what's coming to the channel next month, and you'll never have to, because we've compiled all that information right here.
Showtime is adding new episodes of a number of original series next month, including new episodes of flagship dramedy Shameless, followed by the first season finales of Frankie Shaw's SMILF and Jay Pharoah's White Famous. Six-part BBC series Ill Behaviour and rotating college football docuseries A Season With Navy Football will also air season finales in December.
As far as licensed films go, the pickings are somewhat slim, but the list is not without its highlights. Those include Oscar-winning drama Kramer Vs. Kramer, Nic Cage-starring actioner Con Air, harrowing World War II drama The Pianist, Steven Soderbergh's directorial debut Sex, Lies, and Videotape, '80s coming-of-age film St. Elmo's Fire and star-studded holiday comedy Office Christmas Party.
Not to be forgotten are Showtime's documentaries, comedy specials and streaming collections. On the first of the month, Showtime debuts More Than Loud, a stand-up special from controversial comic Orny Adams. Later, on Dec. 15, we're getting Rush Time Stands Still, a documentary chronicling the legendary band's final tour that, in a touch I Love You, Man fans will love, is narrated by none other than Paul Rudd. And December's streaming collections revolve around Kristen Stewart and Laura Dern, indie gems and Oscar winners, and, of course, "The Most Wonderful Time of the Year."
See the complete list of incoming Showtime programming below.
ORIGINAL SERIES:
SHAMELESS (New Episodes: Sundays at 9 p.m. ET/PT)
SMILF (Season Finale: Sunday, December 31st at 10 p.m. ET/PT)
WHITE FAMOUS (Season Finale: Sunday, December 10th at 10:30 p.m. ET/PT)
ILL BEHAVIOUR (Season Finale: Monday, December 18th at 10:30 p.m. ET/PT)
A SEASON WITH NAVY FOOTBALL (Season Finale: Tuesday, December 12th at 10 p.m. ET/PT)
NEW MOVIES:
Available 12/1:
KRAMER VS. KRAMER
PERSONAL SHOPPER
CON AIR
CERTAIN WOMEN
AMERICAN OUTLAWS
BATTLEFIELD EARTH
BODY OF DECEIT
BUGSY
CITIZEN RUTH
COLD IN JULY
CURSED TO KILL
DEATH LINE
DIFFERENT FLOWERS
GET THE GRINGO
GIGLI
HEAVY METAL
IN THE BEDROOM
K2
THE LEGEND OF BEN HALL
LEGENDS OF THE FALL
THE PIANIST
RETURN TO ME
SEX, LIES, AND VIDEOTAPE
A SIMPLE PLAN
THE SKULLS
THE SKULLS II
THE SKULLS III
SMOKE SIGNALS
SOME KIND OF WONDERFUL
ST. ELMO'S FIRE
UNLEASHED
URBAN LEGEND
URBAN LEGEND: FINAL CUT
VERTICAL LIMIT
WHILE YOU WERE SLEEPING
Available 12/2:
OFFICE CHRISTMAS PARTY
ASSASSINATION TANGO
OSAMA
Available 12/11:
AWAY FROM HER
Available 12/12:
CUPID'S PROXY
Available 12/15:
ASSAULT ON PRECINCT 13
THE RENDEZVOUS
THE WHISTLEBLOWER
YOU, ME AND HIM
Available 12/30:
DON'T SLEEP
DOCUMENTARIES & COMEDY SPECIALS:
Available 12/1:
ORNY ADAMS: MORE THAN LOUD
Available 12/15:
RUSH: TIME STANDS STILL
STREAMING COLLECTIONS
Kristen Stewart Collection: CERTAIN WOMEN, COLD CREEK MANOR, PERSONAL SHOPPER AND MORE (Available 12/1 – 12/28)
Oscar Winners Collection: BRIDGE OF SPIES, THE HATEFUL EIGHT, KRAMER VS. KRAMER AND MORE (Available 12/1 – 12/28)
The Most Wonderful Time of the Year Collection: BABE, CAROL, LOVE THE COOPERS, WHILE YOU WERE SLEEPING AND MORE (Available 12/1 – 1/1)
Laura Dern Collection: CITIZEN RUTH, TENDERNESS, FOCUS AND MORE (Available 12/15 – 1/11)
Indie Gems Collection: 45 YEARS, THE BAND'S VISIT, HELL OR HIGH WATER, THE AUTOPSY OF JANE DOE AND MORE (Available 12/29 – 1/25)