Letitia Wright, John Boyega to Star in Steve McQueen's Small Axe
Photo by Matt Winkelmeyer/MG18/Getty
TV
News
Small Axe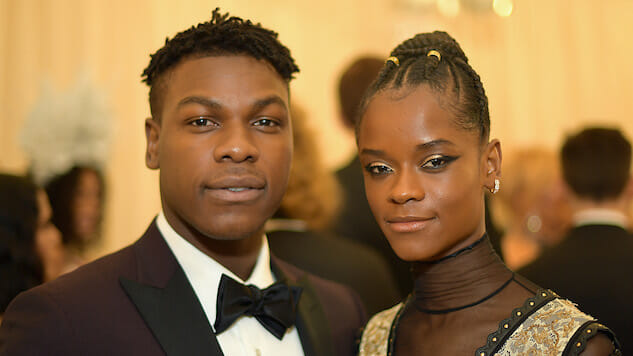 Letitia Wright and John Boyega are set to lead an all-star cast of Brits in Steve McQueen's anthology series, Small Axe.
We're thrilled to announce Oscar & BAFTA-winning filmmaker #SteveMcQueen has cast for #SmallAxe, a six-part TV series for @BBCOne. @johnboyega and @letitiawright will star alongside #MalachiKirby, #ShaunParkes, @RochendaSandall, #AlexJennings & @JALowden. https://t.co/yrIZHzCHuxpic.twitter.com/uJDFp98ddH

— BBC One (@BBCOne) June 26, 2019
While the six-part show will air on BBC in Britain, American audiences can look forward to watching it on Amazon, though no U.S. release date has been announced yet.
Boyega, best known for playing Finn in Star Wars: The Force Awakens and The Last Jedi, will star alongside Wright, whose CV includes Black Panther, Guava Island and Ready Player One. You'll also be able to catch her in the murder-mystery Death on the Nile after its 2020 release.
The duo will join a cast that includes Malachi Kirby, Shaun Parkes, Rochenda Sandall, Alex Jennings and Jack Lowden.
While Kirby and Randall are known for their Black Mirror roles, Parkes had his breakthrough in 1999 cult hit Human Traffic before moving onto 2001 thriller The Mummy Returns and the TV series Casanova. Jennings has been featured in the series The Crown and the 2015 acclaimed drama The Lady in the Van, in which Maggie Smith played … the lady in the van, while Lowden's better-known for his work in the biting war drama Dunkirk, and in the Saoirse Ronan- and Margot Robbie-led Mary Queen of Scots.
The series, which will tell five stories in six parts, will be the latest from Oscar-winning director McQueen since the searing 2013 historical drama, 12 Years A Slave and 2018's acclaimed Widows, which Paste ranked among last year's best films.
Production is already underway in London after show has already been years in the making.
The series peers in at the lives of a group of friends and their West Indian families as they face racial tension in West London from 1968 to 2014. It will tell the story of a West Indian community across three decades, kicking off at Enoch Powell's "Rivers of Blood" speech in 1968. That year is also when a tiny restaurant called The Mangrove opens the heart of the community and becomes an epicenter of resistance.
The title Small Axe is a nod to a Jamaican proverb: "If you are the big tree, we are the small axe." It's also the title of a Bob Marley song.
"I felt these stories needed to be shared." said McQueen in a statement. "I wanted to re-live, re-evaluate and investigate the journeys that my parents and the first generation of West Indians went on to deliver me here today calling myself a Black British person. What's important about our stories is that they are local but at the same time global."
The show will be produced by Rainmark Films, known for its work with The Frankenstein Chronicles. Tracey Scoffield will executive produce with McQueen, while David Tanner will be producing.