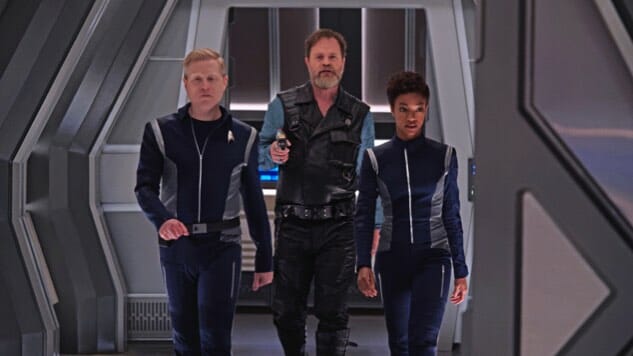 CBS announced today that chapter two of its flagship CBS All Access series Star Trek: Discovery will debut on the SVOD and live streaming service on Sunday, Jan. 7, 2018 at 8:30 p.m. EST.
The six-episode second half of Star Trek: Discovery's first season begins with episode 10, "Despite Yourself," in which the U.S.S. Discovery crew is forced to get creative in their efforts to survive and return home while opposing unprecedented forces in unfamiliar territory—i.e., it's a Star Trek episode. Chapter two wraps with the show's season one finale on Feb. 11, 2018.
Star Trek: Discovery's first eight episodes are currently available to stream via CBS All Access. Episode nine, the chapter one finale, will start streaming after 8:30 p.m. EST this Sunday, Nov. 12. Following January's chapter two debut, new episodes of the show will be available to U.S. CBS All Access subscribers on demand weekly after 8:30 p.m. EST.
Star Trek: Discovery was recently renewed for a second season, the details of which are as of yet unknown. Don't get excited for season two any time soon: Our best estimates put its premiere squarely in 2019. In the meantime, stay tuned to Paste for more info, live long and prosper.