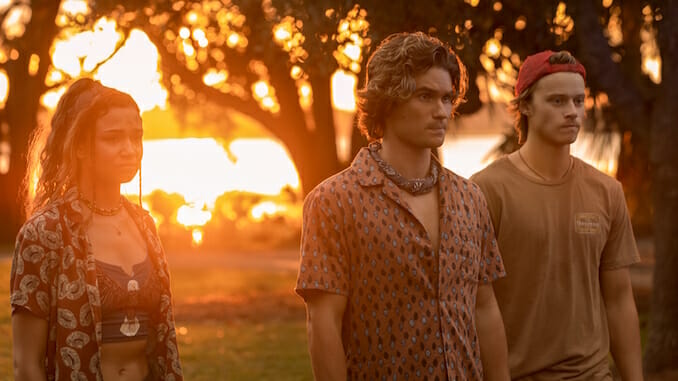 In the second season of Netflix's sun-drenched teen drama Outer Banks the following events occur: someone is lost at sea, someone is shot, someone is nearly kidnapped, someone is drowned, someone is bitten by an alligator, someone is framed and arrested for murder, someone is strangled and nearly killed in prison, someone is drugged, someone fakes their death by blowing up their boat, and someone is stung by wasps and suffers an allergic reaction while searching for a massive gold cross that is said to contain a holy relic with the ability to heal anyone who touches it. All of this happens within 10 episodes.
Over the years, television as a medium has shifted away from more traditional storytelling that mines the familiar drama of everyday life to entertain, and instead includes an abundance of shows, usually between eight and 13 episodes a season, that feature weird gimmicks and/or massive stakes. This isn't to say shows didn't do this before, because they did, nor is it to say these shows don't have their place, because they do. With a TV landscape that continues to defy the odds and grow each year, it's easy to understand the thought process that led us here. After all, a show that features all of the above is going to stand out more than one that does not. And when both new and returning projects are being canceled even after their episodes have been produced in order to save studios money, it's hard to fault creatives for subscribing to this notion that they need to do these things to hook and retain viewers. But when it comes to teen shows, a genre beloved by both those young and old(er), the field appears to overwhelmingly favor these gimmicks and manufactured stakes over genuine human emotion and the all too familiar angst that goes hand in hand with coming of age. And it's just not necessary.
Being a teenager is inherently dramatic. Between the angst, raging hormones, journeys of self-discovery, selfishness, and inability to think more than five minutes ahead or understand consequences, our teen years are ripe with ups and downs that aren't just universal, but also make for good and creative stories. Adding life-or-death stakes to enhance the natural drama of coming of age and finding one's self can work if done well (Buffy the Vampire Slayer, The Vampire Diaries, and Nancy Drew all come to mind), but that's not always the case, especially when those in charge don't know when to say when. Outer Banks—which is part teen drama, part escapist adventure, part clumsy class commentary—will return for its third season Feb. 23, and it's primed to be even more outlandish than it was in Season 2. But some of the best (I use this term loosely) moments of Season 2 came when the central teens were allowed to be dumb, hormonal youths making rash decisions because they lack the ability to communicate their feelings. Sometimes a fist fight at a bonfire driven by jealousy really is all one needs to be entertained, and it's because we can all, on some level, identify with the genuine human emotions behind it. So it's a shame these same moments, however goofy or eye roll-inducing they might seem at times, are pushed aside for more engineered drama. Still, Outer Banks is hardly the worst offender in the teen genre of the more-is-more-is-more trend.
The first season of Netflix's 13 Reasons Why, while mostly well-received, was also heavily criticized by mental health professionals and advocates for its graphic depiction of suicide, with many arguing the story even romanticized self-harm. But the teen drama was so popular with viewers that Netflix ended up renewing it three times. With each additional season, the series became more and more contrived—and arguably more harmful—as the writers repeatedly failed to handle serious subjects, including multiple rapes, with thought and care. But if 13 Reasons Why and its mishandling of trauma and its aftermath represents one end of the spectrum, Riverdale—The CW's take on the classic world and characters of the Archie comics—represents the other. The show, which will end this summer after seven seasons, has gone so far and done so much over the course of its run that it has effectively become the Fast and the Furious of TV. Nothing is off limits. Nothing is too ridiculous. Nothing makes sense. There's something admirable about its dedication to stepping outside its own previously constructed boundaries and traipsing over preconceived notions. But it also rarely makes for good television.
We will likely never return to the glory days of the teen drama, the period between Dawson's Creek (1998) and the original Gossip Girl (2007) that included the likes of The O.C., One Tree Hill, Veronica Mars, Felicity, and Degrassi: The Next Generation. (You can make an argument to include shows like Everwood, Gilmore Girls and Friday Night Lights, but they tended to focus equally on their parent and teenage subjects, at least more so than their counterparts.) But there is something to be said for the ways in which these shows were able to tell emotionally resonant and culturally significant stories that memorably detailed adventures of young love, friendship, and self-discovery without obvious attention-grabbing hooks. Sure, Veronica Mars was a teen noir and most of the others were guilty of sliding into melodrama at times—remember when Ryan Atwood (Ben McKenzie) took up cage-fighting or when Brooke (Sophia Bush) and Peyton (Hilarie Burton Morgan) were held hostage on prom night?—but they all usually managed to return to the ground by focusing on the very real, very heartfelt human connections at their center.
It would be wrong to say that no shows from the last decade have engaged in telling relatable stories about normal teen life. But between the Elites and the Ginny & Georgias and even The Societys—all captivating in their own ways, but all with their own gimmicks—they can also get overlooked. Those that managed to leave some sort of mark, though, often evolved to meet the moment, offering new perspectives and storylines that weren't always possible during the teen drama heyday.
For example, MTV's underappreciated gem Faking It, which ran for three seasons from 2014 to 2016, was a sharp satire depicting two best friends (Rita Volk and Katie Stevens) who fake a relationship in order to climb the high school social ladder only for their lie to lead to a sweet but occasionally painful journey of self discovery. It was also the first show to feature an intersex individual as a main character. Across the pond, Channel 4's Derry Girls followed the lives of four Irish teens and their English friend during the tail end of The Troubles. Even with the threat of violence as a backdrop, the critically acclaimed show was able to tell a memorable and hilarious story about the "intoxicating exuberance and selfishness of youth" by focusing on the normality of life in Northern Ireland at the time. Netflix's On My Block, which focused on Black and Latino teens growing up in South Central Los Angeles, took things several steps further by bringing the violence right to its heroes' doorstep. But the series, which ran for four seasons and later spawned a spinoff, never lost sight of its heart or the absurd sense of humor that both kept the show grounded and made it must-see TV. (Outer Banks wishes its treasure-hunting narrative was as good as Jamal's [Brett Gray] hunt for the RollerWorld money.)
These shows, along with former favorites like the charming Sex and the City prequel The Carrie Diaries or current programs like All American and Sex Education, prove that TV shows don't need to have massive dramatic stakes or rely on gimmicks to tell meaningful stories that resonate. There is always going to be a fear of networks and streaming services canceling shows prematurely, especially in a post-Zaslav universe, but the universal nature of coming-of-age stories also makes them timeless. By evolving and finding new entry points and perspectives, they'll never go out of style.
---
Kaitlin Thomas is an entertainment journalist and TV critic. Her work has appeared in TV Guide, Salon, and Gold Derby, among other places. You can find her tweets about TV, baseball, and Walton Goggins @thekaitling.
For all the latest TV news, reviews, lists and features, follow @Paste_TV.