The CW Fleshes Out New The Lost Boys Reboot, Revealing Cast
A premiere date has not yet been announced
Photo by Warner Brothers/Getty
TV
News
The Lost Boys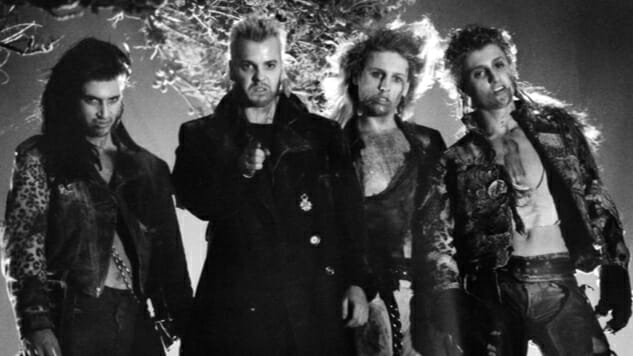 The new The Lost Boys reboot has found its home on The CW. The pilot from Heather Mitchell and Rob Thomas will adapt the 1987 film of the same name that helped fuel the whole, uh, sexy vampire trope, à la Twilight or Buffy the Vampire Slayer, and the network has just announced the cast, according to Deadline.
Like in the original film, The Lost Boys begins with a mother and her two teenage boys who move to a North Carolina seaside town that reveals a disturbing secret: The cool kids sleep all day because they're actually vampires. Branden Cook (Industry) will play the oldest brother, based on Jason Patric's character in the film; Lincoln Younes (Grand Hotel) will play the leader of the vampires, similar to Kiefer Sutherland's original role; and Ruby Cruz (Castle Rock, Mare of Easttown) will take on Jami Gertz's character as the love interest opposite Cook.
A premiere date has not yet been announced.
The reboot was originally set to star Tyler Posey (Teen Wolf) and Kiele Sanchez (The Glades) for Warner Bros. Television, and to be directed by Catherine Hardwicke, known for her work on Twilight, as per Deadline. And while an adaptation of The Lost Boys from the original director of Twilight sounds intriguing (perhaps a meditation on genre? Or a return to form?), hopefully the new CW adaptation will be fully fleshed out.
Watch the original trailer for the 1987 The Lost Boys, directed by Joel Schumacher and starring Patric, Corey Haim, Sutherland, Gertz and Corey Feldman.