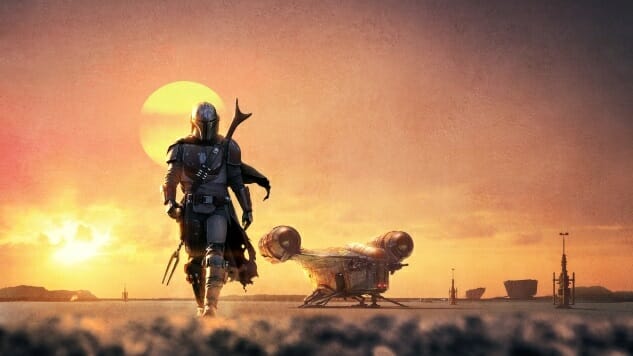 One of the year's most anticipated series—arguably the most anticipated—coincided with the launch of a brand-new streaming service. It was no small thing to combine the genesis of Disney+, with its robust back-catalogue of childhood favorites, alongside a new Star Wars TV show. But Disney is very good at corporate synergy, especially since it now owns so many beloved pop culture properties. A key part of Disney's gameplan throughout the decades has also been in alignment with Star Wars': sell more toys. But that's only one facet of the potential for a synergistic series like The Mandalorian.

When I wrote about the best and worst of The Mandalorian's first episode, I noted that one of the less exciting aspects of the series was feeling like we are totally in Disney's corporate thrall. But that feeling might not be as strong if The Mandalorian wasn't also good, necessitating that we do watch. It's short, funny, gorgeously crafted and produced. On its own, removed from Disney and even Star Wars (despite so many familiar faces and creatures), it's a fun space western.
But at the end of its first episode, we were introduced to something that is both narratively interesting and absolutely the thing you and your kid will be screaming about for Christmas: Baby Yoda. I mean, this creature is created—in its shape and size, its sounds, its movements—to absolutely melt your heart, and possibly your brain, with how cute it is.
It will be interesting to see if everyone who bemoaned porgs in The Last Jedi will similarly complain about Baby Yoda as far as merchandizing goes, but both creatures also make total sense narratively—that's the terrible beauty of it. Porgs were used to cover up birds that didn't look particular sci-fi on the island where the film was shooting, and Baby Yoda is clearly an important bridge to additional Star Wars lore that also helps give our Mandalorian more humanity as he cares for it.
But also, like, what a toy! Who wouldn't want an action figure of the Mandalorian and a little Yoda pod? What about a Yoda pod that you can race around the house? Or a plush Yoda pod you can launch into the air, charmed by its cuteness even in flight?
Watching the second episode of The Mandalorian, I also couldn't help thinking about what a great videogame it would make. At this point, you're a nameless, faceless fighter who doesn't talk much, but goes around collecting bounties. I mean, it's basically Destiny, or any other number of MMO shooters. Star Wars has a long history of videogames, of varying quality, but from what we've seen of this series so far, it is almost tailored-made for a fun, fast-paced RPG experience that could—because of Mandalorian lore—be an almost endless exploration of the Star Wars universe. Genius!
You could chalk this up, at least in part, to either cynicism or the evidence of decades of indoctrination of corporate capitalism, but it doesn't make the reality any less true. The Mandalorian might well spin-off into the Star Wars movie universe, with Disney+ as a kind of hatching ground for ideas that, if they prove successful, could go to the big screen. Rogue One, for instance, would have probably made for a better series than a movie, at least to start. In hindsight, Solo, too, could have been a made-for-Disney+ movie. If Disney continues to commit these kinds of big budgets to its streaming television, the line between it and theatrical releases are sure to becoming increasingly blurry.
None of this should take away from the fact that The Mandalorian is fun and has a lot going for it. It's just also very much engineered, top to bottom, for four-quadrant appeal, mass toy marketing, and a host of film and gaming spinoffs. Our time and our wallets are being catered to very specifically here, making sure that we feel not only like we have to keep up with these releases, but that we need to buy into the commercialism that rides alongside it. Disney and other multibillion-dollar international corporations are so effectively mining our resources and brain space that people actually feel the need to passionately defend them against naysayers as a way, perhaps, to justify the time and money spent consuming their output. The new denominations are becoming which streaming platform you stand for.
But I mean, seriously, how cute is that Baby Yoda?!
---
Allison Keene is the TV Editor of
 Paste Magazine.
For more television talk, pop culture chat and general japery, you can follow her @keeneTV
For all the latest TV news, reviews, lists and features, follow @Paste_TV.