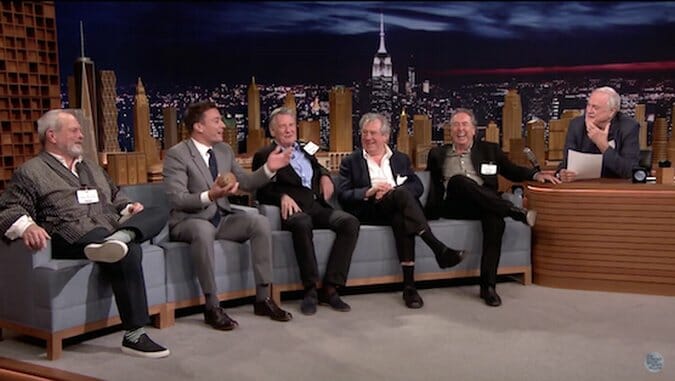 The Monty Python crew made an appearance on The Tonight Show with Jimmy Fallon last night. Terry Jones, Eric Idle, John Cleese, Michael Palin and Terry Gilliam were all present in New York City to celebrate a special 40th anniversary screening of Monty Python and the Holy Grail at the Tribeca Film Festival.
As the interview unfolded, Cleese made it clear that he was not all that fond of sitting next to Gilliam, which prompted host Jimmy Fallon to switch seats, as well as hosting duties, with his guest. Cleese embraced his new position, starting out by joking "So congratulations on the 40th anniversary of the Holy Grail…" and Fallon did his best British accent, as the two had a little fun with their role-play.
You can watch it in the player above.