America's 40 Best Music Venues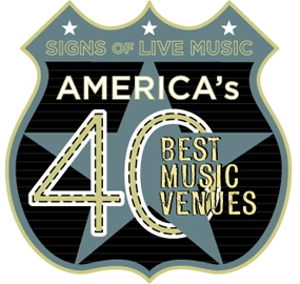 Sometimes it's the view—you're at Denver's Red Rocks, your eyes darting back and forth from the band to the landscape, and the music seems changed by the surrounding beauty. Sometimes it's the history—a young band, onstage at The Fillmore, stands on the shoulders of the giants whose music helped reshape the world. Sometimes it's the sense of discovery—you're at L.A.'s Hotel Café, and you suspect the night's opening act is headed for stardom. And sometimes, like with The Bowery Ballroom in New York, it's simply the fact that on any given night, you know they've booked another great show.
To help find America's best music venues, we went to the experts—you. In addition to our many contributors scattered across the country and many of the artists driving from club to club, Paste readers nominated more than 500 different venues at PasteMagazine.com—from hole-in-the-wall rock clubs to elegant theaters, legendary halls to brand new bars, quiet listening rooms to rock extravaganzas.
We weighed history, setting, sound, character, comfort, atmosphere, vibrancy, uniqueness, and their roles in helping launch careers. Among hundreds of worthy choices, these 40 venues rose above their peers. Our picks for the best music venues in America follow in this special section...
WEST:

Café du Nord - San Francisco, Calif.
Best place to jam out (shhh! quietly) to funky new folkateers: Along with its upstairs sister club, the Swedish American Hall, this former speakeasy is a beatnik-cool showcase for today's hippest pop, folk and alternative-scene songwriters. And—thanks to its sequestered basement location—you feel like you're seeing artists play in your uncle's rec room.
Introduced America to: The Sounds, Noisettes, John Butler Trio
2170 Market St., CafeDuNord.com
Crocodile Café - Seattle, Wash.
Best place to reminisce about the film Singles: Former lawyer Stephanie Dorgan first bought "The Croc" back in 1991 and has faithfully served Greater Seattle's hipster community ever since. Don't be surprised to find the back row of the club (which also features an adjacent café) filled with famous local musicians on any given night.
Introduced the world to: Death Cab for Cutie, Modest Mouse, The Long Winters, The Postal Service
2200 2nd Ave., TheCrocodile.com
Department of Safety - Anacortes, Wash.
Best place to not give a crap what's going on in Seattle: Occupying a former police-and-fire station in a town of 15,000 people halfway between Seattle and Vancouver, The D.O.S. is a five-year-old artist-run community that puts on creative underground happenings when not hosting bigger acts like TV on the Radio, Destroyer or Laura Veirs.
1011 12th Street, DepartmentOfSafety.com
Doug Fir Lounge - Portland, Ore.
Best place to spend the night after a show: This one-time greasy spoon located in Portland's Eastside scuzz-junkie district has retooled to become the Rose City's hottest nightspot. Its lodge-like upstairs dining room and "spare no sonic expense" 300-person downstairs music venue have made it the favorite of both picky local bands and up-and-coming touring acts.
Introduced the world to: The Decemberists, Viva Voce, The Thermals
830 E Burnside St., DougfirLounge.com
The Fillmore - San Francisco, Calif.
Best place to be seized by a split-second paranoia that you're having a vicious acid flashback before realizing… dude, chill… it's THE MUSIC you're high on: Easily the most memorable—and historic—nightclub in the Bay Area, the Fillmore enchants with its trademark purple chandeliers, downstairs lobby filled with old concert photographs, and its chic, concert-poster-packed upstairs. Plus, they give you free apples.
Introduced the world to: The Grateful Dead, Janis Joplin, The Doors, Jefferson Airplane
1805 Geary Boulevard, TheFillmore.com
Tractor Tavern - Seattle, Wash.
Best place to gripe about the state of "country" radio: This "nice, diesel place to hear music" was at the epicenter of the '90s alt.country movement—No Depression magazine co-founders Grant Alden and Peter Blackstock frequented the club when they began publishing back in 1995. Tractor Tavern has seen performances by Ryan Adams, Drive-By Truckers, Alejandro Escovedo and the Queen of Cosmic American Music herself, Ms. Emmylou Harris. Playing this month: John Doe (6/16), Great Lake Swimmers (6/23)
5213 Ballard Ave. NW, TractorTavern.com
Gorge Ampitheater - George, Wash.
Best place to realize you're serious about that move to the Northwest: Situated on the banks of the Columbia River in the center of Washington State, this converted vineyard boasts the most jaw-dropping scenery of any outdoor venue, anywhere. Purchased by Universal/House of Blues in 1993, the Gorge has become a perennial summer favorite for acts capable of filling its 20,000-seat capacity.
Introducing indie kids to: Nature
754 Silica Road N.W., HOB.com/venues/concerts/gorge
Great American Music Hall - San Francisco, Calif.
Best place to catch a refresher course on the world's ever-shifting modern-music scene: Built post-quake exactly 100 years ago, this exotic, balconied nightspot (once owned by burlesque's notorious Sally Rand) has some of the best acoustics in town-which is perhaps why Townes Van Zandt claimed it was haunted by a phantom keyboardist.
Playing this month: Pretty Girls Make Graves?(6/14), Sierra Leone Refugee All-Stars?(6/22)
859 O'Farrell St., MusicHallSF.com
The Troubadour - West Hollywood, Calif. Best place to witness rock history in the making: On the edge of West Hollywood, The Troubadour (est. 1957) was the center of John Lennon and Harry Nilsson's booze-soaked "Lost Weekend" in the '70s and has long been known as a proving ground for rising acts, from The Byrds to Franz Ferdinand.
Introduced the world to: Tom Waits, Elton John, James Taylor, Lenny Bruce, The Byrds, Buffalo Springfield, Randy Newman, Neil Diamond
9081 Santa Monica Blvd., Troubadour.com
Largo - Los Angeles, Calif.
Best place to slap Tom Cruise… a high-five at the next table over because Jackson Browne just hopped on stage to sit in with Tim Finn: L.A.'s Largo warrants inclusion on this list simply for Jon Brion's long-running Friday-night residence, but its intimate size (max capacity, 124) and listening atmosphere also draws some of the best songwriting talent around.
Introduced the world to: Aimee Mann, Fiona Apple
432 N. Fairfax Ave., Largo-LA.com
WEST (continued):

Hotel Café - Hollywood, Calif.
Best place to catch a live sneak preview of next week's TV-show soundtracks: Gary Jules showed up with an amp one day back in 2002 and, gradually, this small club transformed into the meeting place for an extremely tight-knit and talent-rich music community.
Introduced the world to: Rachael Yamagata, Alexi Murdoch, Cary Brothers, Joshua Radin, Brett Dennen
1623 1/2 N. Cahuenga Blvd., HotelCafe.com
Red Rocks - Morrison, Colo.
Best place to have your mind blown by music and nature: Hearing the majestic sound bounce off the natural amphitheater of red sandstone monoliths named "Ship Rock" and "Creation Rock" is a must for any true music fan's "before I die" list. Since it's in the middle of a State park, even if you're not U2 (remember the video for "Sunday Bloody Sunday"?) you can jump onstage on off-days and play for the make-believe masses.
Playing this month: Norah Jones (6/1), John Mayer. (6/15-16)
18300 West Alameda Parkway, RedRocksOnline.com
Fox Theatre - Boulder, Colo.
Best place to find the spirit of New York's legendary Wetlands: The Fox opened its doors in 1991 to great fanfare, as the old-movie-theater-turned-concert-hall welcomed The Meters to the foothills of the Rockies. Designed by members of The Samples for optimal sound, the Fox was the spot for numerous secret one-offs by the Allman Brothers, Phish and even Bob Dylan.
Introduced the world to: Devotchka, Yonder Mountain String Band, Big Head Todd & The Monsters, The String Cheese Incident
1135 13th St., FoxTheatre.com
SOUTHWEST:

Cain's Ballroom - Tulsa, Okla.
Best place to see a rock show under watchful portraits of Bob Wills, Tennessee Ernie Ford and Roy Rogers: Throughout its 75-year history, Cain's has hosted everything from dancehall gang fights to pig races, mud wrestling and a rare American gig for the Sex Pistols. Once Bob Wills' home base, the club's show calendar is now a rock fan's dream.
Introduced the world to: Bob Wills and his Texas Playboys
423 North Main Street, CainsBallroom.com
Continental Club - Austin, Texas
Best place to meet your drinkin' buddies, hoist a PBR and get your face twanged off: With its warm light, red-velvet curtain and retro neon marquis, The Continental has been going strong since 1957. For over a decade it survived as a crooner hotspot and a burlesque club before becoming the landmark lounge it is today.
Introduced the world to: Stevie Ray Vaughn, Joe Ely, Charlie Sexton, Butthole Surfers, Kinky Friedman
1315 S. Congress Ave., ContinentalClub.com
Stubb's - Austin, Tex.
Best place to toss out all genre bias while eating brisket: In the Live Music Capitol Of the World, Stubb's reigns supreme, serving Austin generous helpings of the best touring acts along with its famous brisket and ribs. In the last few months, the outdoor venue's typically genre-blind calendar has included George Clinton and Parliament Funkadelic, Los Lonely Boys, Wolfmother, Patty Griffin, Clap Your Hands Say Yeah, George Thorogood and the Destroyers, Rakim and Ghostface, Manu Chao and Buddy Guy.
Introducing the music world to: Texas-style beef BBQ
801 Red River St., StubbsAustin.com
MIDWEST:

Schubas - Chicago, Ill.
Best place to ogle pre-war architecture while seeing your favorite new artists loving life: Built in 1903 and lovingly restored in 1997, Chicago's gorgeous Schubas Tavern would be mere eye-candy if the bookings didn't match the vibe. Fortunately, they do. This venue is also an artist-favorite tour stop; an anticipated oasis on the endless road of rock 'n' roll.
Playing this month: Eleni Mandell (6/3), Noisettes (6/9), Ian Moore?(6/22)
3159 N. Southport Ave., Schubas.com
Magic Stick - Detroit, Mich.
Best place to crack a pool cue over some uppity rockstar's soon-to-be-achin' back… or to get punched out by Jack White while watching alt.country band Blanche: Housed above America's oldest and hippest bowling center, Detroit's Magic Stick sports a full bar, 10 billiard tables and the city's best stage for up-and-coming rock acts. Just watch out for that left hook.
Introduced the world to: The White Stripes, The Von Bondies
4120-4140 Woodward Ave., MajesticDetroit.com/stick.asp
First Avenue - Minneapolis, Minn.
Best place to bask in Twin Cities music history before stumbling drunkenly through the skyways: First Avenue boasts that, early in his career, Prince made the venue his regular performance spot, even going so far as making it the set of his iconic film, Purple Rain. Introduced the world to: The Replacements, Hüsker Dü, Soul Asylum, The Jayhawks, Peter Himmelman
701 First Avenue North, First-Avenue.com
NORTHEAST:

9:30 Club - Washington, D.C.
Best place to see a show in the worst neighborhood: Northwest D.C. isn't the coziest place on Earth, but the 9:30 Club still pulls music lovers from all over the metro area, booking both the nation's most popular acts and up-and-coming local favorites.
Introduced the world to: Minor Threat, Bad Brains, Fugazi
815 V St. NW, 930.com
NORTHEAST (continued):

Allen Room at Lincoln Center - New York
Best place to wonder what the unwashed masses are doing tonight: Sometimes nothing's better than a hole-in-the-wall club with a band playing raw, raucous rock 'n' roll through crappy half-blown-out speakers. Then you go to Lincoln Center and that whole idea suddenly seems silly. Intimate and gorgeous with pristine sound and an amazing view of Central Park, it's a stellar place to catch acts like Neko Case and Calexico.
Introducing the Upper East Side to: Whatever artist just got played on NPR.
70 Lincoln Center Plaza, LincolnCenter.org
Bowery Ballroom - New York
Best place to blow your bi-weekly paycheck… in less than a week: The quality of the booking is so good that it's almost impossible not to head down to the Bowery three times a week. Inch for inch, the most comfortable venue in the city, it's never bone-crushingly cramped (even when sold-out), plus it has great sightlines and superb sound.
Playing this month: Keren Ann (6/4), Akron/Family (6/12), Panda Bear (6/18)
6 Delancey St., BoweryBallroom.com
Club Passim - Cambridge, Mass.
Best place to see the next "next Bob Dylan": Though he never headlined, Bob Dylan used to perform between sets just so he could say he played at Club 47, as this epicenter of the folk movement was known from its founding in 1958 until 1968. Every decade since then, a new round of talented, acoustic-wielding Passim regulars keeps the folk-troubadour tradition alive.
Introduced the world to: Joan Baez, Nanci Griffith, Shawn Colvin, Josh Ritter, Erin McKeown
47 Palmer St., ClubPassim.org
Iron Horse Music Hall - Northampton, Mass.
Best place to catch beloved songwriters in an off-the-beaten-path setting: Since its 1979 opening in this western Massachusetts college town, the Iron Horse has been a musical must-visit for folk-based artists and their fans. Arrive early to snag a table and enjoy dinner with the show. Playing this month: Ari Hest (6/2), The Duhks (6/22)
20 Center Street, IHEG.com
The Living Room - New York
Best place to catch up with Norah Jones' best friends: The latest incarnation of this club has great lighting and a perfectly constructed stage, high enough to create a workspace, just low enough for artist/audience unity. And the audiences are ideal: quiet during subtle material, generous and rowdy after raunchy rave-ups. It's the heart of the Lower East Side club scene its artists pioneered.
Introduced the world to: Norah Jones, Richard Julian, Jim Campilongo Trio
154 Ludlow St., LivingRoomNY.com
Maxwell's - Hoboken, N.J.
Best place to cozy up to your favorite band (and we mean cozy): You know that a place has to be great to make New Yorkers venture across the river into Jersey. So it is with Maxwell's, a small club that defines the word intimate. From its casual bar/restaurant up front to the small concert space in back, this is the ultimate neighborhood spot.
Introduced the world to: Yo La Tengo's Hanukkah shows
1039 Washington St., MaxwellsNJ.com
Space - Portland, Maine
Best place to stretch your mind before catching a show: A self-proclaimed "alternative arts venue," Space has hosted events as diverse as last fall's Human Rights Watch Traveling film Festival and the recent Air Guitar Nation film screening and competition. And that's in addition to its musical offerings, which range from indie pop to old-time Americana to DJ-spun dance sets.
538 Congress Street, Space538.org
World Café Live - Philadelphia, Penn.
Best place to discover artists you won't hear on hot hits 105.9 FM: With a calendar regularly featuring your favorite indie bands, singer/songwriters and hip-hop artists alongside traditional performers from all over the globe—and with two separate restaurants featuring excellent munchies to go with the tunes you're hearing—the name really does say it all.
Introducing the world to: David Dye's iTunes library
3025 Walnut Street, WorldCafeLive.com
SOUTHEAST:

40 Watt Club - Athens, Ga.
Best place to host the low-lit indie-rock prom you wished you'd had: Legendary for its sweat-soaked late-night shows, the 40 Watt has been the innovative and unconventional Athens music scene's Ground Zero for the last three decades. Recently, the club held two epic "prom" nights, with My Morning Jacket as the white-suited, faux-pompadoured house band.
Introduced the world to: R.E.M., Vic Chesnutt, Neutral Milk Hotel, Olivia Tremor Control, Drive-By Truckers, Of Montreal
285 W. Washington St., 40Watt.com
The Basement - Nashville, Tenn.
Best place to conveniently purchase some awesome music before the show: Located beneath Grimey's, one of the nation's finest record stores, The Basement proudly lives up to its tagline, "a cellar full of noise." Plus, the venue proudly serves up a rotating tap of the Nashville craft brew Yazoo.
Playing this month: Luke Doucet (6/2), Jon Langford (6/8)
1604 8th Avenue S, TheBasementNashville.com
SOUTHEAST (continued):

Bluebird Café - Nashville, Tenn.
Best place to hear your favorite country-radio songs performed by the people who actually wrote them: Opened in 1982 primarily as a restaurant, the Bluebird Café has become Nashville's most famous listening room. In addition to seasoned country and acoustic artists, the Café offers a writers' night every Sunday, where up-and-coming songsmiths can showcase their material.
Introduced the world to: Mary Chapin Carpenter, Kathy Mattea
4104 Hillsboro Pike, BlueBirdCafe.com
The EARL - Atlanta, Ga.
Best place to chow down on burgers as good as the music: In addition to a cool music room that hosts artists like Beirut, Cat Power and The Hold Steady, East Atlanta's EARL serves up kick-ass burgers, tofu sandwiches and fried okra. Honestly, what's a rock club without fried okra?
Playing this month: The National (6/13), The Rosebuds (6/23)
488 Flat Shoals Rd., BadEarl.com
Eddie's Attic - Decatur, Ga.
Best place to hear a pin drop between strums: When it opened in those heady post-Indigo Girls days of the early '90s, founder Eddie Owen hung vertical banners admonishing audience members to leave the listening room if they wanted to talk. The result is one of the most artist-friendly singer/songwriter venues in the country.
Introduced the world to: John Mayer, Shawn Mullins, Josh Joplin
515-B N. McDonough St., EddiesAttic.com
Jammin' Java - Vienna, Va.
Best place to bring the kids to an early show: You know a venue is artist-friendly when it's run by two touring musicians—in this case, Daniel and Luke Brindley of The Brindley Brothers, along with their brother Jonathan. With a capacity of just under 200, Jammin' Java is a wonderfully intimate place to have dinner or coffee while witnessing performances by artists like Over The Rhine, Andrew Bird and David Mead.
Introduced the world to: Kaki King, Teitur, Matt Wertz
227 Maple Ave E., JamminJava.com
The Melting Point - Athens, Ga.
Best place to turn a concert into an Athens vacation: Check in at the Foundry Park Inn & Spa, treat yourself to a relaxing massage, then mosey across the parking lot for a cold beer and some lunch at the Athens Steam Company Pub. Close out your day at The Melting Point with an intimate performance from an artist like Aimee Mann, Gillian Welch or Todd Snider.
Introducing a college town to: The joys of adulthood
295 E. Doughtery St., MeltingPointAthens.com
The Orange Peel - Asheville, N.C.
Best place to catch your favorite jamband: After previous lives as a '50s-era skating rink, an auto-parts warehouse, and various R&B clubs (one called, presciently, The Original Orange Peel), this Asheville, N.C., venue has asserted itself on national tour itineraries, with artists from Bob Dylan to They Might Be Giants entertaining punters beneath the expansive, barrel-vaulted ceiling.
Playing this month: Les Claypool (6/6), Page McConnell, Ben Harper (6/13)
101 Biltmore Ave., TheOrangePeel.net
Southgate House - Newport, Ky.
Best place to rock out where a President once slept: Nearly two-centuries old, this one-time family home has housed a motley crew of historical figures, from a battalion of soldiers bound for battle in the Texan War of Independence to a young lawyer named Abraham Lincoln. In recent years, the mansion has become a haven for the arts, featuring a first-floor jukebox lounge, a downstairs ballroom and an art gallery on the third floor.
Playing this month: The Avett Brothers (5/31), Los Lonely Boys (6/12)
24 E. 3rd St., SouthgateHouse.com
The Tabernacle - Atlanta, Ga.
Best place to feel sanctified by a guitar solo: One of Atlanta's oldest venues, this converted Baptist church is not only aesthetically pleasing—with its towering stained-glass windows—it's also an exceptional location for shows of any genre. Spirits (of both the divine and alcoholic persuasion) always flow freely.
Introduced to the world by: the 1996 Olympic Games
152 Luckie St., Myspace.com/TabernacleAtlanta
Tipitina's - New Orleans, La.
Best place to laissez les bon temps rouler: Synonymous with the Crescent City, this iconic club began in '77 as a quiet spot for local legend Professor Longhair to play, but it sure didn't stay that way. Now boasting a record label and recording studio, it's become the guardian of NoLa joie de vivre.
Introduced the world to: The Neville Brothers, Cowboy Mouth, The Radiators, Galactic
501 Napoleon Ave., Tipitinas.com
Workplay - Birmingham, Ala.
Best place to entertain business clients: Complete with a performance theater, bar, soundstage, two recording studios and the hippest office park this side of Googleplex, Birmingham's WorkPlay is the epitome of responsible relaxation. Founded by VJ pioneer Alan Hunter, the venue boasts a lineup as talented and diverse as a playlist from MTV's golden era.
Playing this month: Elizabeth Cook (6/1)
500 23rd St. S, Workplay.com
Others Tagged With