The National
Grow Up! Look Sharp! Be Responsible!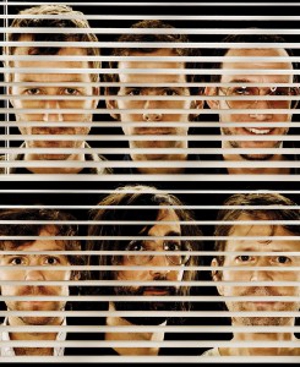 The Brooklyn-via-Cincinnati band that cut 2007's best album, Boxer, hasn't tossed out the dry cleaner's phone number just yet. If Bruce Springsteen is The Boss, consider National frontman Matt Berninger The Chairman (of the Bored). Ladies and gentlemen, meet the white-collar E Street Band.
-----
Oh you wouldn't want an angel watching over you
Surprise, surprise, they wouldn't want to watch
Another uninnocent, elegant fall into the
unmagnificent lives of adults
— "Mistaken For Strangers"
On a blissfully mild, leaf-sprinkled New York City afternoon, the five members of The National settle in around a vacant picnic table situated near the west edge of Central Park. Matt Berninger, The National's frontman and lyricist, recalls spending his lunch breaks in this part of the park while interning at a nearby graphic-design firm during the mid '90s. Hailing from the suburbs of Cincinnati and not quite inured to Manhattan's dogged pace, he'd wander beneath the park's leafy canopy each afternoon to momentarily purge his mind of the workday flood.
In one sense, that kind of stress populated a different lifetime.
Matt quit his day job at design house Icon Nicholson in 2005 to sing and write songs full-time. His band is home for a couple weeks before starting the European leg of its fall tour. But the 36-year-old looks tapped. His short, sandy-blond hair is tousled—and not stylishly so. The facial growth lining his angular jaw appears to be a few days old, and his gaze is warm but heavy-lidded.
The band recently played four evening concerts in the span of five days, delivering its beguiling mix of chamber pop, atmospheric folk and vaguely menacing post-punk to 3,000-plus people at Manhattan mega-venue Terminal 5's sold-out opening, a private Rhapsody party at The Highline Ballroom, and a two-night stand at the Music Hall of Williamsburg. Today the musicians came straight to their Paste interview from XM's New York studios, where they'd recorded several songs for future broadcast.
A week ago, Matt and his longtime girlfriend Carin—an editor at The New Yorker whom he met at a Brooklyn bar ("She was with a friend and I just walked up to her. Only time I've ever done that. I was always pretty shy, went to an all-boys high school and didn't even kiss a girl until college.")—found time to visit City Hall and tie the knot. They're entertaining out-of-town family and hosting a reception in a couple days to celebrate the occasion.
National guitarist Aaron Dessner recently lost his passport and is hunched over the picnic table filling out a replacement-request form, which his twin brother Bryce (who also plays guitar in The National) is helping him decipher. The band's other siblings, drummer Bryan Devendorf and guitarist/bassist Scott Devendorf, discuss plans to visit Gibson showroom across town to return a loaner Firebird guitar.
This is what your band's down time looks like when you release the most gorgeous, affecting record of the year. When mounting blog attention, an endorsement of your live show from celebrity fan Benicio Del Toro in Esquire's October '07 cover story ("'They were great, they were great, they were great,' [Del Toro] chants"), ambitious touring (including a stint opening for indie titans the Arcade Fire), a Letterman appearance and sparkling word-of-mouth finally catch up with you. Success has a funny way of robbing people of the time they might otherwise spend savoring it. Still, from The National, all you get in this situation is a "sleep when we're dead" nonchalance.
"We're just really happy that people are finally paying attention to us," Matt says. "I know that's not the rock 'n roll thing to say, but there were so many years that nobody asked us any questions about our records that we're happy to answer them now. We'll be touring non-stop through the end of the year, ending up in Moscow. I haven't been there, so it'll be exciting. It's gonna be kind of a busy year."
The National's abbreviated to-do list:
(1) Understate, (2) Over-deliver.
Fashion credit:
Matt: Nice Collective military sweater available at Odin
-----
Your mind is racing like a pro now
Oh my god it doesn't mean a lot to you
One time you were a glowing young ruffian
Oh my god it was a million years ago
— "Racing Like A Pro"
Trace back the roots of an indie-rock band far enough and you expect to wind up in a garage practice space, subterranean dance club, cluttered record store, hole-in-the-wall bar or—at the very least—a college dorm room. Where you don't expect to land is a middle-school gymnasium in the suburbs of Cincinnati. But that's where The National's story begins.
The Dessner twins, Aaron and Bryce, were point guards on the middle-school basketball team, and Bryan Devendorf—well on the way to his current height of 6'6"—played center. But the guys weren't merely interested in sports and had, separately, begun picking up instruments. During their freshman year of high school, a mutual friend suggested they start a band since he knew Bryan was playing drums and the twins were both playing guitar.
"So we started a band that played at all the parties," Aaron recalls. "We basically played Grateful Dead and Allman Brothers covers, or we'd learn a fIREHOSE song or play a bad Pixies cover." At the University of Cincinnati, Matt and Scott played in a band called Nancy until graduation, and then music was put on hold for several years as they moved to New York to pursue graphic-design careers. Aaron and Bryan eventually settled in New York as well. Over the next year and a half, the Devendorf brothers and Aaron created musical sketches that Matt would sing over.
Eventually the band worked up enough material that it made sense to record an album. The National's self-titled debut came out in 2001 on Brassland Records—a label started by the Dessners and friend Alec Hanley Bemis. The National still hadn't played a single show.
"That's actually when we realized we needed my brother to join the band," Aaron says. "Bryce was living in Paris and teaching classical guitar but he agreed to move back over and start playing with us live."
Even though playing shows seemed the obvious next step for a band with a newly pressed record, The National struggled to secure gigs. Dropping the record off at clubs all over town didn't translate to bookings, so they settled for the occasional open mic and played frequently at a small art space in Brooklyn called Galapagos.
"Playing live was a struggle, at least for me," Matt says. "It was just semi-traumatic—a good experience but like jumping into freezing water. After every show I'd go home and feel really good about it, like I'd just battled a fear. But it was never easy. It still isn't."
The band's persistence paid off over time. The Mercury Lounge booked them for an early show and a few bits of press floated to the surface, including a coveted review on Pitchforkmedia.com ("they said, 'you might as well just wait for the next Silver Jews record' or something," Matt laughs). Then a small French label licensed their self-titled album for release overseas. The band traveled to Paris to play a show, which sold out thanks to a feature article in a respected French newspaper. The band was starting to feel halfway legitimate.
"We all saw stars," says Matt. "We played on this little boat called Guinguette Pirate, and it was the first time we'd played outside New York. When we first played at Mercury Lounge—granted, it was basically our friends who showed up to see us—I remember being on that stage and feeling like, 'OK, we played onstage at Mercury Lounge, we're a band.'
"But when we played in Paris on this little boat in front of total strangers, and it was packed, that's when I started to entertain the delusional fantasy of being in a rock band and maybe not being a graphic designer anymore. … After we got home from that trip, I'd sit at my desk with work up on my computer and just be listening to song sketches we were working on, writing lyrics all day if I could get away with it, and then try and squeeze in a full day's work in that last hour. Or I'd be in conference rooms presenting to clients like MasterCard, Pfizer or Motorola and find myself scribbling lyrics in the margins of my meeting notes. Writing songs started to take over and it became harder and harder to concentrate on anything else."
The National quietly released its second full-length, Sad Songs For Dirty Lovers, in 2003 and began touring behind it almost immediately. The result was infinitely less magical than that dreamy Paris gig. Band members burned up all their vacation time to tour, and wound up serenading bartenders and miniscule crowds. Less stubborn bands would've packed it in.
The harsh midnight of obscurity broke gradually after the band released 2005's Alligator on U.K. label Beggars Banquet. Listeners sprang to attention, assuming it was The National's debut. Superlatives came flying from all directions. Billboard called it "one of the year's finest records." Uncut gave Alligator a perfect rating, calling it "the band's first masterpiece." The L.A. Times' Kevin Bronson touted it as his favorite record of 2005.
Songs from Alligator, such as "Lit Up," "Abel" and "Mr. November," knocked out critics—and, at last, burgeoning audiences—with singalong-ready choruses and feverish, melodic hooks. Matt's distinctively resonant baritone (he's simultaneously amused and flattered that music critics have compared it to "every different type of whiskey") came into its own, displaying even more confidence in its ability to turn on a dime from a disaffectedly gorgeous croon to cathartic holler. The louder the racket the band produced, the warmer the response. The National's fanbase practically grew by the decibel.
Surely 2007's Boxer would build on that raucous recipe.
Anything else would be self-sabotage, right?
Right?
Fashion credit:
Matt: Converse by John Varvatos long sleeve button down navy shirt
-----
Underline everything, I'm a professional
In my beloved white shirt
I'm going down among the saints
— "Squalor Victoria"
Although Boxer is the most glorious achievement of the band's career, the deceptively subdued album put up a fight utterly befitting of its punchy, one-word title.
"I had absolutely no perspective toward the end," Aaron sighs, "because it was such a feverish, desperate search for almost every song. I don't know why, but this album was really, really difficult. It was a struggle both creatively and sort of existentially to arrive somewhere that felt right. There was a point at which I think we were actually scared we wouldn't arrive somewhere that we were happy about. Even in the last days of mixing, we were pulling songs apart."
Listening to Boxer, you'd have no idea the creative process was such an excruciating journey. The 12 songs on the record flow seamlessly (both musically and thematically), from the syncopated piano chords that open "Fake Empire" to the toasty-warm acoustic strums ushering out album-closer "Gospel." The exquisite orchestrations and horn arrangements contributed by Australia-based, part-time sixth member Padma Newsome (who met Bryce in Yale's music conservatory) lends the record an unabashed elegance that transcends lazy indie-rock tags.
For someone who's spent his professional career working in a visual medium, Matt writes lyrics that display a profoundly literate sensibility. He inserts just enough lucid scene-setting—the "silvery, silvery Citibank lights" of the record's first single, "Mistaken For Strangers"—to locate his characters in the real world, but he's careful to leave the narrative loose enough (he likes to call it "milky") to allow for a thousand shadowy scenarios. His characters toy with adulthood and dress for success, but they also grapple with near-paralyzing insecurity.
Matt does for the white-collar corporate striver what Bruce Springsteen has built a career doing for blue-collar laborers and hustlers; he humanizes the struggle to be responsible, monogamous and financially solvent. It's no surprise that Springsteen has taken such a shine to The National, famously accosting the band after it covered his "Mansion on the Hill" at a 2006 tribute to the record Nebraska (Matt: "Aaron, wasn't he giving you advice on how to play a show in front of like a million people?" Aaron: "Yeah, he said there's a difference between creating a wave and riding a wave. That was his big thing.")
Some have criticized Springsteen for positioning himself as the voice of the working class when his wealth and fame afford him such cushiony privilege. Matt, for his part, feels a strong need to stay in tune with the rhythm and responsibilities of the working world.
"I still go back and do freelance graphic design, when I have enough time, because it lets me use my brain for something else. If the band becomes everything, you start to put too much pressure on it. It starts to become loaded in weird ways. After a while, it's very hard to write a song that's interesting. You end up writing about the stresses of being in a band. Who wants to hear a song about being drunk on a bus in the middle of Europe?
"That's one of the reasons why Boxer took a long time. We'd spent so much time on the road with Alligator that when we were done, I think it took me a long time to disconnect from the band and live a normal life and go to work and commute and get on the subway every day—all of those things you start to remember are interesting and worthy of songs."
Cover shot/page 1 fashion credits (see upper-left corner of your screen):
Matt: Converse by John Varavatos long sleeve button down navy shirt
Bryce: Niibo black button down long sleeve shirt with white buttons (from Odin)
Aaron: Trovata navy corduroy blazer (from Odin), Trovata long sleeve red/ white striped button down shirt (from Odin)
Scott: Diesel black military shirt
Bryan: Rag & Bone black combat shirt (available at Odin), Oliver Spencer moth grey long sleeve yoke shirt (available at Odin)
Padma: Converse by John Varvatos short sleeve mini stripe woven trim crew, Converse by John Varavatos long sleeve grey snap henley, Rock & Republic black suit jacket with gold buttons on wrist
Others Tagged With